By Steve Beauregard
Black Hawk's most popular poker room is the one that doesn't offer any tournaments. No matter; when it comes to poker in Colorado, the Ameristar is Colorado's version of the Aria or Bellagio.
The Ameristar's poker room is the busiest in town. And with 20 plus tables, it beats out (just barely), the Golden Gates, with their 18 tables.
Ameristar spreads the following limit games: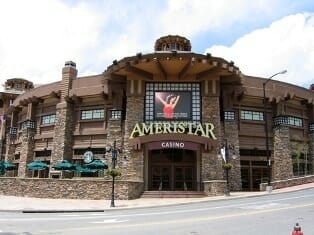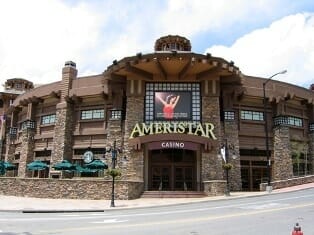 $3/6, $4/8, $6/12, $10/20, $20/40, $30/60 and $50/100.
Ameristar is one of the two places (Lady Luck being the other) that regularly runs the low limit hold'em games. Those of us too scared to potentially face a $100 check-raise in the spread game flock to the Ameristar to play the $4/8 limit game, of which there is usually one or two tables on weekends.
On the $100 max bet games, they have the never-ending supply of the $1/2 $100 spread limit games. For those of you unaware, there aren't any no-limit poker games allowed in Colorado. Instead, there is a maximum bet of $100 on each round. These are called "spread limit" as you can bet any amount up to $100 per round.
Other spread limit games offered are a $2/$5 and a $5/10 game. Again, all of these have a maximum bet of $100 with a maximum of 4 re-raises allowed per round.
Unfortunately, the demand often exceeds the casino's supply of games, creating long waiting lists. I've been to the Ameristar on a Saturday night, when there was 12 people on the $4/8 list, but only one table running. After an hour and a half wait, I had moved up to fifth in line, and decided to go elsewhere before I wasted my one night of poker sitting at an empty nickel slot machine, impatiently staring at the waiting list monitor.
Looking for updates from the Best #Poker Room in the West? Text POKERBH to 63315 to subscribe! #Ameristar pic.twitter.com/mXxGGF2OMX

— Ameristar Black Hawk (@AmeristarBH) January 4, 2017
Blackhawk's version of "The Big Game" runs at the Ameristar. It's a $30/60 limit hold'em game with a 1/2 kill that runs every night. Often there are two tables of $30/60. Surprisingly, it seems to run more often, and with more tables, than the $4/8 game.
Having a very large sample playing this game (two hours total), I can say it's not for the faint of heart. It's usually filled with Asians from Denver, some of whom like to get their gamble on with the red chips (No $10 or $20 denominations here). It's the kind of game where I think a 100 big bet win for the night is entirely possible.
The only downside of the $30/60, which usually has two tables going on weekend nights, is the lack of enforcement of the "English only" rule at the table. I don't know if the rumors of collusion are anywhere accurate, but the soft, perhaps unintentional collusion of telling your friend or relative across the table what you folded is sharing valuable information not available to those of us who don't speak Vietnamese. I hope the Ameristar addresses this at some point.
Ameristar Black Hawk Poker Room Bad Beat Jackpot
Like other rooms in Black Hawk, the room has a Bad Beat Jackpot, starting at $100,000.
The bad beat jackpot qualifier is quads beaten. The loser of the hand collects 40% of this, while the winner of the hand scores themselves a nice payday of 30% of the BBJ. The other players at the table (no room share on this BBJ) get the remaining 30%.
I realize many professional poker players do not like the jackpot rake taken out of each pot, but it does bring in a ton of players, and the room gets packed when the progressive gets huge.
In 2011 a woman collected $177,000 when her straight flush cracked quads when the BBJ was over $400,000. Coincidentally, her husband was at the table and his share was nearly $17,000. In 2010, another straight flush over quads hand gave an Evergreen, Colorado man $300,000 in cash, when the BBJ had drawn in a big crowd after hitting the $750,000 range.
(Related:Black Hawk Poker Rooms & Tournaments)
The Ameristar has a second bad beat jackpot during the week. It's called the "Descending Progressive Bad Beat," and it runs from 8 AM to 5 PM, Monday – Friday. The jackpot starts at $25,000, and grows daily until hit. The "descending" part means the qualifying hand drops each day the jackpot is not hit. On a recent January day, the qualifying hand for a $25K plus score was only Aces full of tens. That's pretty low for a bad beat winning hand. In fact, I've personally lost a pot while holding that very hand playing in Black Hawk.
Ameristar Poker Room Comps
Other features of the poker room at the Ameristar include free drink service. Don't laugh – I mention this because I've been surprised to stop in some Indian casinos where you're charged for your drink. In a casino!
Tableside food service is available, as is a massage (for most buys nights I assume). And of course, there are plenty of TVs tuned into ESPN and other channels with sporting events, especially Colorado Rockies games.
Players logged in with the Ameristar player's card receive $1 per hour in food comps. Previously they have also offered discounted hotel rooms, ($79 for rooms Sunday – Thursday if I remember right), but I'm not sure if the hotel room offer is current.
The Ameristar poker room is usually hopping, especially on weekend nights, and has good, entertaining atmosphere. The folks dealing and working the waiting stand have always been courteous and efficient. Now if only they'd get more $4/8 or some $8/16 going….