By Steve Beauregard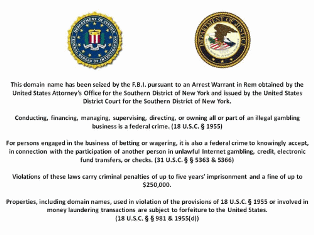 With apologies to President Franklin D. Roosevelt, April 15, 2011, poker's black Friday, is a day that will live in infamy for millions of United States poker players.
It's the day online poker died, or was murdered, more accurately, by the United States Government, who used tax day of 2011 to seize the internet domains of poker sites, Full Tilt, Poker Stars, and the evil alliance Ultimate Bet and Absolute Poker (more on those two scummy sites later).
The reasoning behind the domain seizure was a federal indictment against the owner/operators of the aforementioned sites. The indictment, unveiled on April 15, 2011, was officially called, "The United States vs. Scheinberg et al." Isai Scheinberg was the founder of PokerStars.com.
Until, then online poker had been (pardon the expression), running good. It had been, ever since word leaked out to the masses that Chris Moneymaker had gotten into (and won) the 2003 World Series of Poker Main Event by qualifying in a $39 satellite.
It's interesting to see graphs displaying the number of players during that very initial boom time. For example, one of the hot sites back then, Party Poker, had just 568 real money players in April of 2003. A year later, they had over 9,000.
And for most sites, this growth would continue, unabated, even after the passage of the Unlawful Internet Gambling Enforcement Act of 2006, which, while not mentioning a ban on poker, made it a federal offense for someone to receive payments in connection with what the bill called, "illegal gambling." (The government's definition of illegal gambling was based on an older law, the Wire Act, which forbade sports betting).
Some websites, like PartyPoker.com and Paradise Poker, voluntarily stopped accepting players from the United States. But with interest in poker booming, there were plenty of websites there to take PartyPoker's place, and the market would soon become dominated by Poker Stars, Full Tilt and the Cereus Network, which was comprised of both Absolute Poker and Ultimate Bet.
Unfortunately both Absolute Poker and Ultimate Bet gave online pokers' critics something legitimate to complain about, when both companies became entangled in a cheating controversy. Evidence from online players and researchers suggested that insiders at the companies had the ability to see their opponents' hole cards. The cheating scandal would be reported on in both the Washington Post and on "60 Minutes." Former WSOP Main Event Champion Russ Hamilton was fingered by investigators as the main beneficiary of the cheating play. Today, neither online poker site exists, and the parent company of Cereus has reportedly laid off 80% of its workforce in Coast Rica offices and has filed for bankruptcy.
Overall however, despite the occasional black eye, online poker thrived. Some people like me, played for fun, others used their skills to help pay for college, while many others were able to make a living at the game.
Which is why the reverberations of the shutdown were dramatic, and immediate. Overnight, without access to players from the United States, the traffic at the world's most popular site, PokerStars.com, dropped 1/3rd. U.S. players lost access to millions of dollars they were owned, (and which they had legally won). The amount owed to Americans by Full Tilt Poker alone ran in the $150 million dollar range.
In addition, countless professionals who were sponsored by the big three sites lost their gravy train, and poker media outlets, such as television shows, poker magazines and the like closed up shop. As an example, the popular TV broadcasts, PokerStars.net Million Dollar Challenge, and the PokerStars.net Big Game were cancelled 72 hours after indictments were unsealed.
The end result of the Obama Justice Department's intervention into the world of online poker was hundreds of millions of dollars taken out of the U.S. economy (at a time when it was needed the most) resulting in numerous jobs in the poker industry being lost for good.
Perhaps less significantly, but more personally to me, average, casual online players lost access to a enjoyable (and profitable) form of recreation. No longer would I be able to kick back on a Friday night, after a long week of work, and play a few relaxing games of .50/$1 limit hold'em. All because politicians in Washington D.C. wanted to tell us what we can, and cannot do with our own money. Land of the free indeed.
As a result of the United States' ban of online poker, online pros have been forced to either seek other employment, or flee their native country for greener poker pastures elsewhere.
Costa Rica became a hotbed of poker expatriates, for some odd reason. Other players flocked to Mexican beach resort towns like Cabo San Lucas, or Playa del Carmen. And business sprang up to help online poker pros relocate to foreign locales. These services help Americans find housing and more importantly, help get them set up with internet service and banking, which I understand is especially difficult to navigate in Costa Rica.
With its close proximity and similar culture, Canada became a viable options for many players. Most notably, Michael "the Grinder" Mizrachi took his family to the poker-friendly confines of Vancouver to practice his craft. And because many countries only allow foreigners (in this case U.S. citizens) a six month visa, some players are traveling the world, stopping in different countries for six months at a time.
Today, a handful of states have passed bills clearly legalizing online poker, and the landscape for internet poker most certainly has sunnier days ahead. How long until we get to those days is the main question.
As for now? Well there are still some poker sites that accept players from the United States, but gone is the legitimacy, liquidity, game selection, ease of cash-outs, and overall trust in the sites, as there was before the poker Black Friday.
In addition, guys like me are afraid as to the legality of depositing funds on these sites, (like Carbon Poker, Lock Poker, etc.) We know there is no federal law against playing poker online, but the uncertainty about depositing, and withdrawing, scares away the casual player.
As proof, I can recall many nights playing on PokerStars.com, and seeing the total player count button well over the 50,000 player mark. Granted, this included players from other countries, but a good deal of those 50,000 players were Americans. Furthermore, that was just one online poker site (albeit the largest). Today, PokerScout.com reports that a little over 3,000 Americans are playing online poker, showing that the devastating impact of Black Friday in the poker world lives on.