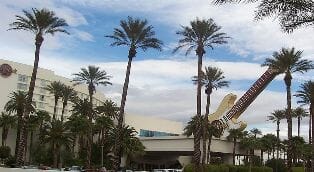 By Steve Beauregard – Eight Restaurants at the Hard Rock Hotel and Casino will help ensure that both your stomach is full, and your wallet is empty. Here's a quick look at each one:
Pink Taco
This restaurant has loud music, funky decorations, and has a Mexi-Cali menu.
Located a little off the casino floor, in the hallway going to the Paradise Tower, the Pink Taco has fabulous views of the eye candy parading around the resort's famous swimming pool area – a pool made famous by True TV's reality show series, "Rehab: Party at the Hard Rock."
Appetizers include honey-chipotle wings and sweet corn fritters, while the main menu features items such as: a carnitas platter, shrimp tacos, lobster tacos, and the Diablo Nachos, which fall under the menu heading of "inferno."
Happy Hour at the Pink Taco runs from 3 p.m. to 7 p.m., Monday through Friday. During which you can get the signature house "Mi Casa Margarita" for $5, along with sangria, or bottled beer, wine, or well drinks like Jack Daniels, Captain Morgan, etc., also for $5.
The Pink Taco's Happy Hour food menu includes items like carne asada fries for $5 (it's potato wedges with Mexican toppings), or Ahi Tuna Tostadas for $9.
Pink Taco's Hours:
Sunday – Thursday: 11 a.m. to 10 p.m.
Friday and Saturday: 11 a.m. to ??? (The website just says "late night.")
Nobu
A Las Vegas outlet of the famous New York Japanese restaurant, (another, more recently-added one is inside Caesars Palace), the Nobu is smack dab in the middle of the resort, and features favorites such as Jalapeno Rock Shrimp Tempura ($24), or the Black Cod with Miso ($34).
Nobu inside the Hard Rock Hotel and Casino is open until 10:30 p.m., Sunday through Thursday, and until 11 p.m. on Fridays and Saturdays.
(Go here to see if you can walk from the Hard Rock Hotel and Casino to the Las Vegas Strip)
35 Steaks + Martinis
Every casino has to have a steakhouse and the Hard Rock's version is a popular and elegantly designed one, with wood decor and chrome fixtures combining to create a vibe that's both hip and old school at the same time.
As you might imagine the restaurant's name says it all. As for prices, the 16 ounce Bone in Kansas City Strip runs $54, while fish dishes like the salmon run $31.
The famous Tomahawk Ribeye costs $100, however this 35 ounce bone in mountain of meat is "carved for two."
FU
What I thought was an "in your face" appeal at being edgy, is actually the Chinese word for "luck." Either way, FU has impressed food critics, with such dishes as their curry lobster puff appetizer ($9) and entrees like the sea bass with Saki-Miso glaze ($28).
FU is open for lunch at 11:30 a.m. every day. It closes at 10:30 p.m, Sundays through Thursdays, and midnight on weekends.
Culinary Dropout
Hard to describe, the Culinary Dropout is a place that really tries hard to be hip. They have live music on the weekends, and brag that the staff is "uniformless."
They have a modern take on comfort food classics like meatloaf ($18) and fried chicken ($22). The rainbow trout goes for $21, which cracks me out as my dad would bring home fresh trout he had caught two or three nights a week. Had I known it would go for $21, I probably would have tried to like it.
A nice feature of Culinary Dropout is their rotating selection of seasonal craft beers from around the country. They also have a very large and creative drink menu with offerings starting at $12 per drink.
Fuel Cafe
This is the Hard Rock's version of Starbucks, and it's located just steps from the Paradise Tower elevators.
The usual lattes, espressos and smoothies are here, as are juices and pastries.
Mr. Lucky's
My favorite restaurant at the Hard Rock is the long-lasting Mr. Lucky's.
Just off the casino floor, your attention wanders from the people-watching in the casino, to the game on the many televisions. It's known for it's spiked milkshakes, like the root beer milkshake with Jim Beam. The "Breakfast Bloody Mary" costs $20, but comes with a beer chaser.
Sirloin Sliders ($12.99) and the "Giant Stack o' Onion Rings" for ten bucks, are other favorites.
Those of you who are really hungry at breakfast time can order "The King," which consists of 14 banana pancakes and 14 strips of bacon, served with a peanut butter glaze and maple syrup.
Mr. Lucky's Local, Unadvertised Special
I always get this meal, and it's not even on the menu! To get it, what you have to do is first show your waitperson your player's card from the Hard Rock, (they call it the "Backstage Pass.")
Then you simply ask for the "locals special," "gambler's special" or the "steak and shrimp" special. For $7.77, you get steak, three pieces of shrimp, and your choice of vegetable and a salad.
Hard Rock Cafe
It sort of goes without saying, but the Hard Rock Hotel and Casino has a Hard Rock Cafe. It's actually out in front of the hotel. There's another Hard Rock Cafe on the Strip, across from the Monte Carlo.
Restaurants Around the Hard Rock Hotel and Casino in Las Vegas
Since it's a long trek to the Strip, those of you staying at the Hard Rock may want the shorter walk to some of the other restaurants nearby. Unfortunately, there's not a lot to choose from immediately nearby.
Options include the famous Hofbrauhaus Las Vegas, which is a replica of a Munich beer hall. Directly across the corner from the Hard Rock, it has live German music, huge beer mugs, and authentic German cuisine – all set in a charming beer hall setting.
The strip mall on Paradise Road, directly to the east of the resort, is home to a few restaurants, including a well-reviewed Korean barbecue joint called Gangnam Asian BBQ.
Ferraro's Italian must be good, as it's been around since 1985. Another ethnic restaurant in the complex is the Origin India, which also gets good reviews, but is pricey.