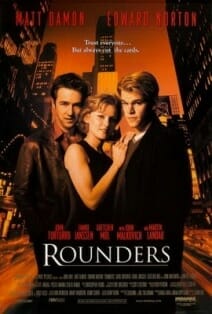 By Steve Beauregard
It's THE definitive poker movie of all time – a film that did little at the box office during its release, but which has since become a classic, and ultimately responsible for the multi-billion dollar poker economy we know today. (More on that in a second). I'm talking of course, about the 1998 poker film, "Rounders."
"Rounders" was released on September 11, 1998 to little fanfare. It grossed just under $23 million at the box office. Since that release however, it's become a cult classic and a must-own for poker buffs. I personally watch it about once every two months. At least.
You already know the plot. In case you don't: go watch it. Seriously. Now.
To sum it up: it's the story of a mid-stakes poker grinder/law student who takes his big shot in New York City's underground poker scene. He comes up short, but finds redemption, (and lots of stacks of "high society") in the end. In between, we're treated to some quirky, fun characters, some drama, a beat down or two, and some great poker.
The continued popularity of the film has a lot to do with the authenticity of the film's numerous poker scenes. There have been a lot of poker movies released, but films like "Lucky You" haven't been able to accurately capture to nuanced emotions, language, and feel of a real card game. The "Rounders" obsession amongst those in the poker community is based a lot on this reality.
(The original trailer for "Rounders" which includes brief snippets that did not make the film).
"Rounders" was written by Brian Koppelman and David Levien. This is the writing team would go on to work on other poker-related media projects, including the great, but short-lived ESPN dramatic series, "Tilt" in 2005, along with the 2013 Ben Affleck, Justin Timberlake movie about online poker, "Runner Runner." Koppelman also played an extra during a poker scene in the great movie, "Michael Clayton."
He came up with the idea for the movie after a night spent playing cards at the "Mayfair" club. This famous New York's underground poker room is also where poker fixtures such as Eric Seidel and Howard Lederer cut their chops.
Koppelman says he was enthralled with the whole poker scene: the secret, underground nature of it, the sounds, the characters, etc., and felt like it would make for a good film. This, even after telling the TwoPlusTwo.com Pokercast that he got "wiped out" that first night by Joel "Bagels" Rosenberg. Bagels was the inspiration behind Joey Knish. (Go here for more info on Knish and the Rounders cast)
After the first night at the Mayfair, Koppelman left the Mayfair Club and immediately called his friend Levien (at midnight no less), to share his vision for what would eventually become "Rounders."
For the next two years, Koppelman says he almost lived at the Mayfair Club, ("grinding and researching" he says) while taking in the atmosphere and using some of the characters, and their banter, as fodder for the screenplay. The Mayfair Club, however was later shut down by authorities in 2000.
The writing duo, who had been best friends since their teenage years, cranked out the screenplay in morning sessions before both left to go to work. It was the first screenplay either man ever wrote and they completed it in about four months, in January of 1997.
Although many agencies rejected the script, the partners – almost unbelievably – were able to sell the script just months later, on March 3rd, 1997. Filming began later that very year.
Rounders and the Poker Boom
After winning the 2003 World Series of Poker Main Event, Chris Moneymaker told interviewers that he and friends began playing poker after watching "Rounders" repeatedly. And because Chris Moneymaker is widely credited with starting the poker boom, it can be extrapolated, (at least by me), that "Rounders" is indirectly responsible for starting the poker boom.
Nearly every professional poker player alive attributes "Rounders" as a part of their initial interest in the game of poker. And although many of the young online hotshots were little kids during the film's 1998 debut in theaters, the movie, its famous quotes, scenes and characters live on in the poker world via DVDs and Netflix.
"Rounders" Filming locations
Based in New York City, "Rounders" New York/New Jersey Filming locations included the following:
McSorley's Old Ale House – A bar that is home to the scene where Mike confronts Jo.
Pete's Tavern – Where Mike sits down with a drink with Professor Petrovsky to talk about life and "destiny."
Rutgers Law School in Newark, New Jersey – The law school scenes, obviously, were filmed here.
25 Henry Street – According to the IMDB, this building near the corner of Henry Street and Catherine Street in Manhattan's Chinatown is where Grama held fort. It's where Mike and Worm went to visit Grama to work out a payment deal.
Siwanoy Country Club in Bronxville, New York – It's here where Mike – tired and at the end of long session – loses a big pot when one of the golfing amateurs bluffs with nothing. You can see a good, close-up image of it on Google Street View.
Rounders 2
Although it's constantly a topic on the poker forums, and in Hollywood trade rags, there are currently no concrete plans in the works for a "Rounders" sequel – this according to the actual writers.
A story posted on Deadline.com in December of 2013 quoted Mirimax kingpin Harvey Weinstein: "I've discussed making Rounders 2 with Matt Damon and I would say that's going to be instantaneous." He said that Koppelman and Levien already had a great idea about how the movie would start off with a big card game in Paris, and involve scenes in Las Vegas.
Koppelman however, has said as recently as August of 2014 that nothing is set yet. He went on to proclaim that he would love to do it, and that it may happen at some point.