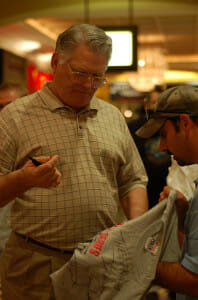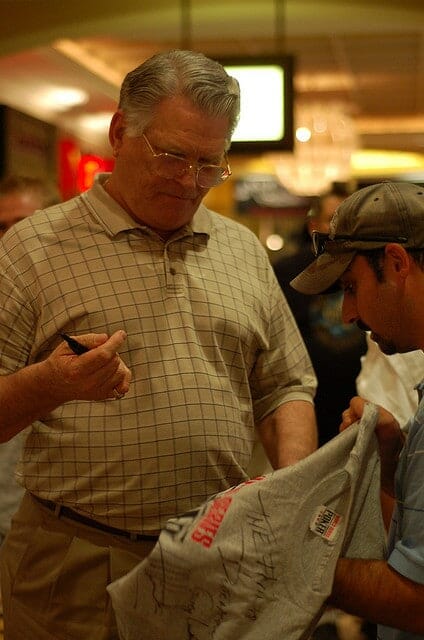 By Steve Beauregard
To younger players, poker player T.J. Cloutier is almost as famous for his legendary craps playing, as his poker prowess.
The poker legend is known for his love of craps, and countless rumors, sightings, and stories abound involving T.J.'s craps sessions, and/or rumors of him being broke due to the game. I believe I even played with him once at Binion's during the 2004 WSOP, but I cannot be 100% sure it was him.
Stories range from him playing $5 bets at Binion's, to having thousands on the table. One anonymous craps dealer posting on the TwoPlusTwo forums said T.J. typically buys in for "$500."
Yet while the general public may label him a "degenerate," many of us poker players with huge pit game leaks look upon T.J. as a sympathetic figure.
T.J. has admitted that craps is "an addictive game" and said that he used to bet real high, but only with house money. In other words, only while ahead big. As far as it being a problem? T.J. told Cardplayer magazine that "It used to be an issue."
TwoplusTwo.com Pokercast co-host Terrance Chan has speculated on his blog that "T.J. has lost more money at craps than possibly any human being alive," while poker star Barry Greenstein has said T.J.'s weakness is "A seven on the craps table at the wrong time."
In either case, T.J. told CardPlayer.com that he couldn't live in Las Vegas, because "if I lived out here, who knows? I might go off," meaning he could fall into a very dangerous craps habit. There's evidence T.J. is wise to reside in Texas, and far away from the dice tables.
On January 24, 2010, a Plano, Texas pawn shop called, simply, Plano Pawn Shop, auctioned off a WSOP bracelet owned by Cloutier on Ebay. The poker hardware, won from his victory at the 2005 WSOP $5,000 No-Limit Hold'em event, sold for $4,006 dollars to Cake Poker.
The Plano Pawn Shop also sold the bracelet Cloutier won at the 2007 Scotty Nguyen Poker Challenge.
T.J. told the "Hardcore Poker Show" that while he didn't want to talk about how his bracelets ended up in a pawn shop, "he was short."
The closest T.J. has come to talking about his craps losses came in March of 2008, while being interviewed on the Poker Road Radio Show. He was asked about bad beats, and whether or not they affect him mentally. Cloutier replied: "How can anybody who has won about 11 million in poker and lost about 3 million in craps worry about what happened yesterday?"
We don't know if this is in any way related to his craps habit, or if it means it continues to this day, but in 2013, a Richardson, Texas jewelry retailer (T.J. resides in Richardson), sold a 1998 Legends of Poker ring won by T.J., on Ebay. It sold for $850.
T.J. Cloutier and His Numerous Poker Books
Perhaps as a way to offset his craps losses, or to even out the huge variance found in tournament poker, T.J. Cloutier has co-authored numerous poker strategy books.
While these poker books focus mostly on tournament strategy, they cover a variety of games, including hold'em, no-limit hold'em, Omaha variants, and even H.O.R.S.E.
One book, published in 2006, is titled, "How to Win the Championship: Hold'em Strategies for the Final Table." The name is sort of odd considering that while he has an incredibly impressive record (Go here to read about T.J. Cloutier at the WSOP), he has never won the championship, (although he has finished second in the Main Event twice).
This last book, along with the others before it, all are co-authored by a man T.J. has described as his "best friend," Tom McEvoy.
McEvoy, like Cloutier, is a member of the Poker Hall of Fame. Unlike his friend, however, Cloutier has a first place finish in the WSOP Main Event, having won it all in 1983.
The flagship book of the duo's prolific poker writing series is the first one, "Championship No-Limit and Pot-Limit Hold'em. On the Road to the World Series of Poker."
No less than Phil Hellmuth has called it "the Bible of no-limit and pot-limit hold'em." (Photo courtesy of Toby Bochan via Flickr.)