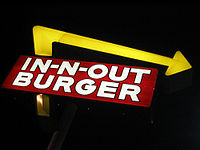 By Steve Beauregard
The closest In-N-Out Burger to the Monte Carlo Hotel and Casino is 8/10 of a mile away and would take you about 20 minutes to walk it.
We're talking here about the In-N-Out on Dean Martin Drive, which is just on the other side (the west side) of Interstate 15.
While that may seem like a long way to experience the world famous restaurant, you'll at least get to experience a little bit of Las Vegas Strip atmosphere before a long and unattractive 1/2 mile jaunt from the Strip to Dean Martin Drive.
To get there, you'll just want to leave the southernmost entrance of Monte Carlo. It's the one near the Monte Carlo Theater. Once outside, you'll go right, (heading south), past the fun and popular Diablo's Cantina, then past the City Center offices across Rue De Monte Carlo.
In front of you on your right will be the distinctive and fun New York- New York Hotel and Casino architecture, but you'll keep walking south to Tropicana Avenue.
Please note that some navigational systems may tell you to "take a shortcut" by going right on the side road that exists just before the New York – New York.