By Steve Beauregard
He's won millions in poker tournaments, and countless more in cash games. He once bought a Dodge Viper, only to completely wreck it on a first date a week later. He has books, businesses, TV shows and a couple of nice condos in Las Vegas. Oh, and he once won $18.3 million. In one day.
Yes, Antonio Esfandiari is wealthy.
In fact, with over $27 million in winnings, Antonio Esfandiari is the fourth most successful tournament poker player of all time.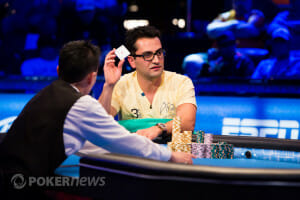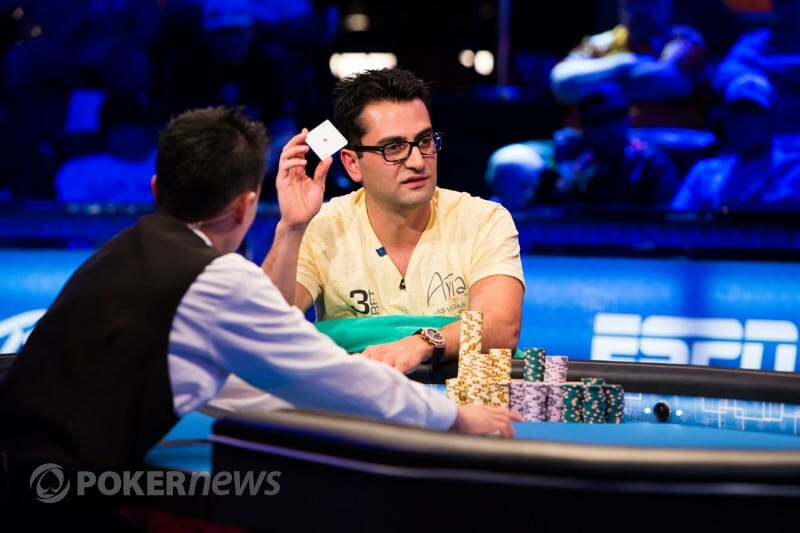 He's won at least a quarter of million dollars on eleven separate occasions. And with a pleasant demeanor combined with a bit of charisma, he's also one of the game's most famous players.
As for his net worth? Various websites have pegged Esfandiari's net worth at $20 million, but that is just a figure thrown out there and appears to be wildly optimistic. It reveals a lack of understanding about the life of a professional poker player.
More realistically, Antonio Esfandiari's net worth is more likely to be in the $5 to $10 million range, depending a lot on two unknowns: (1) How much he has won in private cash games, and (2) How much of his winnings he has kept and invested.
Yes, Esfandiari has won over $27 million in poker tournaments, ($27,321,255 according to the HendonMob database). And yes, that doesn't count the money he's won in cash games, however it's highly likely that the "Magician" has only pocketed a small fraction of that $27 million.
For starters, there's the issue of backing. For those unaware, many professional poker players have investors (or "backers"), who agree to put up all, or a portion of the tournament entry fee, in exchange for a percentage of the winnings.
(The Magician with Lon Mceachern and Norman Chad of ESPN)
Antonio Esfandiari and the WSOP One Drop
Take the famous WSOP One Drop, for example. This is the tournament that Antonio took down in July of 2012 for a payday of $18,346,673.
The tournament, with an entry fee of a cool one million dollars, has been held a couple of times at the World Series of Poker. While the tournaments field has included several wealthy businessmen more than capable of ponying up the $1 million entry fee, most of the professional poker players in the field were given all, or a good chuck of their entry fees to play. This includes Esfandiari.
While Esfandiari did, technically, win $18.3 million, it's almost universally accepted in poker circles that his personal take was far less than half of that.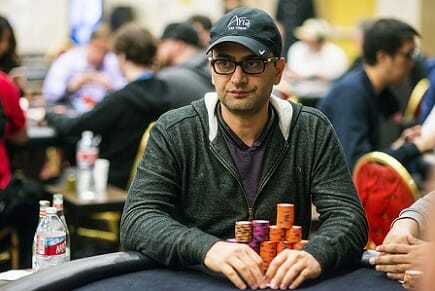 Professional poker player Steve Karp told interviewers on Rounders Radio that the Magician had 10% of himself, but received a 5% bonus from the backers.
Others have speculated that he had anywhere from 3.5% to 45% of himself. Esfandiari has been asked about this several times, but declines to say how much of himself he owned.
However the 15% figure Karp mentioned seems reasonable, especially considering that Phil Hellmuth admitted that he had only 15% of himself in the One Drop.
So assuming it was 15%, that $18.3 million win suddenly drops down to $2.745 million. A very nice score to be sure, but that's before federal taxes.
As a Nevada resident, he wouldn't pay state income taxes on the winnings, however he would pay federal income tax and self-employment taxes. On his site, TaxableTalk.com, Nevada accountant Russ Fox has estimated that a WSOP Main Event winner would likely face a 42% tax. In Antonio's case, assuming he had 15% of the One Drop winnings, then subtracting 42% of that for taxes means that the Magician could very likely have kept "only" a total of $1.6 million after taxes.
Besides the One Drop tournament, Antonio has won $8.9 million in tournaments over the course of his career. Again, though, when factoring in backers, taxes, and travel expenses, it's easy to see how that $8.9 million is actually closer to $2 to $3 million.
Cash Games
As with other celebrity poker players, the amount of money won (or lost) in private and casino cash games is the unknown factor. As one of the more social men in poker, and one of the most recognizable to boot, it's likely Antonio gets invited to juicy private cash games involving wealthy amateurs. As friends with poker celebrity and overall wildman Dan Bilzerian, Antonio could have found himself in his very juicy high stakes game. Bilzerian once told Howard Stern that he won $50 million in 12 months playing poker.
For his part however, Esfandiari hasn't mentioned any big time private game scores, but that doesn't mean a whole lot. A lot of successful poker pros know it's bad business to brag about how much you've beaten a guy out of. Esfandiari has also said he has never played in the lucrative, uber-high stakes cash games against the billionaire Chinese businessmen in Macau.
He did play in the Super High Roller cash game at the Aria in 2015, where the buy-in was a quarter million dollars. He's also made several appearances on the poker cash game TV shows "High Stakes Poker" and "Poker After Dark."
In September of 2016, it was announced that Antonio secured a sponsorship from the poker staking company, StakeKings. He will reportedly both promote the site, as well as receive staking into tournaments.
Spending
It's safe to say Antonio is not afraid to spend money. After his first big win – a $1.4 million dollar payday after winning the WPT L.A. Poker Classic in 2004, he ran out and bought a Dodge Viper (which he promptly wrecked while out on a first date in San Francisco).
In an essay in the Las Vegas Sun newspaper, he boasted of eating out "300 plus nights a year."
And we're not talking the In-N-Out Burger, just down the street from his condo on Dean Martin Drive. He loves the Jean Gorges Steakhouse at the Aria across the interstate from his condo. He's eaten there over 100 times.
As opposed to the bar fly, he's been known as a club-fly, making the rounds at places like Marquee at the Cosmopolitan and picking up the tab for pricey bottle service. He told Card Player however, that he would never spend $1,500 on a bottle of Cristal champagne, so this may give us some insight that he's not out of control when it comes to spending at the clubs.
On the other hand…
He once made a bet for $500,000 with businessman and amateur poker player Bill Perkins that he wouldn't have sex (including with himself), for one year. However nine days after starting the bet, Esfandiari bought out of the bet. He hasn't said how much it cost to bail out of the bet, other than to imply it was quite a hefty price.
Antonio Esfandiari's House
Esfandiari lives in the Panorama Towers – the high rise luxurious condo towers at 4525 Dean Martin Drive. Across the interstate from the Aria, the twin condo towers are a stone's throw from the Strip, and are very popular residences with superstar online poker players.
The Clark County Assessor's office estimates that Esfandiari's condo, which has 2 bedrooms, 2 baths, and 2,189 square feet, is worth $628,126. Zillow estimates it to be worth $523,596 as of December 2016.
Actually Esfandiari owns two units at Panorama Towers. In addition to this personal residence listed above, he owns a unit he purchased on August 6, 2009 from IndyMac. Presumably this was a foreclosure at the time.
It has 2 bedrooms, 2 baths, and is smaller than his personal residence, with 1,385 square feet. At the time of the sale, the condo's value was $240,000, but this was near the bottom of the Las Vegas real estate market crash. As of December 2016, Zillow estimates it to be worth $334,000.
After his big win at the One Drop, he mentioned possibly buying a home in California, but it's unclear if he did.
All of this is to say that Esfandiari's equity in real estate appears to be fairly modest, and under a million dollars.
Business and TV Shows
Antonio Esfandiari has been everyone on screen since early in the poker boom. He's made an appearance in the film, "Runner Runner" with Ben Affleck and Justin Timberlake. His reality TV show appearances include starring in "I Bet You," in addition to countless televised poker games – both cash games and tournaments.
Each year, the Magician also provides commentary on ESPN's broadcast of the World Series of Poker's Main Event final table.
On the business front, he owns a spray on tan business in Hollywood called Spray La Vie. It's located on the famous Sunset Boulevard, across the street from famed nightclub Whisky A Go Go.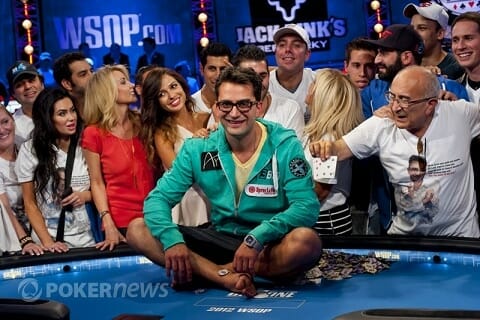 He's also authored poker books, but nothing that would really move the needle a lot regarding his net worth.
One area that would move the needle is another unknown: how much of his winnings Antonio has socked away and put into investments. His uncle is a financial planner, and presumably Antonio's financial adviser as well.
From what we know publicly however, it appears Antonino Esfandiari's net worth is in the five to ten million dollar range.
Antonio Esfandiari's Wife
Antonio is maried to Amal Bounahra. Bounahra is the daughter of Belize resident Badih "Bob" Bounahra, who has over $1.7 million in career earnings and who made the final table of the WSOP Main Event in 2011.
Esfandiari marriage and birth of this son in January of 2015. He's spoken of his great love for his family, and there's no reason to doubt that Antonio is spending more time around cribs, and less time around clubs.
Photos courtesy of the World Series of Poker media room at WSOP.com and World Poker Tour via Flickr.)