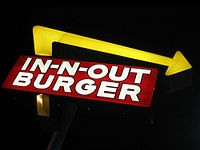 By Steve Beauregard – Never mind the fancy and expensive Las Vegas restaurants, with their celebrity chefs and $150 meals (for one); for many people staying on the Strip, the only culinary stop on the agenda is a visit to an In-N-Out Burger.
For those of you staying at the Planet Hollywood Hotel and Casino, the nearest In-N-Out Burger is just 1.2 miles away from the front entrance of the casino. (Or about 1/2 mile as the crow flies).
This restaurant in the popular Southern California based chain is on Dean Martin Drive, just west of Interstate 15 off of Tropicana Boulevard. It would take you just about seven to ten minutes to drive there. Google maps says five minutes, but they are figuring this by assuming you would start off by driving in front of Planet Hollywood. More likely, you'd be either taking a taxi from the valet stand, or driving from your car parked in the parking garage in the back, both which would add a little bit of distance and some time to the trip. A taxi ride, by the way, would run you in the ten dollar range (each way).
The simplest way to get there is the get on the Las Vegas Strip going south. From the parking garage you'd want to go West on Harmon Avenue, then take a left on the Strip.
Going south on Las Vegas Boulevard (the Strip), get in the right lane and take a right on Tropicana Avenue, which is just past the New York -New York Hotel and Casino.
From there it's a straight shot, and less than 1/2 mile to the In-N-Out. You'll want to make sure you're not in the extreme right hand lane, as that will force you to go north on I-15.
Once over the bridge covering the interstate, you'll see the iconic In and Out Burger sign on your right. You'll get in the right hand lane and take the first right, which is Dean Martin Drive.