By Steve Beauregard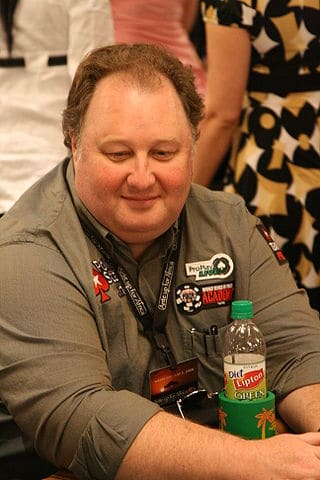 Say it ain't so, Greg.
2004 World Series of Poker Main Event winner Greg Raymer was arrested on March 14, 2013 at a hotel in Wake Forest, North Carolina on misdemeanor charges of prostitution, along with a ominous-sounding charge of "crimes against nature."
News of the arrest was pretty shocking to me, as well as to many other poker fans – mostly due to Raymer's previously stellar reputation in the poker world. The former patent attorney was known as a family man, and is currently married with a daughter.
His previously "clean" reputation made him a perfect pitchman for the promotion of legalized online poker, where he had been heavily involved with organizations like the PPA (Poker Player's Alliance) in helping promote the cause.
Known as the "Fossilman" because of his hobby for collecting fossils, (he uses one as a card protector during tournaments), Raymer became one of the most famous poker players in the world after an incredible World Series of Poker Main Event runs in 2004 and 2005.
Born in North Dakota, and having lived in Florida, Missouri, (among other places), Raymer, like most of us, began his poker career modestly, playing $3/$6 limit hold' em. He eventually moved up limits and began regularly having success in tournaments near his home at Foxwoods Resort. He cashed in a preliminary event in the 2001 World Series of Poker.
Fresh off Chris Moneymaker's breakthrough 2003 WSOP Main Event win, poker was as popular of a sport as there could be. ESPN's ratings of that tournament, in which a amateur accountant from Tennessee outdueled Vegas pros and took home a $2.5 million dollar payday, went through the roof.
This steamrolling poker popularity carried through to 2004, resulting in a Main Event field of 2,576 players. Not only did this shatter the previous year's record of 839 contestants, it was more players than the WSOP had in the prior four years combined.
(Footage of the 2004 WSOP final table)
Although the expectations were astronomically high, somehow the 2004 WSOP Main Event was able to match its 2003 cousin in terms of drama and excitement.
Much of the drama part was due to the shenanigans of Mike "The Mouth" Matusow – an Las Vegas poker pro and notorious, obnoxious trash talker. The Mouth's confrontations with Raymer created a perfect good guy vs. villain story line which ESPN played up to the hilt. Their coverage included hand in which Matusow bluffed Fossilman out of hand, then rubbed it in by saying Greg had "little ones."
Later, facing an all-in bet by Raymer, Matusow ponders the call while telling Raymer, "I told you I was going to bust you." Matusow then proceeds to lose a monster pot to the Fossilman, before getting knocked out of the tournament a few hands later by Ed Foster, and literally crying like a baby, rather than taking it like a man.
Between slaying Goliath, his shouts of "Presto" when winning with pocket fives, and his now trademark psychedelic sunglasses, Raymer made great TV viewing.
With a string of good cards, and some great play, he cruised to a final table that was fun to watch. Between the screams of Mattias Anderssson, and the quiet competence of WSOP veteran Dan Harrington, the table did not lack excitement.
Another obnoxious trash talker, Atlanta poker pro Josh Arieh, played the Matusow role, but busted out in third place. From there Raymer took down David Williams to win the much-watched final table while taking home the gold bracelet and $5 million dollar first place prize. In reality, however, after splitting his winning with his backer (people who helped pay the entry fee in return for a share of the winnings), and after taxes, Raymer took home $1.7 million for his efforts – this according to his personal website, Fossilmanpoker.com.
Having won the biggest prize in poker, Raymer was signed as a spokesman for Pokerstars.com, and therefore was able to freeroll in pretty much any event he desired. He astounded everyone by making a very deep run in the 2005 Main Event, (earlier, he had made the final table of a $1,500 No-limit WSOP event, eventually finishing 6th). That Main Event saw 5,619 players entered, doubled from the previous year. Raymer managed to bluff and bet and scratch his way to a 25th place finish, bowing out after a bad beat courtesy of Aaron Kanter.
Nevertheless, Greg Raymer's back-to-back deep runs in crowded Main Event fields is perhaps the greatest feat in World Series of Poker history – perhaps even greater than Stu Ungar's record setting third WSOP championship in 1997.
Speaking of which, Greg Raymer is certainly the Stu Ungar of the popular Heartland Poker Tour. While he hasn't had any notable big tournament scores since that historic and exciting 2004/2005 WSOP run, Raymer has been downright dominating in the smaller buy-in Heartland Poker Tour events. In fact, in 2012, Raymer set records by winning four tournaments on the tour, and taking home over $371,000 in the process. His selection as Heartland Poker Tour Player of the Year was sort of obvious. Including those wins, his poker tournament winnings are now over $7 million dollars.
It's hard to say what impact, if any, Greg Raymer's prostitution arrest will have on his endorsement opportunities when online poker returns to the American landscape. Since many of them are degenerates in some form in their own right, the poker community has seemed to be very forgiving and tolerant of Raymer's actions. Posters on the popular poker forum, 2+2 have defended his actions, while denouncing the illegality of prostitution. I personally feel he let his wife and daughter down, and have lost a lot of respect I had for Greg Raymer.
Wade M. Smith, Raymer's lawyer, said in a statement: "Mr. Raymer is very sorry for his lapse in judgment." So like many poker players before him, Greg Raymer seems to be one of those guys who is a big winner on the felt, but not so much away from it.