Black Bear Casino Buffet Price & Hours 2023
The Black Bear Casino Buffet, called "The Buffet at the Bear" is open and is as busy as ever, with dinner buffets five days a week, along with their popular weekend brunch buffets.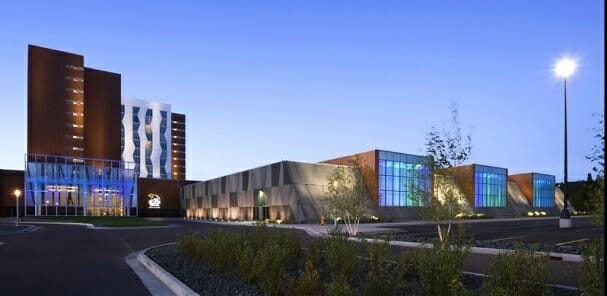 Located just off the casino floor next to the Seven Fires Steakhouse, the buffet is closed on Mondays and Tuesdays.
Black Bear Casino Buffet
Black Bear Casino Resort is located in Carlton, Minnesota, (about a 2 hour drive north of Minneapolis). It's a Native American casino just off of Interstate 35, about 22 miles southwest of Duluth.
In the past, there were breakfast buffets here, however now, there is only brunch on weekends and nightly dinner buffets (Wednesdays through Sunday). The buffet here is first-come, first-served. Reservations are not available.
The buffet isn't the fanciest or largest in the world, however it does offer very affordable prices, especially on weekends, when the aforementioned brunch buffet costs just $15.99.
Black Bear Casino Buffet Prices & Hours
Prices vary based on the day of the week, as menu offerings will change. Current prices are as follows:
| | | |
| --- | --- | --- |
| Brunch | Hours | Price |
| Saturday & Sunday | 11 AM – 2 PM | $15.99 |
| | | |
| Dinner | | |
| Wednesday | 3 PM – 9 PM | $19.99 |
| Thursday (Seafood) | 3 PM – 9 PM | $39.99 |
| Friday & Saturday | 3 PM – 9 PM | $26.99 |
| Sunday | 3 PM – 9 PM | $19.99 |
The buffet is closed on Mondays and Tuesdays. Also, these prices do not include tax, which is just under 7%.
Please also note that prices can increase on holidays, when special menu items are added.
For example, to welcome in 2023, the New Year's Eve buffet cost $49.99, but included non-standard buffet fare, such as lamb chops with mint jelly, and roasted duck in orange sauce, among others.
Children at the Black Bear Buffet
As for children? Kids are allowed at Black Bear Casino Resort, however they must be accompanied by an adult while on the casino floor. Buffet prices for kids are the exact same as for adults.
Black Bear Casino Buffet Menu
The Black Bear's buffet will rotate, based on the days of the week, but prime rib is served every night. There are other staples you'll find every day, such as some hot dish standards, the salad bar and desserts.
The salad bar has two types of lettuce, and all the condiments you'd expect: cucumbers, cauliflower, cheese, broccoli, diced ham, bacon, diced hard-boiled eggs, tomatoes, onions, carrots, radishes, olives, pickles, mushrooms, red and green peppers, cold pasta noodles, pepperoncini, jalapenos, etc.
Fruits included strawberries, cantaloupe, grapes, melon and watermelon.
Other offerings here included pre-made cold salads, (like potato salad), cole slaw and two different pudding flavors.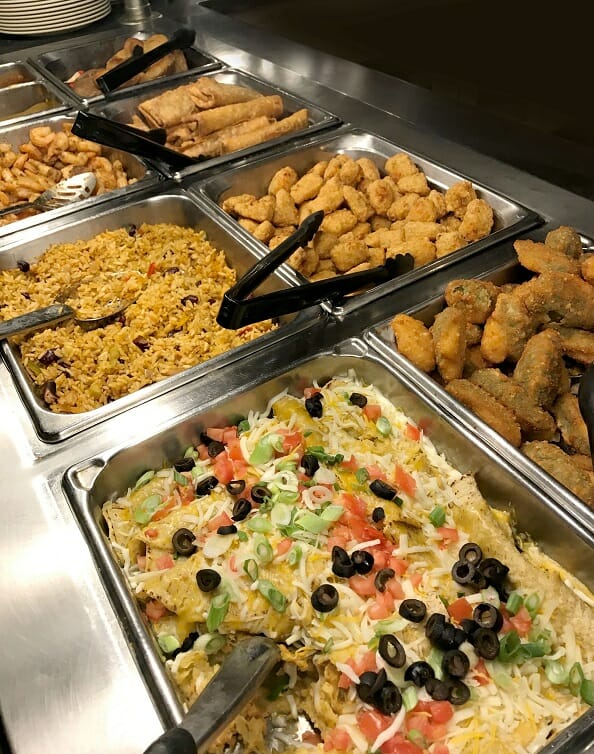 Hot dishes include corn, asparagus, mashed potatoes and gravy, roasted potatoes, and baked chicken. Two types of soup on a recent visit were clam chowder and vegetable.
On the dessert section, you'll find several different types of pies and cakes, (including carrot cake and cheesecake), all served on individual plates.
On Wednesdays, the buffet's theme is "South of the Border," while Thursday night is the Seafood buffet.
Thursday's Seafood night buffet is the priciest one of the week, but that's because of the all you can eat crab legs. There is also fried shrimp, shrimp cocktail, shrimp alfredo, and a seafood medley which included clams, shrimp, and crawfish.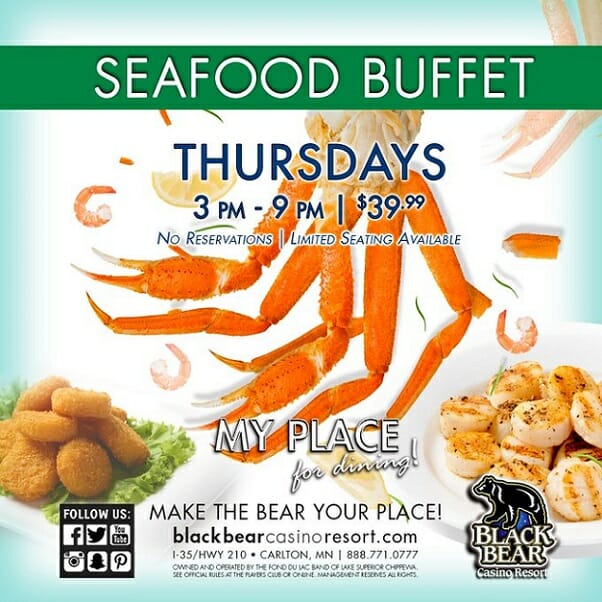 Friday's prime rib and shrimp buffet has 15 different varieties of shrimp while Saturday is the Gourmet buffet.
Sunday night's buffet features Northland Favorites. The nice marketing assistant at the casino, Alicia, told me these include fish, pot roast, liver, and mac and cheese, among other dishes.
Black Bear Casino Resort Address, Phone & Website
1785 Highway 210
Carlton, MN 55718-0777
Phone: (218) 878-2327 or (888) 771-0777
Website: Blackbearcasinoresort.com
More about the Black Bear Casino Resort
Should you not want to visit the Buffet at the Bear, other dining options include the fast-casual Sage Deli, and the Seven Fires Steakhouse. When the golf course is open, there is the Clubhouse Bar & Grill option as well, which is located inside the clubhouse, just steps north of the casino.
Operated by the Fond du Lac Band of Lake Superior Chippewa Indians, the casino boasts 1,800 slot machine/video poker games and several table games, including blackjack and Mississippi Stud.
"Bingo at the Bear" at the casino's 10,000 square foot bingo hall is run five days a week: Wednesdays through Sundays. It has seating for up to 500 players.
Offerings at the resort include a 12-story hotel with 250 rooms, and an 18 hole golf course. The Otter Creek Event Center has seating for just under 2,000 people.
Parking is free at the Black Bear. There is both open-air surface lots and a parking garage in the four-story parking garage, which has 1,543 parking spaces.
In June of 2020, the Black Bear Casino became smoke-free. There are smoking areas outside however.
(By Steve Beauregard. Photos courtesy of Black Bear Casino Resort's Twitter and Pinterest pages).