The Evergreen State is rich both in natural beauty and casino gambling, as Washington State has 29 different casinos within its borders.
From Spokane to the Pacific coast, the Canadian border down to the Oregon state line, there is at least one casino within a relatively short driving distance for almost all of the state's 7 ½ million residents.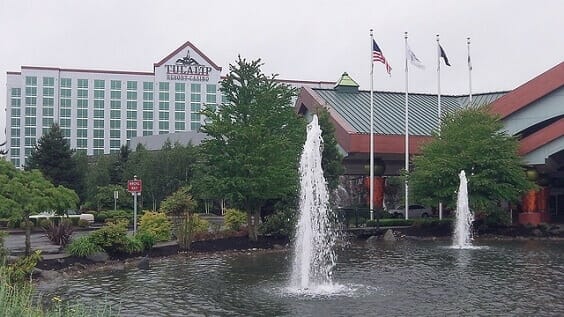 The state's variety of casinos range from a small plain building with only a few slot machines, all the way to a full-scale resort that is one of the biggest casinos in the USA.
Per Washington State's gambling compact with the 28 Indian tribes that operate these 29 casinos, games allowed include blackjack, craps (with dice), baccarat, pai-gow, roulette, poker, sic-bo, Big 6, keno, off-track betting on the horses, and now sports betting.
While the table games in the state are similar to ones you'll find in Las Vegas, the slot machines operate differently.
Instead of the typical Las Vegas-style slot machine with random number generators, the slots in Washington are called, "Tribal Lottery Machines." Although similar in looks to a normal slot, they have a pre-determined pool of winners and losers, meaning you are competing against your fellow slot players at that particular casino for a slice of the winnings.
Washington's count of 29 casinos is taken directly from the Washington State Gaming Commission, but does not include the numerous card rooms found around the state.
Washington State Casinos Map
(Each red star represents one of Washington State's 29 different casinos)
As you can see from the map, the vast majority of the state's casinos are located in the Seattle metropolitan area. In fact, there are only eight casinos in Eastern Washington.
Of the twenty casinos in Western Washington, there are seven casinos in the Seattle area, and six Tacoma casinos, (as defined by a casino within a one hour drive of downtown).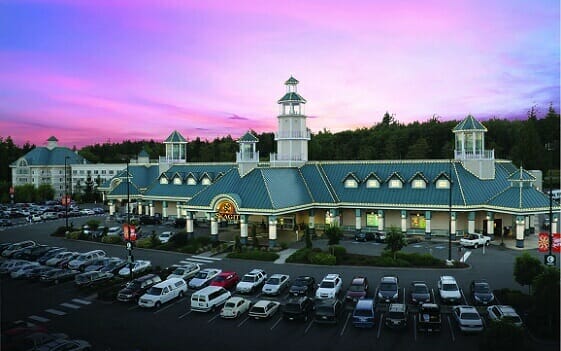 List of Casinos in Washington State
Here's a list of Washington's 29 different casinos in alphabetical order:
Angel of the Winds Casino
Chewelah Casino
Coulee Dam Casino
Emerald Queen Casino Fife
Emerald Queen Casino at I-5
iLani Casino Resort
Kalispel Casino
Legends Casino
Little Creek Casino Resort
Lucky Dog Casino
Lucky Eagle Casino
Mill Bay Casino
Muckleshoot Casino
Northern Quest Casino
Northwood Casino
Quil Ceda Creek Casino
Quinault Beach Resort & Casino
Red Wind Casino
Silver Reef Casino
Skagit Valley Casino
Snoqualmie Casino
Spokane Tribe Casino
Suquamish Clearwater Casino Resort
Swinomish Casino and Lodge
The Point Casino
Tulalip Resort Casino
7 Cedars Casino
12 Tribes Resort Casino
If you're keeping score, you'll see there are only 28 casinos listed above, versus the 29 casinos listed by the Washington Gambling Commission. That is because the Muckleshoot Casino's bingo hall is located across the street from the main casino and is therefore, technically, a different casino.
Casinos in Washington State with Hotels
While there aren't any 5,000 room mega-resorts like the MGM Grand in Washington, there are some very nice casino resorts. However of the state's 29 casinos, only 14 have hotels attached to the casino. However that's soon about to change (see below).
As of now, here are all the casinos in Washington State with hotels:
Angel of the Winds Casino – 125 rooms
Emerald Queen Casino Fife – 102 rooms
Legends Casino Hotel – 218 rooms
Little Creek Casino Resort – 190 rooms
Lucky Eagle – 170 rooms
Northern Quest Resort & Casino – 250 rooms
Quinault Beach Resort & Casino – 158 rooms
Silver Reef Hotel, Casino & Spa – 206 rooms
Skagit Valley Casino – 131 rooms
Suquamish Clearwater Casino Resort – 183 rooms
Swinomish Casino and Lodge – 98 rooms
The Point Hotel & Casino – 94 rooms
Tulalip Resort Casino – 370 rooms
12 Tribes Resort & Casino – 80 rooms
More About Indian Casinos in Washigton State
* With over 2,200 slot machines, 35 table games, and poker room, the Tulalip Casino Resort is the largest casino in Washington. And with 370 rooms, it's also the biggest casino resort in the state.
* Washington will have its 15th and 16th casino resorts opening soon.
The Muckleshoot is currently building an 18 story, 400 room hotel tower that is expected to open in 2022. Once completed, it will make the Muckleshoot the biggest casino/resort in Washington. In addition, the Quil Ceda Creek Casino (which opened in February 2021) has plans for a 150 room hotel.
* Because all of these casinos are located on tribal land, there are no standardized gaming age regulations. As such, some of these casinos require you to be at least 21 years old, while others allow you to gamble at 18. At the Tulalip, you are allowed to play bingo at age 16.
(By Steve Beauregard. Photos courtesy of Blake Handley, and the Skagit Hotel & Casino).