Skagit Casino Resort Bow
Address: 5984 Darrk Ln, Bow, WA 98232
Phone Number: +1 877-275-2448
Website: www.theskagit.com
Hours: Skagit Casino Resort is open Monday 9 AM – 2 AM, Tuesday 9 AM – 2 AM, Wednesday 9 AM – 2 AM, Thursday 9 AM – 2 AM, Friday 9 AM – 2 AM, Saturday 9 AM – 2 AM, Sunday 9 AM – 2 AM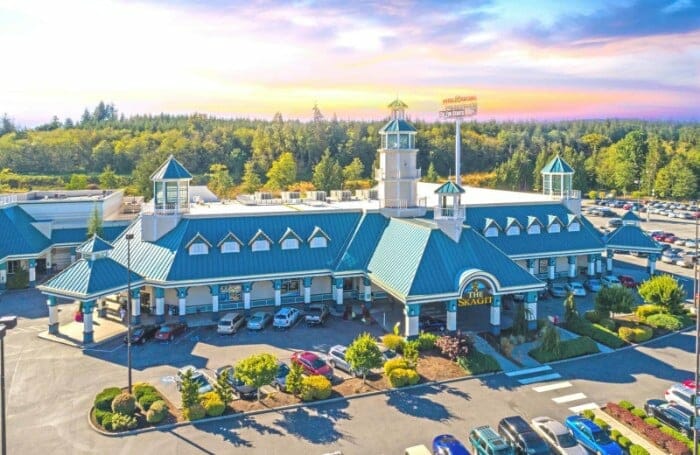 Skagit Casino Resort is located in Bow, Washington and has been a staple of the local community for over 25 years. The casino was opened by the Upper Skagit Indian Tribe in 1995 and has since grown to become one of the most popular gaming destinations in Washington State.
The casino features over 900 slot machines, as well as table games such as blackjack, poker and more. The casino also offers promotions and tournaments to keep its patrons entertained.
And if you want to stay overnight, this casino has a hotel with luxurious suites and rooms for your comfort. There is also a restaurant serving delicious food and drinks, as well as a fitness center and pool for your relaxation.
They also have a showroom that hosts concerts and special events, as well as a lounge where you can kick back and relax while enjoying a few drinks. This casino resort truly has something for everyone.
So if you are in the area, stop by this casino resort for an enjoyable and memorable experience. This casino resort will provide you with a night of fun, excitement and great memories.
This casino resort has earned a rating of 4.2 out of 5 stars from its guests. One guest said, "The Skagit Casino Resort Bow was a great experience. The staff was friendly, the hotel rooms were comfortable and clean, and the gaming area was fun. Highly recommend."
Another guest said, "We had a great time at Skagit Casino Resort Bow. The casino has everything you need for a night out – slots, tables, food and drinks, and entertainment. We had a blast!"
(Related reading: Washington casinos)
Gaming
Their gaming space comprises over 900 slot machines, blackjack, and poker tables. The casino also hosts regular tournaments and promotions.
Table Games
Looking for a fun-filled night of table games? Look no further than this casino in Washington State. With a wide variety of exciting games, you will surely find something that will keep you entertained.
Sit at the Let it Ride or Crazy 4 Poker tables, or challenge yourself with Fortune Pai Gow. For those who prefer classics, try your luck at Roulette, Blackjack, or Craps. Whatever your preference, this casino has something for everyone.
The minimums for the table games at this casino vary depending on the game. Generally, the minimum bet is $5. However, higher limits are available.
Slots
This casino resort boasts an impressive selection of slot machines. Some of the popular titles you'll find here include:
American Original
Aztec Temple
Colossal Wizards
Blossoming Fortune Progressive
Buffalo
Li'l Red
Coyote Moon
Dancing Drums Progressive
Spartacus Gladiator of Rome
Dragon Flies
Enchanted Emporium Progressive
Forbidden Dragons
Tiger Roars
Tigress
Queen of the Wild II
Vivaldi's Seasons
Wicked Winnings II
Lazer Lock Ice Sapphire
According to Washington State Gambling Commission, the payback percentages for slot machines at this casino should be at least 75%, but some machines can have a higher payout percentage.
Hotel/Resort
This casino resort has a luxurious hotel with a total of 103 rooms. The property features two hotels, the Skagit and the Ridge. Each room has a flat-screen television, complimentary Wi-Fi and a coffee maker.
At The Skagit, you can choose from their standard rooms, which offer one king or two queen beds, perfect for a comfortable night's sleep. After a little more luxury, you might want to consider their Skagit King or Executive Suites.
Over at The Ridge, you can choose their Single King or Double Queen rooms, each designed for comfort and convenience. For those who want something truly special, consider booking their Ridge King Suite.
Additionally, this casino resort offers a variety of amenities for guests, including:
Wifi access
Parking on site
24-hour front desk
Concierge services
Onsite dining options
Swimming pool
Fitness center
Banquet facilities
Live entertainment and shows
Nearby local attractions
Gas station
The cost to stay at this casino resort varies depending on the room type and season. Generally, you can expect to pay at least $125 per night for a standard room. Rates may increase depending on peak season or holidays.
Check-in time at Skagit Valley is 4:00 pm
Check-out time at Skagit Valley is 11:00 am
Restaurants & Buffets
When it comes to dining options at this casino resort, you won't find any buffets but fear not. The resort has a range of restaurants that will satisfy your cravings.
Looking for a quick bite? Express Eats offers casual fares like burgers, hot dogs, and sandwiches, perfect for a snack between gaming rounds.
For those in the mood for something with a bit more kick, Tacos & Tequila delivers exactly what its name promises. Dig into delicious Mexican cuisine, sip on your favorite tequila, and enjoy a lively, festive atmosphere.
So, whether you're in the mood for a speedy snack or a spicy, sit-down meal, this casino resort has something for all appetites.
This Washington State casino also offers special dining promotions throughout the year. Be sure to check their website regularly for upcoming deals and discounts that you can take advantage of during your visit.
Pools
At this casino resort, there are plenty of opportunities to relax and unwind, and their indoor heated pool is the perfect place to do just that.
Whether you're seeking a quick dip before heading to the casino floor or spending a leisurely day lounging poolside, their pool area is a great choice for all. And with the water always at a comfortable temperature, you can enjoy a swim no matter the weather outside.
So why not take a break from the hustle and bustle of everyday life and treat yourself to some well-deserved R&R at this casino resort?
Skagit Casino Resort, Bow, WA FAQ
Does Skagit Casino Resort Have A Sportsbook?
No, this casino resort does not have a sportsbook. However, guests can enjoy the variety of casino games and slot machines that are available on the property. Guests can also take advantage of the numerous restaurants and other amenities offered at this resort.
Is Poker Available At Skagit Casino?
Yes, this casino resort does offer poker. The property features multiple poker tables where guests can play various popular variations. In addition to cash games, the casino also hosts regular tournaments and special events throughout the year.
What Are The Age Requirements For Gambling At Skagit Casino Resort?
The legal age to participate in gambling activities at this casino resort is 21 years or older. Guests must present valid identification to gain access to the gaming floor and may be asked for proof of age at any point during their visit.
Does Skagit Have An Online Casino?
No, this casino resort does not have an online casino. Guests must be physically on the property to participate in gambling activities. With so many amenities and attractions, you won't have any trouble finding something to do while you're there.
Is There An Skagit Casino Resort App?
No, this casino resort does not have an app. However, guests can keep updated with what's happening at the property by visiting their website, which can be accessed from any mobile device.
What Is The Dress Code At Skagit Casino?
The dress code at this casino is casual attire. Guests should avoid wearing clothing that is too revealing or contains language or images deemed inappropriate by management. Additionally, guests should refrain from bringing any weapons onto the property.
Is There An Airport Shuttle Available From Skagit Casino Resort?
No, this casino resort does not offer an airport shuttle. However, guests can take advantage of the nearby taxi and ride-sharing services. And for those who prefer to drive themselves, onsite parking is available for free.
What Is The Smoking Policy At Skagit Casino?
Smoking is allowed in designated areas of the casino floor. However, smoking and vaping are prohibited in all other facility areas, including the restaurants and pool area. Additionally, guests must be 21 or older to purchase tobacco products on the property.
What Is The Pet Policy At Skagit Casino Resort?
Sadly, pets are not allowed on the premises of this casino resort. However, certified service animals are welcome and must remain with their owner at all times. All other animals must remain off the property for the safety and comfort of all guests.
Is Wifi Available At Skagit Casino?
Yes, this casino resort does offer wifi for guests. The connection is reliable and fast, allowing you to stay connected during your visit. Guests may access the wifi wherever they happen to be on the property.
What Is The Cancellation Policy For Skagit Casino Resort?
Guests of this casino resort have 24 hours to cancel their reservation for a full refund. Cancellations made within the 24-hour window are subject to a cancellation fee. Guests should consult the website for more information about specific policies related to their booking.
Conclusion
This casino resort is a great destination for those looking to try their luck at various casino games and slots. With numerous amenities, attractions and activities, guests will surely find something to keep them entertained during their stay.
Whether you're looking for a weekend getaway or a longer stay, the Skagit Casino Resort offers plenty of entertainment and surprises. From poker to slots and everything in between, there is something for everyone at this one-of-a-kind casino resort.