By Steve Beauregard
Since Oklahoma voters approved Las Vegas style casino gambling on Indian land in 2004, the gambling business in the Sooner state has exploded.
According to the Oklahoma Indian Gaming Association, there are over 71,000 slot machines/video poker machines in the state, along with over 4,600 bingo seats. In fact, there are currently 102 casinos in Oklahoma.
These casinos range from small, plain buildings with nothing but a few banks of slots, all the way to luxurious, spacious Las Vegas-style resorts.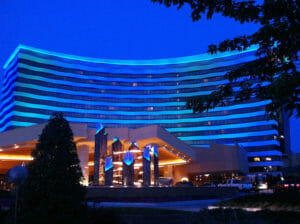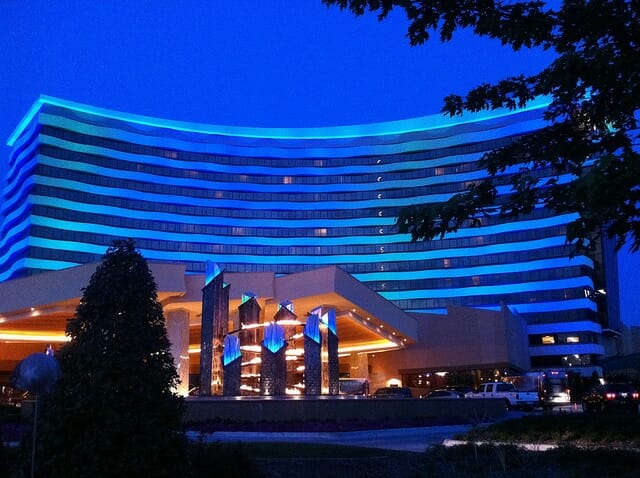 Some of the biggest casinos in the U.S. are in Oklahoma, including the number one largest casino in the entire country, (The WinStar Casino & Resort in Thackerville).
Other than the panhandle, there are casinos in every section of state, including several in, or within easy driving distance of Oklahoma City, Norman, and Tulsa.
To attract Texas gambling dollars, there are several clusters of casinos in the southernmost part of the state near the Texas border. To attract gamblers throughout the region, (from Kansas, Missouri and Arkansas), there's even a cluster of casinos in the rural far northeast part of Oklahoma. For example, tiny Miami, Oklahoma has six casinos itself.
There's a wide variety in the size, scope and offerings of these Sooner-state casinos. Some casinos are strictly slot and bingo joints in small, non-descript buildings. The Madill Gaming Center in Madill, Oklahoma, for example, has just 2,071 square feet – the size of a typical suburban home.
(Related: Top 10 largest casinos in Oklahoma)
On the other hand, the state is increasingly seeing more and more casino/hotel resorts – the kind with 1,000 plus room hotel towers attached to spacious casinos offering all the typical games you'd expect: blackjack, pai-gow, craps, roulette, etc. These act as destination resorts, with offerings that include beautiful golf courses, large concert arenas and a selection of fine restaurants.
(Here's a map showing –in red – just some of the state's 102 casinos.)
List of Top Gambling Venues in Oklahoma
| Venue | Address | Website |
| --- | --- | --- |
| Comanche Red River Casino Devol | 196747 OK-36, Devol, OK 73531 | www.comancheredrivercasino.com |
| Comanche Spur Casino Elgin | 9047 U.S. Highway 62, Elgin, OK 73538 | www.comanchespurcasino.com |
| Comanche Star Casino Walters | 263171 Highway 53, 263171 OK-53, Walters, OK 73572 | www.comanchestarcasino.com |
| Comanche Nation Casino Lawton | 402 SE Interstate Dr, Lawton, OK 73501 | www.comanchenationcasino.com |
| Choctaw Casino Idabel | 1425 SE Washington St, Idabel, OK 74745 | www.choctawcasinos.com/idabel |
| Choctaw Casino McAlester | 1638 S George Nigh Expy, McAlester, OK 74501 | www.choctawcasinos.com/mcalester |
| Choctaw Casino Pocola | 3400 Choctaw Rd, Pocola, OK 74902 | www.choctawcasinos.com/pocola |
| Choctaw Casino Stringtown | 893 US-69, Stringtown, OK 74569 | www.choctawcasinos.com/stringtown |
| Chisholm Trail Casino Duncan | 7807 US-81, Duncan, OK 73533 | www.chisholmtrailcasino.com |
| Choctaw Casino Resort Durant | 4216 US-69, Durant, OK 74701 | www.choctawcasinos.com/durant |
| Choctaw Casino Broken Bow | 1790 S Park Dr, Broken Bow, OK 74728 | www.choctawcasinos.com/broken-bow |
| Choctaw Casino Grant | 1516 US-271, Grant, OK 74738 | www.choctawcasinos.com/grant |
| Cherokee Casino Sallisaw | 1621 W Ruth Ave, Sallisaw, OK 74955 | www.cherokeecasino.com/sallisaw |
| Cherokee Casino Tahlequah | 3307 Seven Clans Ave, Tahlequah, OK 74464 | www.cherokeecasino.com/tahlequah |
| Cherokee Casino Roland | 109 Cherokee Blvd, Roland, OK 74954 | www.cherokeecasino.com/roland |
| Cherokee Casino West Siloam Springs | 2416 US-412, West Siloam Springs, OK 74338 | www.cherokeecasino.com/west-siloam-springs |
| Buffalo Run Casino Miami | 1000 Buffalo Run Blvd, Miami, OK 74354 | www.buffalorun.com |
| Cherokee Casino Will Rogers Downs Claremore | 20900 S 4200 Rd, Claremore, OK 74019 | www.cherokeecasino.com/will-rogers-downs |
| Cherokee Casino Fort Gibson | 107 N Georgetown Rd, Fort Gibson, OK 74434 | www.cherokeecasino.com/fort-gibson |
| Ada Gaming Center | 1500 N Country Club Rd, Ada, OK 74820 | www.adagaming.com |
Casinos in Oklahoma
The state of Oklahoma's official site lists over 110 casinos, however this is misleading, as one of their listed "casinos", Fair Meadows, is actually just a horse racing track that only offers betting on horse races. There are no slots, nor table games, so we don't consider that to be a casino.
However some horse racing tracks in the state do have a casino. This includes places such as Remington Park Racetrack & Casino in Oklahoma City, which we count that in the list 102 casinos in Oklahoma. As a side note, Remington Park is the only casino in Oklahoma City, although there are several others on the outskirts of town.
They also count casinos like the new Margaritaville as a casino, when in reality it is a casino located within a casino – the River Spirit Casino Tulsa. Therefore we don't count this as a separate casino.
(Related: List and map of Tulsa Casinos)
Some websites claim that Oklahoma has 124 casinos, per an Oklahoma Indian Gaming Association report. However this figure includes bingo parlors and horse racing and other places without casino games. In addition, I've gone through this list of 124, and noticed several duplicates. We're talking situations where a casino was listed once for it's electronic games, and once again for its bingo game. Other casinos on the list were no longer in operation.
Oklahoma Casino Revenue
As further evidence that the state is increasingly a big player in the gambling market, Oklahoma casinos generated gaming revenue of over $4.4 billion a year. This data comes from the respected Casino City's Indian Gaming Report, written by Alan Meister.
Oklahoma and federal Indian gaming law gets sort of complicated, however there are basically two classifications of gaming in the state: Class II and Class III.
Class II gaming includes bingo, electronic bingo, pull tabs and the like.
Class III gaming is more of the Las Vegas style of gaming that we all know and love: slot machines, traditional video poker, and table games, including blackjack, Three-Card poker, Texas Hold'em and the like.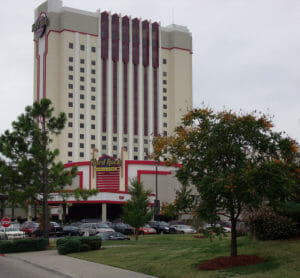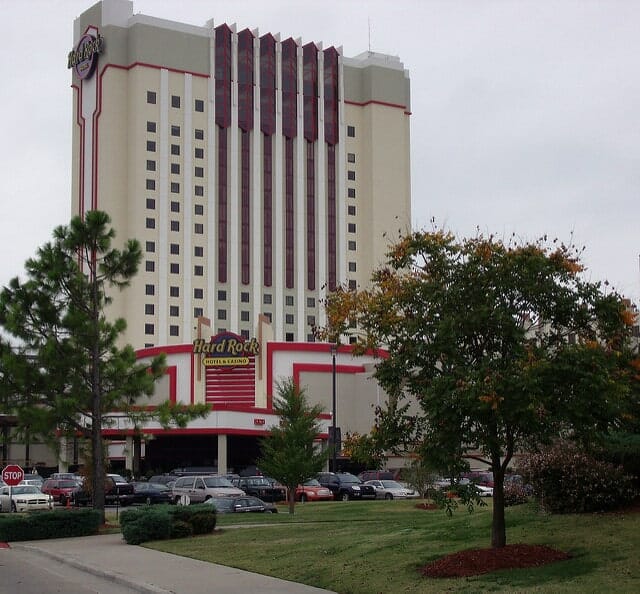 (Related: Closest casinos to Dallas, Texas)
Other Oklahoma Casino Tidbits
* Oklahoma casinos have approximately 71,000 electronic gaming machines. The Oklahoma Gaming Compliance Unit (the state's version of the Nevada Gaming Commission), reported that the state's 102 casinos had a total of 40,667 slot machine/video poker machines, which are class III games. In addition, Casino City's Annual publication says that the state has approximately 30,000 of the Class II electronic bingo and other electronic games.
* The various Indian tribes paid $128 million in fees to the state of Oklahoma as part of their gambling compact.
* The most success Indian tribe operator of casinos in Oklahoma is the Chickasaw Tribe. Their casinos include the aforementioned WinStar, which has 400,000 square feet of gaming space and is the largest casino in the USA.
* In fact, based on most recent figures supplied by Oklahoma's Gaming Compliance Unit, Chickasaw Nation casinos provide 35% of the state's gaming revenue.
(Photos courtesy of Brad Holt and Danzil Raines via Flickr).