Buffalo Run Casino Miami
Address: 1000 Buffalo Run Blvd, Miami, OK 74354
Phone Number: +1 918-542-7140
Website: www.buffalorun.com
Hours: Buffalo Run Casino is open Monday 8 AM – 4 AM, Tuesday 8 AM – 4 AM, Wednesday 8 AM – 4 AM, Thursday 8 AM – 12 AM, Friday Open 24 hours, Saturday Open 24 hours, Sunday 8 AM – 4 AM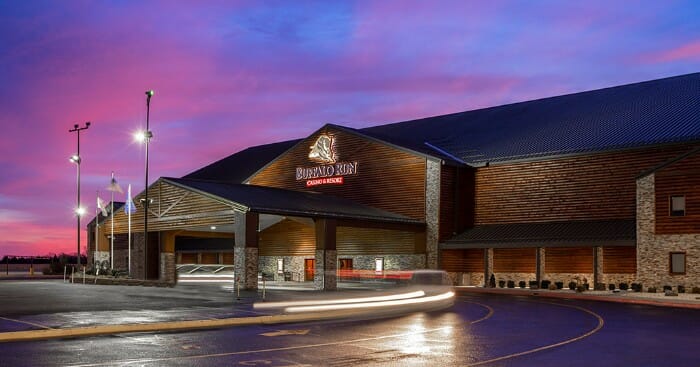 Buffalo Run Casino was opened as part of the Peoria tribe's plans to bring economic growth and prosperity to Miami. From its opening until today, the casino has provided visitors with a variety of gaming options that also helped to benefit the local community.
The casino is located near Lion Chaney Park and features a range of thrilling gaming options, including over 900 slots, as well as multiple table games. It also offers accommodations on-site and several restaurants.
In addition to gambling opportunities, the casino also provides visitors with a variety of entertainment options. The venue frequently hosts live concerts featuring nationally-known acts, as well as comedy shows and other special events.
They also have a golf course and a truckers' lounge open to all visitors. This casino is committed to providing an enjoyable experience to guests and strives to ensure that everyone who visits has a good time.
Whether you're looking for a fun night out or a relaxing getaway, this is the perfect place to visit. With its wide range of gaming options, entertainment options and accommodations, it's no wonder that this casino is so popular with locals and tourists alike.
On popular travel and review websites, this casino has been well-received by guests. It has an average rating of 4.5 stars out of 5 from hundreds of reviews. One guest said, "The staff was very friendly and helpful. The gaming selection was good, and the food was great."
Another reviewer said, "This was the best casino experience I've ever had! The staff was so friendly and helpful and the selection of games was great. Highly recommend visiting here for a great time!"
(Related reading: Oklahoma casinos)
Gaming
Their casino floor boats over 900 slots and multiple table games that players of all experience levels and bankrolls can enjoy.
Table Games
If you're looking for some table game fun and excitement, this casino has got you covered. This casino offers a wide selection of exciting games to choose from, whether you want to play something classic or something new.
For the traditionalists out there, why not try your hand at Limit Holdem or No Limit Holdem? And if you're feeling lucky and adventurous, give Fortune Pai Gow a go – it might just become your favorite game.
Craps and Roulette are always entertaining (especially when someone rolls a lucky 7), while Blackjack and Spanish 21 are great for those who like sharpening their strategies.
The minimum bets at this casino vary depending on the game. Generally, players may find minimum bets as low as $5. If you want a more accurate assessment of the table game minimums, it's best to check with the casino directly or with the dealer when you arrive.
Slots
This casino in Oklahoma is widely known for its plethora of incredible casino games. Slot enthusiasts in particular flock to the venue to enjoy slots such as:
Li'l Red
Spartacus Gladiator of Rome
Colossal Wizards
Forbidden Dragons
Lazer Lock Ice Sapphire
Queen of the Wild II
Unfortunately, this casino does not disclose its slot machine payback percentage. However, players may check with the casino directly or with their dealers to get a better idea of which machines offer the best payouts.
Hotel/Resort
This casino offers 100% nonsmoking rooms and suites to its guests, complete with modern amenities and features. Each room includes a full-size refrigerator, microwave and coffee maker, as well as a 32-inch flat-panel TV with cable channels.
The hotel offers a variety of different room types to fit your needs. For those seeking luxurious accommodations, the Deluxe Suites feature an inviting atmosphere and premium amenities. Standard Suites are great options for those who want more space in their room.
Finally, if you're looking for something more economical, the King and Double Queen Standard Rooms are a great choice. Additionally, this casino offers a variety of amenities and services to ensure an enjoyable experience for its guests. These include:
Highspeed wifi access
Free self-parking
Onsite truck parking
Multiple dining options
Fitness center
Indoor swimming pool
24-hour front desk
Housekeeping
Business center and meeting rooms
Live entertainment and concerts
Truckers' lounge
Golf course
Gift shops
TopGolf Swing Suite
The cost of staying at this hotel in Oklahoma depends on the room and suite type chosen. Typically, room rates start at around $104 per night excluding taxes and fees.
Check-in time at Buffalo Run is 3:00 pm
Check-out time at Buffalo Run is 11:00 am
Restaurants & Buffets
Although they currently do not offer an all-you-can-eat buffet, this casino does have several delicious restaurants and bars to choose from. Looking for a classic country steakhouse experience? Check out Coal Creek Restaurant.
Need some burgers and beer after a long day of gaming? Grab a seat at Backwoods Bar & Grill. If you're in the mood for something a bit more upscale, The Bistro has you covered with its New American cuisine menu.
Whatever type of dining experience you desire, this casino's impressive selection of restaurants is sure to please your taste buds.
Pools
This casino offers up plenty of entertainment – and fun; not only can you try your luck at the tables and slot machines, but the casino also boasts an indoor swimming pool.
So if you're feeling lucky or just want a chance to relax and take a break from the gaming action, their pool can provide the perfect swimming retreat. Customers will enjoy crystal-clear waters as they gaze out over the stunning sunset views with occasional live events on the weekends.
Buffalo Run Casino, Miami, OK FAQ
Does Buffalo Run Casino Have A Sportsbook?
Unfortunately, no. At this time, this casino does not offer any form of sports betting or wagering. However, guests can still enjoy the variety of slot machines and table games available.
Plus, they offer Contender Esports, where guests can compete in tournaments and leagues in a variety of the world's most popular video games.
Is Poker Available At Buffalo Run?
Yes. This casino offers a range of popular poker variations. Guests can take part in regular cash games or tournaments with various buy-ins. There are also daily promotions available awarding bonus chips and extra perks for players.
What Are The Age Requirements For Gambling At Buffalo Run Casino?
Guests must be at least 18 years of age to gamble at this casino. Identification will be required upon entry to the premises and may be asked for again when playing table games or slot machines.
Does Buffalo Run Have An Online Casino?
No, this casino does not currently offer any online gambling services. Guests must visit the casino in person to take part in any of their games and betting options. Plus, there are some great restaurants and entertainment options at the casino for visitors to enjoy.
Is There An Buffalo Run Casino App?
No, there is no app for this casino at this time. However, you can check out their official website for more information about their services and amenities. You may also follow the casino on social media to stay up-to-date with upcoming events and promotions.
What Is The Dress Code At Buffalo Run?
The dress code at this casino is casual. Guests are advised to wear comfortable, neat and clean clothing.
However, guests should avoid wearing items of clothing that display offensive logos or messages. Beachwear such as shorts and flip-flops are not permitted in gaming areas or restaurants.
Is There An Airport Shuttle Available From Buffalo Run Casino?
Unfortunately, this casino does not offer an airport shuttle service. Guests are advised to use private transportation services or taxi companies for travel to and from the casino. There is also a car rental agency nearby if you prefer to rent a vehicle.
What Is The Smoking Policy At Buffalo Run?
Smoking is only allowed in designated smoking areas available on the premises. These include outdoor balconies and patio spaces, away from all gaming areas. All other indoor areas, including restaurants, bars and gaming floors are smoke-free environments.
What Is The Pet Policy At Buffalo Run Casino?
Sadly, pets are not allowed in the casino. Guests may bring service animals with them into the premises, but all other pets must remain outside of the casino and its facilities. Make sure to leave your pet at home if you plan on visiting this casino.
Is Wifi Available At Buffalo Run?
Yes. The casino offers free Wi-Fi for all guests to enjoy. This service is available throughout the venue and can be accessed by registering your device with the onsite network. It also provides a secure connection, so you can safely browse the internet without any worries.
What Is The Cancellation Policy For Buffalo Run Casino?
Cancellations or changes to reservations must be made at least 24 hours in advance. Otherwise, the full charge for a reservation will be applied. Guests can contact the casino directly via phone or email to make any necessary amendments to their booking.
Conclusion
Buffalo Run Casino is a great destination for gaming enthusiasts, offering guests the chance to take part in a range of table games and slot machines.
Plus, there are daily poker tournaments available with varying buy-ins, as well as Contender Esports events where you can compete against video game players. Furthermore, there are plenty of amenities to enjoy, including free Wi-Fi, a variety of restaurants and a 24-hour front desk.
Make sure to check out the casino's website for more information about their services and policies. Remember to gamble responsibly and have fun!