From big Las Vegas-style casinos around Chicago, to riverboats in the heartland, the Land of Lincoln may as well be called the land of slots, as there are casinos throughout the state of Illinois.
In fact, ten casinos call Illinois home, with plenty more outside the state borders, in Chicagoland area of Indiana, in Eastern Iowa, and other neighboring states.

Prairie State casinos range from Grand Victoria Elgin (the northernmost casino) down to Harrah's Metropolis in the farthest southern end of the state, with a few others in-between.
All are privately-owned casinos, making Illinois only one of a handful of states that do not have Indian casinos. And while all are at least on the banks of a river, there are only a few truly "boat" casinos.
Either way, they're all regular casinos – meaning you'll find the same kind of traditional slot machines, video poker machines, and table games you'll find in Las Vegas. Two casinos currently have sports books, with five others on the way.
Big Money
All total, the state's ten casinos combine to generate over $100 million dollars in gaming revenue.
Per month.
In other words, these are busy places. In fact, Illinois Gaming Board figures show that over 800,000 people a month visit on the state's ten casinos. The busiest month is March, when Illinois casinos see roughly one million visitors!
Below is a look at the ten casino in Illinois. Keep in mind, we're focusing only on more traditional casinos and not counting the thousands of bars, gas stations and other places with VGT machines, or video gaming terminals.
List of Top Gambling Venues in Illinois
| Venue | Address | Website |
| --- | --- | --- |
| Hollywood Casino Joliet | 777 Hollywood Blvd, Joliet, IL 60436 | https://www.hollywoodcasinojoliet.com/ |
| Hollywood Casino Aurora | 1 W New York St, Aurora, IL 60506 | https://www.hollywoodcasinoaurora.com/ |
| Rivers Casino Des Plaines | 3000 S River Rd, Des Plaines, IL 60018 | https://www.riverscasino.com/desplaines/ |
| Par-A-Dice Casino East Peoria | 21 Blackjack Blvd, East Peoria, IL 61611 | https://www.paradicecasino.com/ |
| Argosy Alton Belle Casino Alton | 1 Piasa St, Alton, IL 62002 | https://www.argosyalton.com/ |
Illinois Casinos Map
(Each of the ten black dice represent one of the state's casinos)
As you can see from the map above, half (5) of the state's casinos are clustered in the Chicagoland area.
Two others are outside of St. Louis, with the other three spread out across the state. We break down the casinos by area: Chicagoland, St. Louis, and Other Areas:
Chicagoland Area
(Go here for more details on the 8 casinos near Chicago)
The five Chicagoland casinos within Illinois borders are as follows:
Rivers Casino Des Plaines
Close to O'Hare, this is far and away the busiest casino in the state. Over 1/3rd of the money gambled in Illinois is gambled at Rivers Casino Des Plaines.
It boasts the state's first sportsbook, over 1,000 slots/video poker games and nearly 50 table games.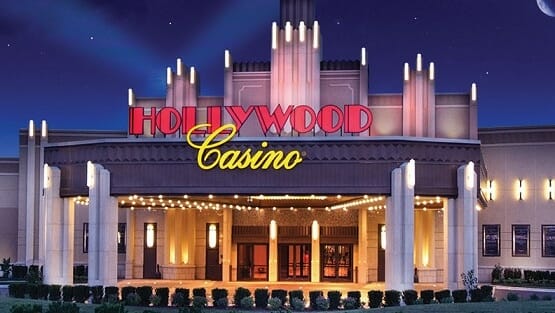 Hollywood Casino & Hotel Joliet
This is the largest casino in Illinois, at 50,000 square feet. There'll you find 1,100 slot machines (the most in the state), but just 15 table games.
Grand Victoria Casino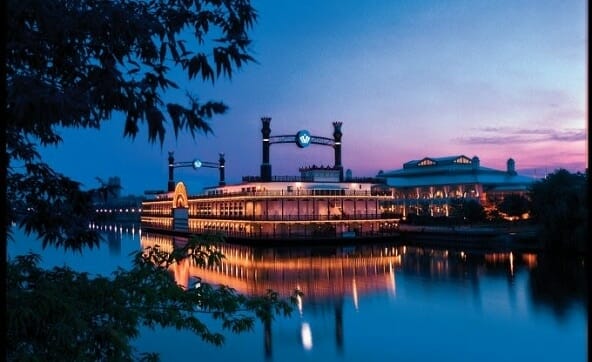 The state's 2nd most visited casino, this pretty riverboat in Elgin has just under 1,100 slot machines and 41 table games.
Harrah's Joliet
One of two casinos in Joliet, this Caesars Entertainment property has the second most slots in the state (just under 1,100), and 39 table games.
Hollywood Casino Aurora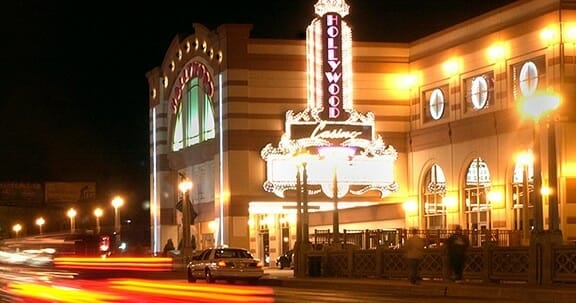 Having one of the prettier casino exteriors, the inside boasts 1,000 slot machines and 30+ table games, including a small poker room..
St. Louis Area
In addition to St. Louis casinos on the Missouri side, there are two Illinois casinos close to "The Gateway to the West."
Argosy Casino Alton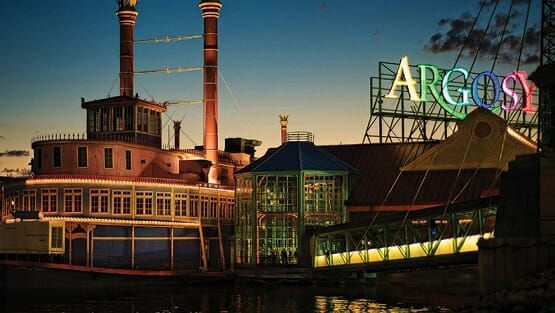 The smallest casino in the state (at just 23,000 square feet), this riverboat can also claim the title of "oldest casino in Illinois."
Once riverboat gambling became legal in 1990, the Argosy was the first one to open – exactly a decade prior to 9/11, on September 11, 1991.
It has a sportsbook, 741 slots, and 12 table games, including roulette, blackjack, Ultimate Texas Hold'em, and craps.
Draftkings at Casino Queen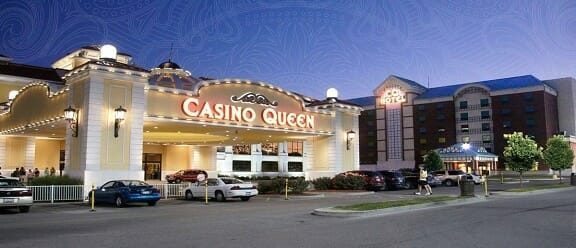 This East St. Louis mainstay boasts 991 slots and 27 table games, including all of the favorites (BJ, craps), along with EZ Baccarat, 3-Card Poker and the like.
Despite a lack of glamour, its convenient location just across the Mississippi River from St. Louis helps make the Casino Queen the 3rd busiest casino in the state. In July 2020, the former "Casino Queen" was re-branded as "Draftkings at Casino Queen."
Other Areas
Harrah's Metropolis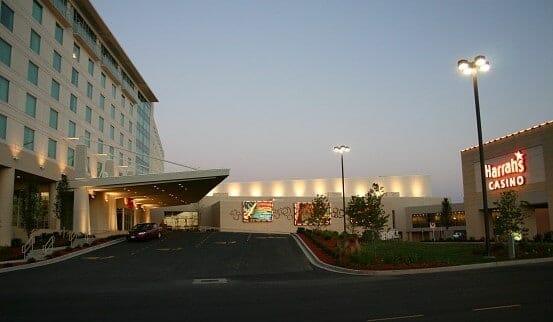 You can't get much further south while still remaining in Illinois than playing at this riverboat casino just across the Ohio River from Kentucky.
While on the smaller side, this casino still has over 800 slot machines and over 20 table games, along with a modest poker room.
Bally's Quad Cites Casino & Hotel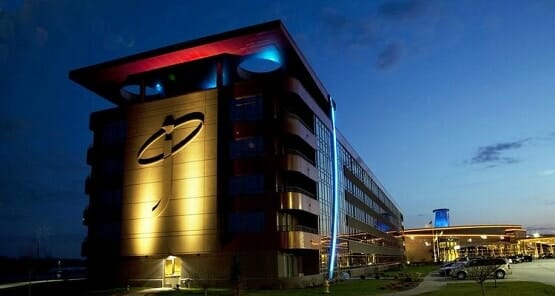 One of three casinos in the Quad Cities area of Eastern Iowa/Western Illinois, Bally's has approximately 850 slots and video poker machines, 19 table games and a small poker room.
Par-A-Dice Hotel & Casino
I don't know if it "plays in Peoria," but you can play in Peoria at the region's only casino.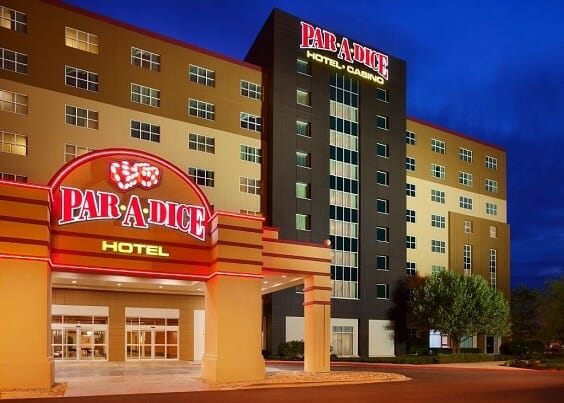 Located on the eastern banks of the Illinois River, the Par-A-Dice Casino in East Peoria is a still a water-based casino, but one with four levels of action. This boat boasts over 900 slot machines, thirty table games, and a small poker room.
There are four restaurants here, bars, and a hotel across the street.
Having a monopoly in the region, the Par-A-Dice draws gamblers from throughout Central Illinois.
Best Casinos in Illinois
Everyone has their own definition of what constitutes the "Best" casino. My personal best casino is the one where I walk out with money.
However people vote with their wallet, and based on that, here are the top five best casinos in Illinois, as measured by popularity – i.e. monthly visitation numbers from the Illinois Gaming Board:
1) Rivers Casino Des Plaines
The runaway most popular casino in the state, Rivers Casino Des Plaines gets nearly three times as many visitors as the next busiest casino.
2) Grand Victoria – Elgin
3) Casino Queen – E. St. Louis
4) Hollywood Casino – Aurora
5) Harrah's Joliet
As for the state's least popular casino? It may not be a fair metric, but based on monthly visitor numbers, the Argosy Casino in Alton is the least busy gambling joint in the state, as they see around a thousand gamblers a day on average.
Casinos in Illinois with Hotels
Seven of the state's casinos are located around metro areas of Chicago and St. Louis, and as a result, are mostly locals casinos, rather than destination resorts. As such, most do not have hotels, and if they do, they are utilitarian in nature.
In other words, you won't find the Bellagio here. Casinos with hotels include:
The Casino Queen in E. St. Louis – 157 rooms.
Harrah's Joilet – 200 rooms.
Harrah's Metropolis – A 258 room hotel built in 2006.
Hollywood Casino & Hotel Joliet – a very modest 100 room hotel is across the parking lot. There's also an RV park here.
Par-A-Dice Hotel & Casino – Located a few hundred feet across the street from its riverboat casino, the Par-A-Dice's hotel boasts 208 rooms and suites.
Bally's Quad Cities Casino Hotel – This casino has a modern-looking, beautiful 5-story, 205 room hotel.
More Facts About Illinois Casinos
* All total, there is 357,000 square feet of casino floor space in Illinois.
* Latest reports from the Illinois Gaming Board show that the state is home to 323 table games.
Of these, there are 51 blackjack tables, 49 poker tables, 35 roulette wheels, 27 craps tables and 2 Pai Gow Poker tables.
* These ten casinos have a combined 9,646 slot machines – most of which are penny machines, however for you high rollers, there are seven $100 slot machines in Illinois.
* Of the ten casinos in the state, only three have not applied to have sports betting. Those three are: Harrah's Joliet, Jumer's Casino, and Harrah's Metropolis.
* Revenue from the state's thousands of VGT machines surpasses the revenue from the ten casinos' slot machines.
* You must be 21 years or older to gamble in Illinois.
(By Steve Beauregard. Photos courtesy of the Rivers Casino Des Plaines press page, the Casino Queen, the Naperville Convention & Visitors Bureau, the Par-A-Dice Hotel & Casino, Explore Elgin, Enjoy Illinois and Penn National Gaming.)