Rivers Casino Des Plaines
Address: 3000 S River Rd, Des Plaines, IL 60018, USA
Phone Number: +1 847-795-0777
Website: https://www.riverscasino.com/desplaines/
Hours: Rivers Casino is open 24 hours a day, 7 days a week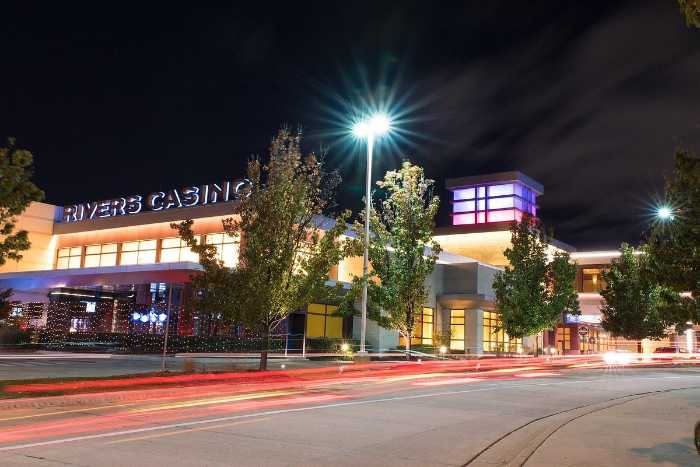 The Rivers Casino opened on July 18, 2011. It is owned and operated by the Rush Street Gaming company. The casino has over 1,100 slot machines and more than 30 table games.
It also features high-end dining options, including Hugo's Frog Bar & Chop House, as well as casual eateries like Flipt and Lotus. The casino also offers live entertainment and events at its on-site venue, the Pavilion.
Visitors can also enjoy outdoor gaming on the spacious patio during warmer months. With its convenient location just outside of Chicago, Rivers Casino is a popular destination for both locals and tourists.
Guests rate the Rivers Casino highly, with an average rating of 4.5 out of 5 on TripAdvisor. Many reviewers mention the great selection of games and restaurants and the convenient location.
Some mention that the casino can be quite noisy, but overall, guests enjoy their experience at Rivers Casino.
(Related reading: Illinois casinos)
Gaming
This casino offers live table games, including blackjack, craps, roulette and more. The slot machines feature popular titles such as Wheel of Fortune and Lightning Link. The casino also offers high-limit gaming rooms for those seeking a more exclusive experience.
Table Games
This casino has a wide variety of table games for guests to enjoy. Blackjack, Roulette, Craps, and Baccarat are just some of the casino classics that can be found on the gaming floor. For those looking for a little more excitement, the casino also offers Pai Gow Poker and Mississippi Stud.
There is something for everyone at Rivers Casino. Guests can test their luck at one of the many tables or try their hand at one of the casino's signature games. With so many options available, there is sure to be a table game that everyone will enjoy.
Table game minimums vary, but most start at $5. High-limit tables have higher minimums, with some starting at $50 or more.
Rivers also offers a variety of promotions and specials for table games, such as double points on select days or special events like tournaments. These promotions and specials may also affect minimums, so checking with a casino representative before starting a game is best.
Slots
It is a popular destination for gamers from all over the Midwest. The casino offers a wide variety of gaming options, including slots, table games, and poker. Among the most popular slot machines at Rivers Casino are those based on popular television shows and movies.
Game of Thrones, Wheel of Fortune, and Jeopardy are just a few of the TV-themed slots that can be found at the casino. Movie-themed slots include titles like Ghostbusters, Star Trek, and The Godfather.
In addition to these licensed slots, the casino also offers a wide selection of traditional slots, video poker machines, and progressive jackpot games. Whatever your gaming preference, you're sure to find a slot machine at Rivers Casino that's right for you.
The payback percentage for slot machines at this casino is not publicly disclosed. The minimum legal payback percentage for slot machines in Illinois is 80%.
However, it's important to remember that the actual payback percentage for any individual machine can vary and may be above or below the legally mandated minimum. The best way to determine the payback percentage for a specific machine is to ask a casino representative.
Overall, Rivers offers a wide variety of slot options and the chance to potentially win big with its progressive jackpot games.
Hotel/Resort
Rivers Casino in Des Plaines offers guests a wide array of amenities. These include over 1,000 slot machines, over 50 table games, and a state-of-the-art poker room.
The casino also features a number of restaurants, bars, and lounges, including the award-winning Hugo's Frog Bar & Chop House. In addition, guests can enjoy live entertainment at the casino's two theaters, which regularly host national touring acts.
For those looking for more than just gambling, Rivers also offers a full-service spa, salon, and fitness center. Whatever your needs might be, Rivers Casino has you covered.
Restaurants & Buffets
Rivers has a variety of restaurants to satisfy any appetite. For a quick bite, stop by Flipt or Mian. Hugo's Frog Bar & Chop House offers fresh seafood and steaks in a casual setting if you're looking for something more substantial.
The Marketplace is perfect for grabbing a quick sandwich or salad to go. And if you're looking for a truly unique dining experience, check out Aquabar – an underwater-themed bar located in the center of the casino floor.
No matter what you're in the mood for, Rivers Casino has a restaurant to suit your needs.
Pools
Rivers Casino offers guests the opportunity to take a dip in one of their two outdoor pools. The pool area also features lounge chairs, cabanas, and a poolside bar for sipping on refreshing drinks while soaking up some sun.
The casino also boasts a hot tub and steam room for those looking for something more relaxing. Whether you want to take a dip or just relax poolside, Rivers has the perfect spot for a day of relaxation.
Rivers Casino Des Plaines, IL FAQ
Does Rivers Casino Have A Sportsbook?
Rivers Casino in Des Plaines features a sportsbook called BetRivers. The sportsbook features a LED High Definition Wall and premium stadium seating.
Monitors line the room and surround the 26-seat bar outfitted with bartop video poker. You can place your bets online or in person at the casino.
Is Poker Available At Rivers Casino?
Yes, Poker is available at this casino. They have a dedicated Poker Room with tables for Texas Hold 'Em, Omaha and more. The room is open 24/7, and there's always a game going on. If you're new to the game, they also offer complimentary lessons.
What Are The Age Requirements For Gambling At Rivers Casino?
In order to gamble at this casino, all guests must be at least 21 years of age. Photo identification is required for all guests, and any guest who appears to be under the age of 30 will be asked to present a valid ID.
Guests who cannot provide identification proving they are at least 21 years of age will be asked to leave the casino.
Does Rivers Have An Online Casino?
No, Rivers Casino does not have an online casino. However, they do offer a sportsbook called BetRivers. This allows users to bet on sporting events from their computer or mobile device. BetRivers is available to anyone 21 or over and is legal in the state of Illinois.
To sign up, users simply need to provide their name, date of birth, and email address. Once registered, they can start placing bets on a wide range of sports including football, basketball, baseball, and hockey.
In addition to traditional betting lines, BetRivers also offers live betting on select games. This allows users to place bets on games as they are happening. Live betting is available for all major sports leagues as well as some college and international events.
Is There An Rivers Casino Des Plaines App?
The Rivers Casino mobile app is a great way to instantly access special offers and promotions. For Rush Rewards members, the experience gets even better. With the app, you can log in to view your point balance and access personalized offers.
The app also gives you access to live entertainment schedules so you can stay up-to-date on all the exciting things happening at the casino. Whether you're a local or just visiting, the Rivers app is a great way to make the most of your visit.
What Is The Dress Code At Rivers Casino?
The dress code at Rivers Casino is casual, but guests are asked to refrain from wearing athletic wear or flip-flops.
Additionally, the casino asks that all guests present themselves in a well-groomed and appropriate manner. This means avoiding clothing with offensive language or graphics and excessive alcohol consumption.
Is There An Airport Shuttle Available From Rivers Casino?
Unfortunately, there is no airport shuttle available from the Rivers Casino. However, the casino does offer valet parking for all guests.
If you are looking for transportation to and from the airport, it is recommended that you use a ride-sharing service or taxi. The closest major airports to Rivers Casino are O'Hare International Airport and Midway International Airport, both located in Chicago.
What Is The Smoking Policy At Rivers?
This casino is a non-smoking facility. However, they do have designated smoking areas outside the casino for those who wish to smoke.
In addition, tobacco products (including e-cigarettes and vaporizers) are not permitted inside the casino. Guests who are caught using these products will be asked to leave the premises.
What Is The Pet Policy At Rivers Casino?
Unfortunately, pets are not allowed inside the casino at any time except for service animals. Service animals must be wearing a vest or harness, identifying them as such and must remain on a leash or harness at all times while in the casino.
Is Wifi Available At Rivers?
Yes, wifi is available for all guests at Rivers Casino. Simply connect to the "Rivers Guest" network and enter your room number or a valid email address to access the internet.
What Is The Cancellation Policy For Rivers Casino?
Cancellation policies may vary for specific events or promotions at Rivers Casino. You should check the fine print for any reservations or purchases made at the casino.
Generally speaking, it is best to cancel any reservations at least 24 hours in advance to avoid any fees or penalties.
Conclusion
Rivers Casino is a great destination for those looking to enjoy gaming, dining, and entertainment. With its convenient location in Des Plaines, IL and easy-to-use mobile app, it's the perfect spot for a night out or weekend getaway.
And with a casual dress code and wifi availability, guests can feel comfortable and connected during their visit. While pets are not allowed inside the casino, service animals are welcome to accompany their owners.
And for any reservations or purchases, it's best to cancel at least 24 hours in advance to avoid fees or penalties. With all this in mind, come check out Rivers Casino for an exciting and enjoyable experience.