Hollywood Casino Joliet
Address: 777 Hollywood Blvd, Joliet, IL 60436, USA
Phone number: +1 888-436-7737
Website: https://www.hollywoodcasinojoliet.com/
Hours: 7:30 am – 5:30 am daily, 7 days a week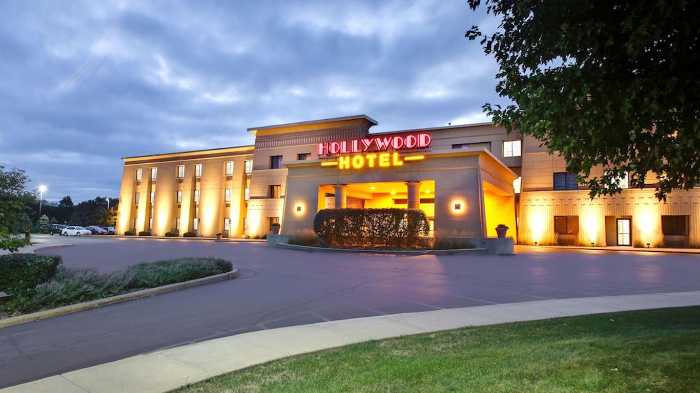 Hollywood was first opened in February 2008. It was developed by Penn National Gaming and is one of the company's 16 casinos in the United States. The casino is located on the banks of the Des Plaines River in Joliet, Illinois.
It features a 122,000-square-foot gaming floor with more than 2,300 slot machines and 48 table games. There is also a 15-table poker room, an electronic table game area, and a high-limit gaming area. The casino has a 12-story hotel with 223 rooms, a spa, and several restaurants.
In addition to gambling, the casino offers live entertainment at the H Lounge and the Pavilion. It also hosts events such as boxing matches and concerts in the pavilion.
It is a popular destination for gamblers and entertainment seekers alike. Whether you're looking for a thrilling night of gaming or a relaxing evening of live entertainment, the Hollywood Casino has it all.
Guests rate the Hollywood Casino highly. It has earned 4.5 out of 5 stars on TripAdvisor, and it has a Certificate of Excellence from the site. Guests love the variety of gaming options and the restaurants and accommodations. They also appreciate the friendly and helpful staff.
(Related reading: Illinois casinos)
Gaming
This casino offers a wide variety of slot machines, as well as blackjack, craps, roulette, mini-baccarat, and more. The electronic table game area features options like electronic craps and electronic roulette.
Table Games
This casino offers a variety of table games for guests to enjoy. The casino has traditional games like blackjack and poker and more unique options like Mississippi Stud and Pai Gow Poker. Guests can also play roulette or craps. No matter what game you choose, you're sure to have a great time at Hollywood Casino.
Table game minimums vary and can range from $5 to $100. The minimums are subject to change, so it's best to check with the casino before playing.
Slots
This casino is known for its wide selection of slot machines. Some of the most popular machines at the casino include Wheel of Fortune, Buffalo Gold, and Penny Slots. Whether you're looking for a classic game or something more modern, there's sure to be a perfect machine.
Hollywood Casino also offers a variety of progressive jackpot machines, giving you the chance to win big prizes. Plus, with new machines being added all the time, there's always something new to try.
So whether you're a seasoned pro or just getting started, Hollywood is the perfect place to test your luck.
This casino does not publicly release its slot machine payback percentages, but according to the Illinois Gaming Board, the average payback for all the state casinos is 92.5%.
This means that, on average, for every dollar, you spend playing a slot machine at the Hollywood Casino, you can expect to win back about 92.5 cents. However, it's important to note that individual machines and casinos may have different payback percentages.
Hotel/Resort
The Hollywood hotel offers a comfortable and convenient stay for guests. The 12-story hotel has 223 rooms, each equipped with amenities like flat-screen TVs, mini-fridges, and coffee makers.
In addition to the comfortable rooms, the hotel also offers a spa, 24-hour fitness center, indoor pool, and several on-site restaurants. Guests can dine at delicious options like Final Cut Steakhouse or 99 Hop House.
It also offers live entertainment at the H Lounge and Pavilion. The H Lounge features live music, comedy shows, and karaoke nights.
The Pavilion hosts larger events, including boxing matches and concerts. Past performers at the Pavilion have included Mark Wills, The Beach Boys, and ZZ Top. So whether you're looking for a night of live music or sporting entertainment, you're sure to find it at Joliet's pavilion.
Whether you're looking for a relaxing spa day or an exciting night of gaming, the Hollywood hotel has everything you need for a memorable stay.
The cost of a stay at this Hollywood hotel varies depending on room type and time of year. However, rooms typically range from $99 to $169 per night.
Additional fees may apply for amenities like spa services or parking. It's best to check with the hotel directly for current rates and fees.
Check-in time at Hollywood Hotel Joliet is 4:00 pm
Check-out time at Hollywood Hotel Joliet is 11:00 am
Restaurants & Buffets
It has three excellent restaurant options, each with a unique menu and atmosphere. Final Cut is the perfect place for a nice dinner, with a menu that offers both familiar favorites and vegetarian options.
If you're looking for a more casual setting, 99 Hops House is the place for you, with over 70 beer selections and delicious pub grub.
And if you're just looking for something quick and tasty, Take Two Deli has you covered with delicious sandwiches and snacks that are sure to satisfy you. No matter what your taste, Casino Joliet has a restaurant that's perfect for you.
Pools
The Hollywood hotel's indoor pool is perfect for year-round swimming and relaxation. The pool also has a hot tub, allowing you to unwind after a long day of gaming or exploring the city.
Outside of the hotel, there is also a seasonal outdoor pool and deck area, complete with lounge chairs and cabanas, perfect for summertime relaxation.
Hollywood Casino Joliet, IL FAQ
Does Hollywood Casino Have A Sportsbook?
This casino does have a sportsbook. This is great news for sports fans in the area who now have a convenient place to place wagers on their favorite teams.
The sportsbook is located inside 99 Hops House and offers a variety of betting options, including straight bets, parlays, match-ups, futures, props and in-play betting. For your convenience, there are also 14 kiosks located throughout the casino floor and pavilion.
So whether you're a casual fan or a die-hard follower of your favorite sport, be sure to check out the Hollywood sportsbook next time you're in town.
Is Poker Available At Hollywood Casino?
Yes, this casino offers a variety of poker options. The Poker Room at Joliet has 10 tables and offers popular games like Texas Hold 'Em, Omaha Hi-Lo, and Seven Card Stud. There are also daily tournaments for players to participate in.
In addition to the regular cash games and tournaments, Hollywood also hosts major poker events, such as the World Series of Poker Circuit Events and the Hollywood Poker Open.
What Are The Age Requirements For Gambling At Hollywood Casino?
The minimum age for gambling at this casino is 21 years old. Like all casinos in Illinois, this casino requires all patrons to provide a valid government-issued ID before entering the gaming floor.
In addition to this age requirement, individuals under the age of 21 are not allowed on the casino floor or in any areas where gambling is taking place.
Does Hollywood Have An Online Casino?
Yes, Hollywood Joliet does have an online casino! You can play all of your favorite games from the comfort of your own home with mychoice® casino. With over 500 slots and table games available, there's something for everyone to enjoy.
Plus, you can earn rewards for every game you play, making it even more fun to come back again and again. So why not give it a try today? You might just be surprised at how much you enjoy playing at Hollywood's online casino!
Is There An Hollywood Casino Joliet App?
Yes, this casino has an app for iOS and Android devices. The app allows you to easily access your mychoice® account, check your rewards, and play your favorite online casino games.
It also includes exclusive offers and promotions, making it a must-have for any frequent visitor of Hollywood Casino.
What Is The Dress Code At Hollywood?
Although there is not a strict dress code at this casino, it is suggested that patrons dress in nice casual attire.
This means no athletic wear or excessively revealing clothing. If you plan on dining at one of the casino's fine dining restaurants, it is recommended to dress nicely as well.
Is There An Airport Shuttle Available From Hollywood Casino?
Unfortunately, this casino does not offer an airport shuttle service. However, the hotel does offer shuttle service to local attractions within a 5-mile radius of the property. It is also conveniently located near several major highways, making it easy to access via car or taxi/ride-share services.
What Is The Smoking Policy At Hollywood Casino & Hotel?
The casino does have designated smoking areas, but they are limited. Non-smoking sections are available on the gaming floor and in some dining establishments.
The hotel also offers non-smoking rooms for those who prefer a smoke-free environment. Additionally, electronic cigarettes are not permitted inside the casino or hotel.
What Is The Pet Policy At Hollywood?
Only service animals are allowed inside the casino and hotel. Unfortunately, all other pets must remain at home during your stay. However, there are several parks and outdoor spaces nearby where you can take your furry friend for a walk or playtime.
Is Wifi Available At Hollywood Joliet?
Yes, complimentary wifi is available for all hotel guests. Guests can also access wifi in the common areas of the casino and select dining establishments.
What Is The Cancellation Policy For Hollywood Hotel Joliet?
If you need to cancel or change your reservation at Hollywood Hotel, the hotel requires notice at least 24 hours prior to your scheduled arrival. Cancellations within 24 hours of arrival may result in a fee equal to one night's room and tax charges.
Conclusion
Hollywood Casino Joliet offers a fun and exciting gambling experience, with plenty of options for dining and entertainment. They have an online casino and app for added convenience but do not offer airport shuttle service.
The dress code is nice casual attire, and the smoking policy limits designated areas. Be sure to visit this casino for an exciting and enjoyable time; just remember to leave your pets at home. And don't forget to take advantage of the complimentary wifi while you're there.