Harrah's Metropolis
Address: 100 E Front St, Metropolis, IL 62960
Phone Number: +1 618-524-2628
Website: www.caesars.com/harrahs-metropolis
Hours: Harrah's Metropolis is open 24 hours a day, 7 days a week.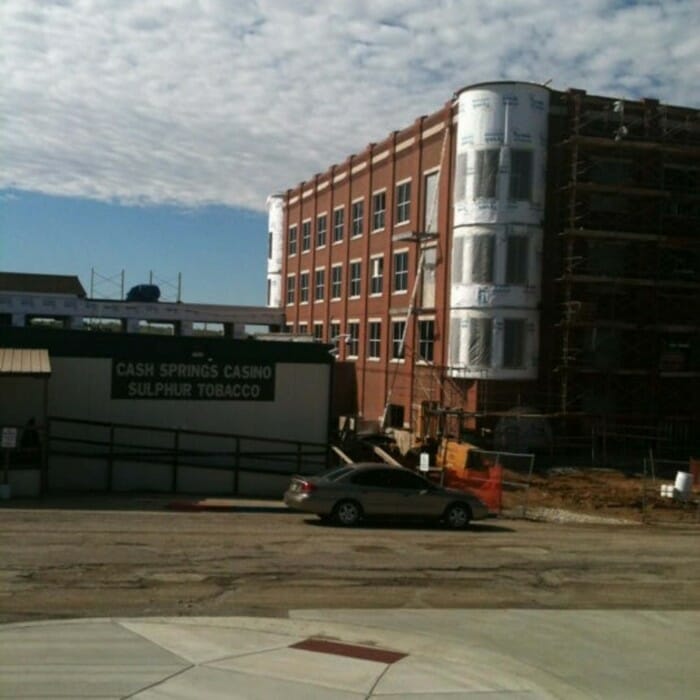 Harrah's Metropolis was opened in 1994 as one of the riverboat casinos that sprung up in Illinois after the state legalized riverboat gambling. It is now one of the most popular casinos in the state. It is located on the banks of the Ohio River and is run by Caesars Entertainment.
They offer various gaming options, including slots, table games, video poker machines and more. Plus, with several promotions, events and entertainment options available, it is a great place for gamers of all levels to enjoy.
They also have a hotel that offers 258 rooms and suites, along with a range of amenities. Overlooking the Ohio River, it is a great place to stay while enjoying all the attractions in Metropolis.
It is also home to several restaurants that serve a variety of cuisines. From fine dining to casual eateries, you will surely find something that suits your taste.
This casino is the perfect place for anyone looking for a great night out or an exciting weekend getaway. With its excellent gaming, dining and entertainment options, it is an enjoyable experience for everyone.
On average, guests rate this casino 4.5 out of 5 stars. One guest commented, "I had a fantastic time at Harrah's Metropolis. The gaming selection was great, and the atmosphere was very welcoming. Highly recommend it."
Another guest mentioned, "The staff was very friendly and helpful. The rooms are spacious and comfortable, and the food was delicious!"
(Related reading: Illinois casinos)
Gaming
Their gaming space includes over 800 slot machines, 25 table games and more. They also have a sportsbook that allows you to place bets on all your favorite sports.
Table Games
This casino has a variety of table games for guests to enjoy. Whether you're a seasoned player or just starting out, there's something for everyone. Try your luck at blackjack or test your strategy at roulette.
For those looking for a more exciting experience, craps and baccarat will keep you on the edge. Additionally, they offer 3-Card Poker, High Card Flush, and Mississippi Stud, providing even more options for a fun and unique gaming experience.
The minimums for the table games vary and depend on the game being played. For example, you can bet as little as $5 on most of their table games.
Slots
This casino has a wide selection of slots with various denominations ranging from penny to $100. Some of the most popular games include:
Bier Haus
The Walking Dead
Wheel of Fortune
Triple Strike
Pharaoh's Fortune
Super Red Phoenix
Sex and the City Ultra
Starry Night
Thor's Hammer
This casino has a payback percentage of 89.39% for slot machines. This means that, on average, you will get back $89.39 of every $100 wagered over time.
Hotel/Resort
This casino offers 258 rooms and suites that feature contemporary decor and various amenities. Each room includes a flat-screen TV, a refrigerator and high-speed internet access.
Room types include:
Deluxe Rooms – features one king or two queen beds
Junior Suites – features one king bed, a sitting area, a bathtub and a walk-in shower
This casino offers a range of amenities to make your stay more enjoyable. Some of these include:
Internet access
Parking on-site
24-hour front desk
Fitness center
Pet-friendly rooms
A sportsbook
Onsite restaurants and bars
Live entertainment
The cost of staying at this hotel depends on the type of room and the length of your stay. Room rates start at $98 plus additional taxes and fees. For more rate information, please visit their website or call them directly.
Check-in time at Harrah's Metropolis is 4:00 pm
Check-out time at Harrah's Metropolis is 11:00 am
Restaurants & Buffets
If you're visiting this casino in Illinois and searching for a great restaurant that offers a variety of mouth-watering dishes, then look no further. Bridges Dining Company is a top-notch dining experience that is not to be missed.
The restaurant offers modern American cuisine with a regional twist, using only the freshest ingredients to create innovative dishes that will leave you wanting more.
And if you're in the mood for freshly grilled seafood or succulent steaks, the Riverfront Grill at this casino has got you covered. The restaurant offers delicious meals that are sure to please your palate.
With its waterfront location, the Riverfront Grill offers stunning views of the Ohio River, making it the perfect spot for a romantic dinner or a relaxing meal with friends and family.
Pools
While this casino is known for its many luxurious amenities, unfortunately, swimming pools are not one of them. However, guests need not worry as there are still plenty of opportunities to beat the heat during their stay.
From exciting casino games to delicious dining options, there is no shortage of entertainment at this resort. Additionally, the nearby Ohio River offers a refreshing option for cooling off on hot summer days.
Whether exploring the local area or lounging in a comfortable guest room, there are plenty of ways to make the most of your stay at this casino.
Harrah's Metropolis, IL FAQ
Does Harrah's Metropolis Have A Sportsbook?
Yes, they have the Caesars Sportsbook located in the casino. The sportsbook allows guests to place various wagers on all major sporting events. Guests can also enjoy their Bet MGM app to place bets in their own rooms.
Is Poker Available At Harrah's Metropolis?
Yes, they offer a variety of live poker games with a variety of stakes. They also have tournaments available which are held regularly. The casino also offers high-limit and VIP poker rooms for guests who want to play at higher stakes.
What Are The Age Requirements For Gambling At Harrah's Metropolis?
Guests must be 21 or older to gamble at this casino. Proof of identity and legal residency is required for all guests who wish to participate in gambling activities. Minors are allowed on the casino floor if accompanied by a parent or guardian over 21.
Does Harrah's Metropolis Have An Online Casino?
No, they do not currently have an online casino. Guests can, however, take advantage of their Bet MGM app to place wagers in the comfort of their own room. Additionally, they offer a variety of slots and table games that can be played inside the casino itself.
Is There An Harrah's Metropolis App?
No, there is no Harrah's Metropolis app. However, guests can take advantage of the Bet MGM app, which allows them to place wagers on various sports events from their own rooms.
The casino also has a website where guests can find up-to-date information on promotions, special events, and other news regarding the casino.
What Is The Dress Code At Harrah's Metropolis?
The dress code at this casino is casual and comfortable. Guests are expected to wear clothing that is not too revealing or inappropriate for a family-friendly atmosphere.
Jackets, ties, and other formal attire are not necessary unless attending a special event or promotion.
Is There An Airport Shuttle Available From Harrah's Metropolis?
No, there is no airport shuttle available from this casino hotel. However, there are alternatives in the area, such as taxis, rideshare services, or shuttle companies that offer transportation from the nearest airport.
What Is The Smoking Policy At Harrah's Metropolis?
The smoking policy at this casino is strictly enforced. Guests are not allowed to smoke inside any hotel or casino areas, though they may do so on the outdoor patios and balconies in certain rooms. Additionally, the gaming floor is non-smoking as well.
What Is The Pet Policy At Harrah's Metropolis?
They allow dogs weighing up to 50 lbs. However, an additional fee of $40 per pet per night plus a $150 refundable deposit. This may seem like a lot, but it's worth noting that your furry friends will be treated like valued guests while they're there.
Is Wifi Available At Harrah's Metropolis?
Yes, free wifi is available in all guest rooms. Additionally, they offer a high-speed internet connection that can be used in the public areas of the casino as well. Guests are required to provide their own devices when accessing the network.
What Is The Cancellation Policy For Harrah's Metropolis?
Guests must cancel their reservation at least 24 hours before the scheduled arrival time to avoid charges. Cancellations made within 24 hours of the arrival time will result in a charge equal to one night's stay plus tax.
Conclusion
This casino hotel provides guests various gaming options, leisure activities and amenities. Whether you're looking for high-stakes poker games or want to kick back and relax, this casino has something for everyone.
Plus, the pet-friendly policy ensures that your furry family members can join in on the fun. With all these features and more, it's no wonder Harrah's Metropolis is a popular destination for gamblers and leisure seekers alike.