Casinos in Joliet, Il
The third largest town in Illinois, Joliet is blessed with two major casinos: one just a little south of town, the other right in the heart of the city.
These are legitimate, Las Vegas-style casinos too – complete with thousands of slot machines, a variety of table games, video poker machines, and sports books.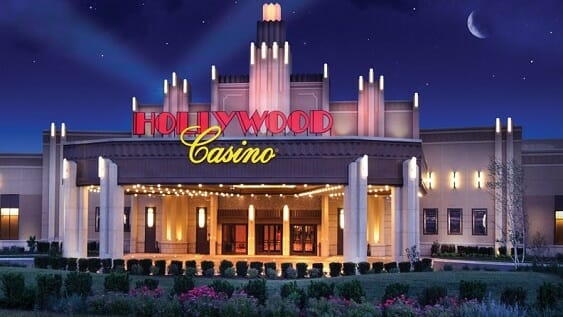 In fact, the Joliet casino scene is strong, with the city's two casinos consistently generating over $20 million in monthly gambling revenue. Combined, over 160,000 people visit the two casinos each month!*
Of course, residents and visitors to Joliet have plenty of gambling options, as there are 84 different bars, and other establishments in Joilet with vgt machines (video gaming terminals).
In addition, there are six other casinos around Chicago, however this article focuses on the two major casinos in Joliet.
And those two are the Hollywood Casino and Harrah's.
(The purple dice is Harrah's. The black dice is the Hollywood Casino).
Hollywood Casino Joliet
This is the newer of the casinos, with a fun, 1920's inspired art deco theme seen when pulling up and continuing inside the casino as well.
Hollywood gets a little less traffic than Harrah's, probably because it's on the outskirts of Joliet – 5.5 miles south of downtown to be exact.
At 50,000 square feet, it's the biggest casino in Joliet, boasting over 1,100 slot machines and video poker machines.
There are penny machines and progressive slots among the mix. Hollywood Casino says their most popular slots include Lightening Link, Buffalo Grand, Wonder 4 Tall Fortunes, and Crazy Money Deluxe.
The casino has two floors, and the twenty-five table games are on the main floor. They include two craps tables (with real dice), two roulette wheels, blackjack of course, three-card poker and the like.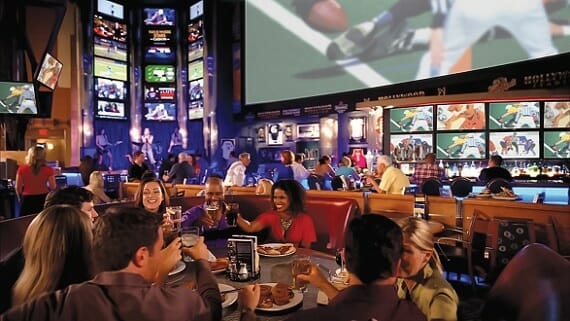 Bigger-bet gamblers can enjoy a separate high-limit gaming area and VIP lounge next to it.
Sportsbook
Hollywood's new sportsbook is located in the popular 99 Hops House.
This spacious, contemporary brew pub boasts high ceilings and monster 80 foot TV screen. There are five sports terminals, along with five betting kiosks.
Restaurants
In addition to 99 Hops House, Hollywood's restaurant lineup includes the upscale Final Cut Steakhouse and the Take Two Deli, for on-the-go nachos, sandwiches, wraps, salads, hot dogs and the like.
Hollywood Casino Joliet Buffet
Every casino is legally required to have a buffet – at least it seems that way – and Hollywood Casino is no different.
It's Epic Buffet has a cool retro art deco entrance.
Highlights of this buffet include the Sunday Brunch, the all-you-can eat crab legs on Friday night (although pretty pricey), and the prime rib Saturday night buffet.
Epic Buffet is closed on Monday and Tuesdays.
Hotel & RV Park
Technically, this is a casino/hotel resort, however there isn't lodging connected to the property. Instead, you can book one of the 100 rooms at the Hollywood Hotel across the parking lot. It's a bit of a walk, however there is complimentary shuttle service to and from the casino. Guests staying at the hotel get free breakfast too.
RV Park
Open from mid-April to mid-October, Hollywood boasts an 80 space RV park with back-in and pull-through sites. You pay extra for a drive-through site.
I don't believe there are sewer hook-ups, however there is Wi-fi and free hot breakfast. As with hotel guests, RVer's have the free shuttle service to the casino.
Address, Phone Number & Website
777 Hollywood Blvd.
Joliet, IL. 60436

Phone: (888) 436-7737

Website: HollywoodCasinoJolet.com
Harrah's Casino Joliet
While this downtown casino has a relatively modest 39,000 square foot casino floor, it produces big numbers. Of the ten casinos in the state of Illinois, Harrah's Joliet is the second busiest.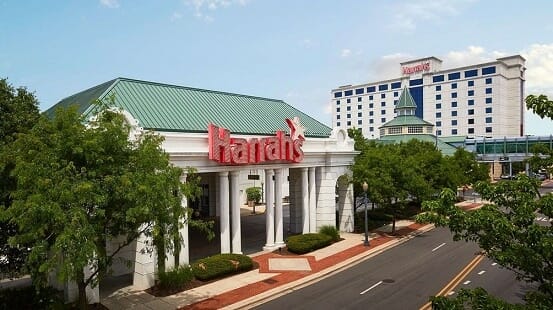 Harrah's is a 200 room hotel/casino which – like its casino cousin to the south – sits on the banks of the Des Plaines River.
It's a Caesars Entertainment property, so you can use a Caesars Rewards card here.
The casino, with the self-described label of "Loosest slots in Chicago" boasts 1,000 of these slots, with all the usual favorites, including The Walking Dead, Buffalo Inferno, Mayan Great Stacks, Dragon Link machines, and everything in-between, including video poker of course.
You'll find thirty-one table games here, including a couple of craps tables (with the fire bet!), mini Baccarat, blackjack, roulette, along with carnival games like Mississippi Stud, High Card Flush and the like.
As of this writing, Harrah's Joliet does not have a sportsbook.
Poker Room
The WSOP (World Series of Poker) poker room is the only poker room in Joliet.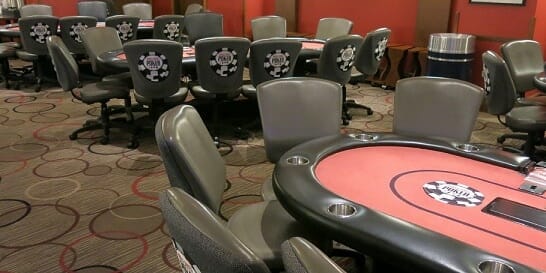 Open from 8 AM to 5 AM daily, the modest 8-table room spreads hold'em and Omaha and offers a bad beat jackpot. I'm not sure if it's still in effect, however they used to give players $1 an hour in Caesars Rewards comps.
Restaurants
Dining options here include the grab-n-go Cross Street Grill, and The Reserve – a more upscale steak and seafood restaurant.
Flavors the Buffet, has a fish fry Friday, and Sunday brunch. Be sure to bring a Caesars Rewards card as you get a pricing discount for showing it. Flavors is closed on Tuesdays and Wednesdays.
As for drinks, there's the Signature Bar on the casino floor, while Sheer has live music on occasion.
Parking
Self-Parking for the casino can be found via a six-story parking garage on the south end of the resort.
Hotel guests, on the other hand, will find closer parking at the red-brick four-story parking garage near the hotel tower. It's attached to the casino/hotel via an overhead pedestrian walkway.
Either way self-parking is free for everyone. As for valet, I believe there is a $5 valet fee, which is waved if you are a Platinum (or higher) Caesars Rewards member. Valet parking is also free for hotel guests.
Address, Phone Number & Website
151 N. Joliet Street
Joliet, IL. 60432

Phone: (815) 740-7800

Official website: Here
FAQ
Q. What is the best casino in Joliet, Illinois?
A. That may be a matter of preference (or convenience). We can say Harrah's is clearly the more popular of the two, at least in terms of visitors. Each month, Harrah's consistently sees roughly 1/3rd more gamblers than Hollywood.*
Q. Who Owns Hollywood Casino Joliet?
A. Penn National Gaming. The national casino corporation owns casinos most of you will be familiar with, such as the various Ameristar casinos, Greektown Casino in Detroit, and the Tropicana in Las Vegas.
Q. Do Joliet casinos have poker rooms?
A. Yes. But only Harrah's has a poker room. Hollywood does not.
Q. What are Hollywood Casino Joliet's Hours?
A. The casino is open from 7:30 AM to 5:30 AM, every day of the week. The sportsbook posted hours are from 10 AM to 10 PM weekdays, and 10 AM to Midnight on weekends.
Q. What are Harrah's Joilet Hours?
A. 8 AM to 6 AM, seven days a week.
Q. How Many casinos are there in Joliet, IL?
A. Two in Joliet, however there are six others in the Chicagoland area.
Q. How old do you have to be to gamble in Joliet?
A. Twenty-one year or older.
Miscellaneous Tidbits
– In addition to these two in Joliet, there are eight other casinos in Illinois.
– Most recent financial figures from the City of Joliet show that both casinos land in the city's top ten list of employers. Harrah's Joliet is the town's 8th largest employer, with 800 estimated employees, while Hollywood Casino's 600 workers make it the city's tenth largest employer.
– There are 84 different establishments in Joliet with video gaming terminals. All total, there are 405 vgt machines in Joliet.
* Figures obtained from the most recent data available from the Illinois Gaming Board.
(By Steve Beauregard. Photos courtesy of: Caesars Entertainment and Penn National Gaming)