Casinos In & Near Chicago, IL. Area, with Map
It has two baseball teams, 10 million people, and the second highest skyscraper in the United States. The Chicago metropolitan area also has eight different casinos within an hour's drive of downtown.
There are many more surrounding the Windy City, however the casinos listed here are just the ones reachable within an hour's drive. All are 50 miles are less away from Chicago's center. Some offer free shuttle services.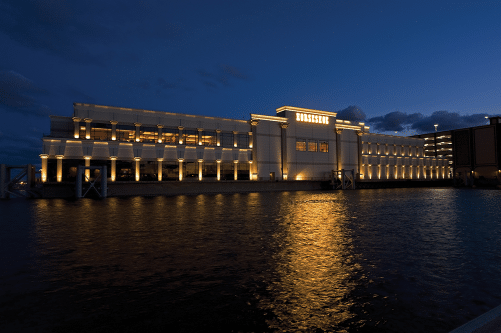 We're also only including actual, Vegas-style casinos, with slots, table games, restaurants, entertainment venues, etc., and not the bars and other establishments that have just video poker terminals.
The two closest casinos to Chicago, are not surprisingly the area's two most successful (in terms of annual gaming revenue).
The Horseshoe Hammond and Rivers Casinos are both within 18 miles of downtown and both had just over $425 million in gaming revenue last year, far surpassing the other six area casinos.
Here's a rundown of Chicago's eight casinos, in order of proximity to downtown. We've included the estimated driving times per Google maps. The high figure is the worst case scenario if you are driving there on the busiest time, late Friday afternoon.
(Each colored pin represents one of the 8 casinos near Chicago)
Horseshoe Hammond Casino
(Brown Pin) – 16.8 miles from downtown in northern Indiana. The drive time is between 30 minutes to an hour.
In terms of revenue, it's the busiest casino in the Chicago area. Set behind a marina on Lake Michigan, the property includes 108,000 square feet of casino space, putting in on par with many of the mega resorts on the Las Vegas Strip. Unlike those casinos however, the Horseshoe Hammond does not have a hotel onsite.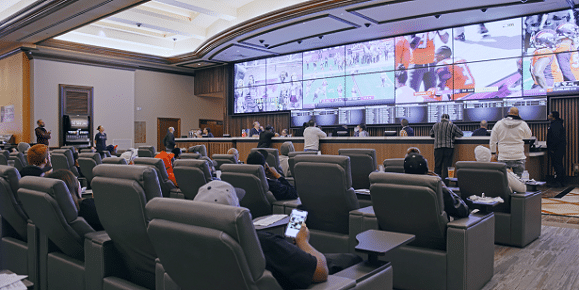 The casino boasts thousands and thousands of slot machines and video poker machines (1,500 penny slots alone), and has over 100 table games, including the usual favorites, like blackjack, craps roulette and baccarat.
It's also home to the area's largest poker room, with 34 tables that play host to big tournaments, including World Series of Poker circuit events. Now that sports betting is legal in Indiana, the casino boasts a 5,300 square foot sportsbook.
The Horseshoe Hammond also has a large concert venue and four restaurants.
The Horseshoe is owned by Caesars Entertainment, meaning you can use your Caesars Rewards Card here, if you have one. There are numerous free shuttles running at all hours, from the casino to various stops all over Chicago.
Address, Phone & Website
777 Casino Center Drive
Hammond, IN. 46320
(866) 711-7463

Website: https://www.caesars.com/horseshoe-hammond
Rivers Casino Des Plaines (Dark Green Pin) – 17.3 miles. 25 minutes to 1 hour 50 minutes.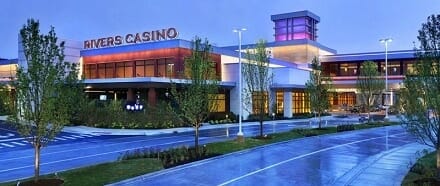 This resort opened in 2011. And in terms of revenue, it's the second biggest casino in the Chicagoland area, with yearly gaming revenue just a tad below that of the Horseshoe Hammond.
Rivers Casino is in more northern Chicago, and is just 2 miles east of O'Hare International Airport, just off of Interstate 294. It's the closest casino to many northern Chicago suburbs, including Evanston, Arlington Heights, and Mt. Prospect. This casino does not have a hotel.
There are just over 1,000 slot machines/video poker machines at Rivers, along with 48 table games in the casino's 44,000 square feet of gaming space. There's blackjack, craps, roulette, 3 card poker, baccarat, etc., but no poker room here.
There is, however the BetRivers Sportsbook, as Rivers Casino was the first casino in Illinois to offer sports betting.
In addition to the casino's six restaurants, there is a small entertainment venue.
In November 2021, Rivers Casino Des Plaines announced a $87 million dollar expansion that will add 78,000 more square feet of casino floor space, while increasing the slot machine count to the state maximum: 2,000 machines. The expansion will also add a 24 table poker room, ballroom and a new restaurant.
Address, Phone & Website
3000 S. River Road
Des Plaines, IL. 60018
(847) 795-0777

Website: Rivers Casino Des Plaines
Ameristar East Chicago Casino Hotel (Orange pin) – 23.1 miles south. A 35 minutes to an hour drive.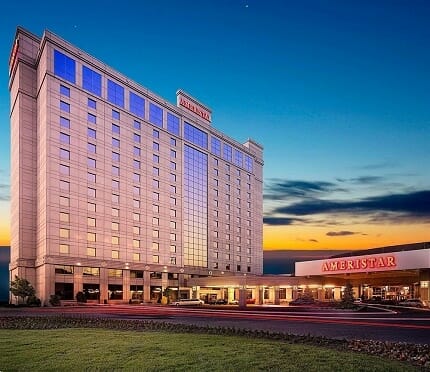 Another northern Indiana casino, the Ameristar is the closest casino with a hotel to Chicago. Like the Horseshoe a few miles north, it sets against the marina.
(Related: Casinos in Pittsburgh)
In addition to its 288 hotel rooms, and six restaurants, the Ameristar has 56,000 square feet of casino floor space, full of over 1,700 slot machines, and 65 table games. It also now boasts a sportsbook with 12 betting kiosks.
Address, Phone & Website
777 Ameristar Blvd.
East Chicago, IN. 46132
(219) 378-3000

Website: Ameristar East Chicago
Hard Rock Casino Northern Indiana (Yellow Pin) – 33 miles. 35 minutes to an hour driving time.
Opened in the spring of 2021, The Hard Rock Casino Northern Indiana is an impressive, modern land-based casino.
The $300 million dollar property boasts massive 200,000 square foot casino footprint, with 1,600 electronic gaming machines, 80 table games including real dice craps, blackjack and the like. There's both a high-limit room and an Asian Games High-Limit room. A sportsbook with five betting windows, three large screens and numerous other screens is on the way as well.
In addition to several restaurants and bars, (including a Hard Rock Cafe of course), there's the 2,000 seat Hard Rock Live concert venue.
Address, Phone & Website
5400 W 29th Ave
Gary, IN 46406
(219) 228-2383

Website: HardRockNorthernIndiana.com
Hollywood Casino Aurora (Red Pin) – 41 miles west. 45 minutes to 2 hour driving time (again, the higher figure is for Friday afternoons).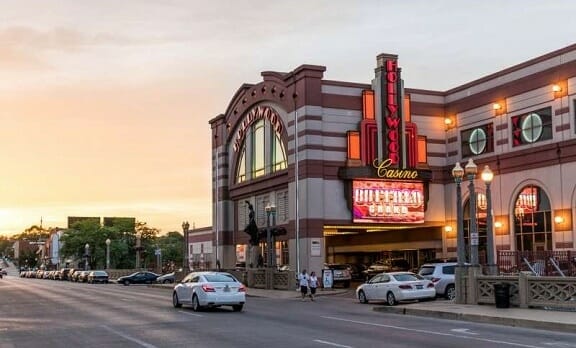 A typical riverboat casino that is in no way seaworthy, this is the casino that is the furthest west of all of the 8 Chicago-area casinos. It's the closest casino to Naperville. It's one of two Hollywood-branded casinos in Chicago (the other is in Joliet).
Just over one thousand slots fill the 53,000 square foot casino floor, along with 26 table games. There's also a 7 table poker room, three restaurants, and an small entertainment venue. The new Penalty Box Sportsbook & Bar has tons of screens, including ten 75″ HDTV screens. There's self-betting kiosks and teller windows as well.
The Hollywood Casino Aurora is not a 24 hour operation, as it opens daily at 8:30 AM. It does not have a hotel.
Address, Phone & Website
1 W. New York Street Bridge
Aurora, IL. 60506
(800) 285-7600

Website: Hollywood Casino Aurora
Grand Victoria Casino (Black Pin) – 41 miles north and west. 45 minutes to up to 2 hour drive.
The closest (and only) casino in Elgin, this beautiful looking property sits on the banks of the Fox River.
The "GVC," as they call themselves, has 1,100 slot machines/video poker machines, and several table games on two levels, including the lower level "pit" with some $5 minimums. The craps tables have 100x odds, and there is a small poker room, as well as the Caesars Sportsbook.
There's no hotel here, but there are four restaurants. In addition to the "Show Bar" there is an outdoor concert venue area. The casino has played hosts to acts like Lynyrd Skynyrd, Rick Springfield, and the likes.
Address, Phone & Website
250 South Grove Avenue
Elgin, IL 60120

(877) 468-7000

Website: Grand Victoria Casino
Harrah's Joliet Hotel & Casino (Purple pin) – 45 miles south and west of downtown Chicago. 45 Minutes to an hour 15 minutes on I-94/57 and I 80.
On the Des Plaines River, Harrah's Joliet has a small town casino feeling. It's owned by Caesars Entertainment, so your Caesars Rewards Card is good here.
You can put that card into one of 1,100 slot machines, or 200 video poker machines. Thirty-one table games are spread here. The small poker room – closed during Covid – has been closed permanently.
In addition to the 200 room hotel, there are three restaurants (including the upscale "The Reserve").
Address and Phone
151 N. Joliet Street
Joliet, IL. 60432
(815) 740-7800
Hollywood Casino Joliet – (Blue pin) 49 miles from downtown Chicago. 50 minutes to an hour 50 minutes.
One of two casinos in Joliet, it too, is set on the Des Plaines River, just 6 miles south of Harrah's. The Hollywood Casino Joliet is an impressive, remodeled casino with a 50,000 square foot casino floor that has 1,100 slot and video poker machines and the standard table games.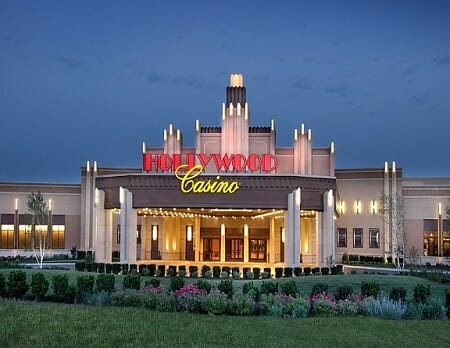 The sportsbook has 14 betting kiosks and is located in their 99 Hops House Brewpub. It has an average-looking neighboring hotel a short walk (or shuttle ride) away, and even an RV resort. Casino dining options include the typical casino steakhouse, a deli, and the aforementioned 99 Hops brew pub.
Address and Phone
777 Hollywood Boulevard
Joliet, IL. 60436
(888) 436-7737
Other Casinos Near Chicagoland
In addition to the ones mentioned above, there are five other casinos in Illinois, along with many others in bordering states. These include:
Blue Chip Hotel & Casino – A big beautiful casino resort located near the Indiana/Michigan border, this casino is 62 miles away, meaning it's always at least an hour's plus drive away.
Hard Rock Café Four Winds – Located 72 miles east in New Buffalo, Michigan. It's always over an hour drive.
Potawatomi Hotel & Casino – 92 miles to the north in Milwaukee. An hour and a half drive at the minimum.
Isle Casino Hotel Bettendorf – 170 miles to the west, in the Quad Cities area on the Iowa/Illinois border. It's well over a three hour drive.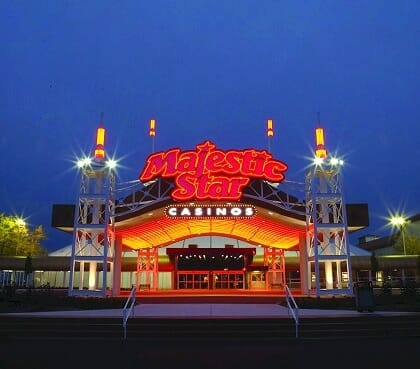 By Steve Beauregard Photos courtesy of each respective casino and from the llinois Office of Tourism.