Quad Cities Casinos – List of Casinos in Davenport, Bettendorf, Rock Island & Moline with Map
For being in a modest-sized population area, residents in the Quad Cities in eastern Iowa/Western Illinois have pretty decent options when it comes to gambling, as there are three casinos in the area.
Of course, there are numerous bars and other establishments on the Illinois side with electronic gaming machines, however here we're just focusing on the three "real casinos" in the region.

Previously the area was home to Mississippi riverboat casino gambling only. Now however the three Quad cities casinos are land-based, and are similar to Las Vegas style casinos – if not in size, than in style.
All built in 2008 or newer, they offer Vegas-style slot machines, video poker machines, and live table games, including blackjack, roulette, craps and the like. The two casinos on the Iowa side offer legal sports betting as well.
Here's a look at your gambling options in the area, starting with Davenport and Bettendorf in Iowa, with Rock Island, Illinois further down below. Other than many of the aforementioned small video poker/slot joints, there aren't any casinos in Moline or East Moline.
(The red dice is the Rhythm City Casino, Black is the Isle Casino, while the purple dice represents Jumer's Casino & Hotel).
Casinos in Davenport Iowa
There's one casino in Davenport, the Rhythm City Casino.
Built in 2016, this is a very pretty, contemporary casino. With bright bold colors and high curved ceilings, its décor is a little more unique than most casinos.
It's also the most popular casino in the Quad Cities area in terms of gaming revenue and visitors. In fact, between three to four thousand people per day gamble at Rhythm City, per figures from the Iowa Gaming Commission.
Rhythm City Casino Davenport, Iowa
Set out by itself in north Davenport, Rhythm City Casino is right off Interstate 80.
You'll find 859 slot machines, (including all the favorites, along with games like nickel keno), along with 23 table games spread out among the casino's 38,022 square feet of gaming space.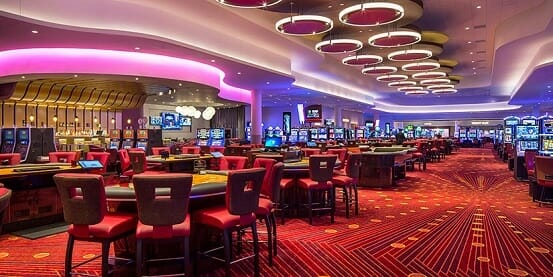 These include 2 craps tables, 2 roulette wheels, 7 blackjack tables and a variety of carnival games. In addition, there are 2 bubble craps games and electronic versions of blackjack and craps.
In front of the Draft Day Sports Lounge, you'll find the Elite Sportsbook. What many consider to be the best sports book in the Quad Cities has ten huge 86-inch TV screens.
Food choices include Ruthie's Steak & Seafood, Robert's Buffet, and pub grub type offerings at the Draft Day Sports Lounge.
Just off the casino floor is a gift shop, "The Market" which also sells sandwiches and light food and snacks.
Rhythm City's simply-named, "Event Center" has seating for 1,600, and plays host to a variety of concerts and comedians and shows. There's also live music off the casino floor at the Rhythm Room lounge.
The six-story hotel tower has just 106 rooms, but with an indoor pool and hot tub, fitness center and full service spa.
Address, Phone & Website
7077 Elmore Avenue
Davenport, IA 52807
(563) 328-8000
Website: RhythmCityCasino.com
Isle Casino Bettendorf
Set in downtown Bettendorf, right on the banks of the Mississippi River, the Isle Casino is a former riverboat-turned-land based casino spread out over 24 acres.

The resort's two hotel towers, parking structures, and casino are interconnected via overhead pedestrian walkways. There's even a pedestrian walkway over the railroad tracks to the Quad-Cities Waterfront Convention Center to the north.
At 509 rooms, it's the biggest casino resort in the Quad Cities. Many rooms offer pretty views of the Mississippi.
Like Bally's Quad Cities, it's Illinois cousin across the river, the Isle has a little over 2,000 people a day gamble at its casino, on average.
The casino itself boasts 35,459 square feet, with 908 slot machines and 16 table games. These include blackjack, dice craps, roulette, Ultimate Texas Hold'em, Fortune Pai Gow, Three Card Poker, EZ Baccarat, and Mississippi Stud.
In addition to live roulette, there's one of those fun and fast electronic roulette games, with a $3 minimum.
While not big by Las Vegas standards, the Isle Casino has a comfy Caesars sportsbook, with ten TVs, (including two different 85 inch TVs), all to the left of a the large screens showing the latest odds. It's open 11 PM, seven days a week.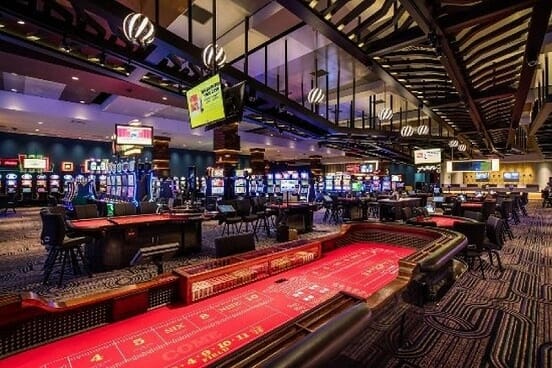 The Isle does not have a poker room.
On the restaurant front, dining options include the Farmer's Pick Buffet, Keller's American Grill, and Keller's Express.
The resort's indoor pool is located in the south tower. There's also a fitness center. The newer hotel (the North Tower) is connected to the south tower via the enclosed and heated pedestrian walkway on the third level.
There's always free self-parking in the 3 story covered garage and in the open lots. They offer free valet parking too.
Address, Phone & Website
1777 Isle Parkway
Bettendorf, IA. 52722
(563) 441-7000
Website: Isle Casino Bettendorf
Bally's Quad Cities – Rock Island, Illinois
The only casino on the Illinois side, the casino formerly known as "Jumer's Casino" was purchased in 2021 and rebranded as Bally's Quad Cities.
This casino/hotel off of Interstate 280 in Rock Island was previously a riverboat. However in 2008, the casino spent $151 million to build a real, Las Vegas style land-based casino, complete with a hotel and restaurants, set on 20 acres.
According to figures from the Illinois Gaming Board, Bally's Quad Cities sees (on average), over 2,000 customers per day.
The 39,604 square foot casino floor is home to 850 slot machine/video poker machines, with limits ranging from one cent to $25. These include Hot Shots, Lightning Links, World of Wonka, and even my favorite: Wheel of Fortune slots.
The casino's 19 live table games here include ten blackjack tables, 2 craps tables, 2 roulette wheels, along with Mississippi Stud, Three-Card Poker, and Ultimate Texas Hold'em games. Jumer's does not have a sports book.
They do, however, have the biggest poker room in the Quad-Cities.
OK, they have the only poker room in the Quad Cities – a modest six table poker room which is only open on certain days and times. The most updated schedule can be found at their dedicated poker page site here: Ballysquadcities.com/gaming/poker.
Bally's Quad Cities Hotel & Restaurants
The bronze-colored, copper adorned, contemporary five-story, 205 room hotel has suites, an indoor pool, and fitness center. There's even a golf range where you can hit balls onto floating greens at the resort's bordering Wicks Lake.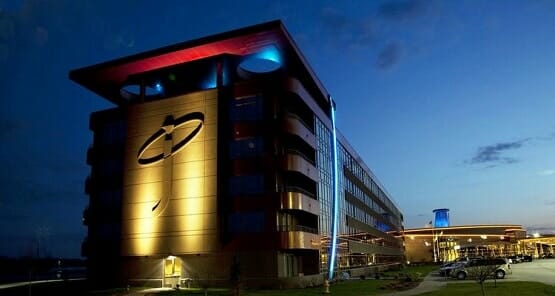 In addition to the Oculus Sports Bar and the Edje nightclub, entertainment options include concerts at the resort's D. James Junner Events Center, which can seat 500.
Bally's restaurant lineup includes the Blue Square Café, DJ's Steakhouse, and the popular Player's Buffet, with 240 seats.. You can also get bar food at the Oculus Sports Bar.
Bally's Quad Cities Address, Phone & Website
777 Bally Blvd.
Rock Island, IL 61201
(309)756-4600
Website: BallysQuadCities.com
Quad Cities Casino Tidbits
You must be 21 years or older to play at all three of the Quad Cities area casinos.
The Quad Cities first saw legalized casino gambling when riverboat casinos opened on April Fool's Day, 1991.
In addition to the two Quad-Cities casinos on the west side of the Mississippi River, there are twenty other casinos in Iowa.
Based on casino floor square footage, Bally's is the biggest casino in the Quad Cities – beating out Rhythm Casino by about 1,600 square feet.
With a dock at Jetty Park, The Isle Casino Bettendorf is one of the only casinos in the United States in which you can arrive there via a water taxi. (The Encore Boston Harbor is another one that comes immediately to mind).
The new land-based version of the Isle Casino Bettendorf opened on June 24th, 2016, making it the newest casino in the Quad Cities – by 8 days.
Rhythm City Casino opened on June 16th, 2016, at a cost of $110 million dollars. Bally's opened as Jumer's Casino in 2008.
(By Steve Beauregard. Photos courtesy of Rhythm City Casino, Jumer's Casino & Hotel, and the Isle of Capri Bettendorf).