Home to nearly 150,000 people, the Peoria area has just one casino to serve gamblers.
While there are plenty of other gaming options in the area, here we're talking about a more traditional casino – one offering a variety of slots, video poker machines, and table games.

In other words: we're not counting the hundreds of video gaming terminal machines you can find in the area at truck stops, fraternal organizations and the like.
Peoria's one casino is called the Par-A-Dice Hotel and Casino.
Originally opened on the shores of Peoria in 1991, the Par-A-Dice moved east across the river to its current home in 1993.
It's a 4-level riverboat casino located on the banks of the Illinois River in East Peoria. We say "riverboat" but picture luxury yacht more than paddle wheel.
A modern 8-story 202 room hotel sits a couple hundred feet across the street from the casino entrance.
(The black dice on the lower left hand side is the Par-A-Dice)
Although its 26,000 square feet of casino floor space makes it relatively small compared to others – out of ten casinos in Illinois, it's the third smallest – the Par-A-Dice gets big visitation numbers.
According to the Illinois Gaming Board, over 50,000 people a month visit the Par-A-Dice. This shoots up to over 2,300 people a day (on average) during March.
Par-A-Dice Casino Peoria, Illinois
This East Peoria institution sits on the aptly named "Blackjack Boulevard," about a half mile north of I-74. It's about a ten minute drive southeast of downtown Peoria.
From the parking lot, the entrance resembles a typical casino. Inside here "the pavilion" is where you'll find the casino's restaurants. To get to the actual gambling, you'll cross a glass-enclosed walkway on over to the riverboat.
Once inside you'll find the levels to be a little crowded and jam packed, with 930 slots, including favorites like Blazing 7's, Willy Wonka, Zeus, Farmville, and The Walking Dead. To the side is a modest high-limit slots area, with denominations up to $25.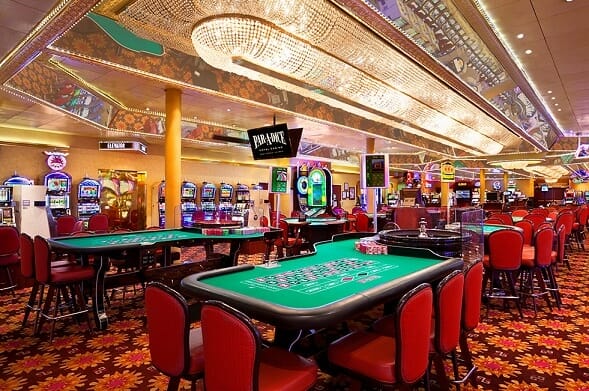 The array of 30 table games include blackjack, 2 regular dice craps tables, 3 roulette wheels, Mississippi Stud, Mini-Baccarat, Let-it-Ride, Caribbean Stud, and 3-Card Poker, among others. There's even a Big 6 wheel, for those of you who don't like money.
Blackjack minimums are $5. There's a small 4- table poker room too.
The Illinois Gaming Board has granted the Par-A-Dice an initial sports betting license, and the casino (at the time of this writing), is still in the process of final approval.
The casino does serve alcohol to players. You have to be 21 or older to play here.
Hours
The casino is open as follows:
Sunday – Thursday: 8 AM to 4 AM
Friday & Saturday: 8 AM to 6 AM
Hotel
While fairly contemporary, (it was built in 1994), the 202 room hotel here is pretty basic, with a small gift shop and fitness center. There isn't a swimming pool.
There is however, plenty of meeting and convention space, with a ballroom that can host just over a thousand attendees.
Restaurants
The Par-A-Dice Casino has four restaurants in the pavilion – the building leading up to the walkway over to the boat.
These include Nelson's Deli, Boyd's Steakhouse, and Options Buffet, which is open Wednesday through Sundays. Options Buffet often has a surf and turf buffet on weekend nights. It doesn't include crab legs, but they can be an add-on (1 pound of crab legs for $10 was a recent price).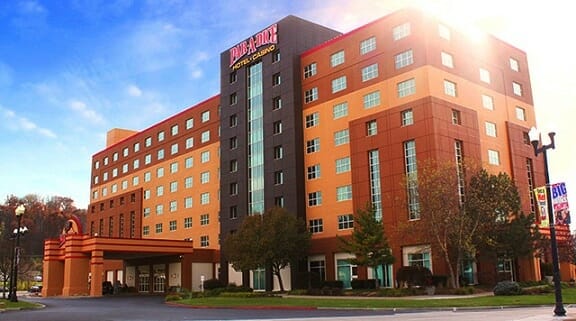 The Tin Lizard Bar & Grill is a gastro pub with live music on weekends, and karaoke and trivia on weeknights. They also have special drink and food promotions during the Super Bowl and other sporting events.
Par-A-Dice Hotel & Casino Address, Phone & Website
21 Blackjack Blvd
East Peoria, IL. 61611

(309) 699-7711

Website: ParadiceCasino.com
Par-A-Dice Casino Bus Service
Illinois residents living outside of the Peoria area can get their gamble on by taking advantage of the affordable shuttle service to the Par-A-Dice.
There are twice-monthly round-trip shuttles from Champaign, Danville, and Normal, Illinois.
In addition, there is weekly shuttle service from Decatur, Springfield and Lincoln.
Regardless of the origination point, the shuttle costs $5 at this writing, and includes a free buffet!
Twice-a-month shuttles from Davenport, Galesburg and Knoxville, Illinois cost $10 round-trip, and also comes with a free buffet pass.
To make a reservation, please call (800) 727-2342.
Casinos near Peoria, IL
The Par-A-Dice isn't your only gambling option – so long as you are willing to drive a little ways.
In fact, there are three casinos in the Quad Cities area, just 100 miles to the northwest. (About an hour and half drive).
These include the Rhythm City Casino in Davenport and the Isle Casino Hotel Bettendorf on the Iowa side, and Jumer's Casino Hotel in Rock Island, Illinois.
A little further drive away, there are eight casinos near Chicago. The closest ones to Peoria being the two casinos in Joliet: the Hollywood Casino Hotel Joilet and Harrah's.
Of these two, the Hollywood Casino Joliet is a tad closer – at 112 miles from downtown Peoria, or roughly a 2 hour drive.
All total, there are ten casinos in Illinois.
Other
* January is typically the slowest month for the Par-A-Dice Casino, (50,000 visitors or less usually), while March is far and away the busiest month, with nearly 70,000 gamblers (an average of over 2,300 a day), passing through the doors.
* Par-A-Dice is a Boyd Gaming property, which means you can use the same B-Connected player's club card you use at other Boyd's many other properties around the country, such as Sam's Town casinos, the Orleans Casino and Fremont Street casinos in Las Vegas, Belterra in Indiana, the IP Casino/Resort in Biloxi, etc.
* In addition to the Par-A-Dice Casino, there are 66 different establishments in Peoria that have video gaming terminals (VGTs) and another 23 in East Peoria. All total, there are 287 VGTs in Peoria itself, and 105 in East Peoria. The rest of Peoria County has 79 VGTs.
(By Steve Beauregard. Photos courtesy of Boyd Gaming)