Casino Queen East St Louis
Address: 200 Front St, East St Louis, IL 62201
Phone Number: +1 618-874-5000
Website: www.draftkingsatcasinoqueen.com
Hours: Casino Queen is open Monday 8 AM – 3 AM, Tuesday 8 AM – 3 AM, Wednesday 8 AM – 3 AM, Thursday 8 AM – 3 AM, Friday 8 AM – 5 AM, Saturday 8 AM – 5 AM, Sunday 8 AM – 3 AM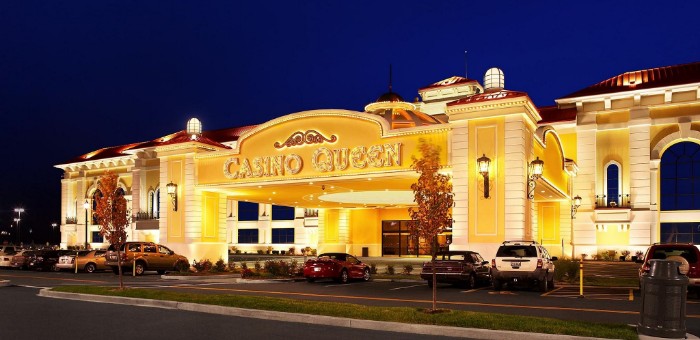 Casino Queen in East St. Louis, Illinois, was established in 1993 and is just across the river from downtown St. Louis. It was one of the first casinos to be built on the Illinois side of the Mississippi River and has been an important part of East St. Louis history ever since.
The casino features over 960 slot machines, over 28 table games and a poker tables. Plus, with so many promotions and specials, it is one of the best casinos in town. From car giveaways to high-roller tournaments, there's something for everyone at this casino.
It also boasts five restaurants that serve a wide range of cuisine, from classic American fare to Italian and Mexican dishes. Plus, there are bars that offer a great selection of drinks and entertainment.
And if you want to take a break from all the gaming, you may book a room at their hotel and enjoy some of the best amenities in the area. From poolside cabanas to a full-service spa, you can find everything you need for an unforgettable stay.
This casino remains one of the most popular in town and will surely provide its guests with an unforgettable experience every time they visit. Whether you're looking for a great night of gambling or just want to get away for the weekend, this is the perfect destination.
On popular review sites, this casino has an average rating of 4.5 stars out of 5. One guest said, "I had a great time at the Casino Queen. The environment was friendly, and everyone was very helpful. The games were fun, and the staff ensured we had what we needed."
Another guest said, "The Casino Queen is always my favorite place in town. The staff is so friendly and helpful, the games are great, and the whole experience was really enjoyable. Highly recommended!"
(Related reading: Illinois casinos)
Gaming
Their gaming space includes 960 gaming machines and 28 table games. And with so many promotions and specials, it is one of the best casinos in town.
Table Games
If you're looking for some exciting table games to try your luck at, you'll want to check out this casino. This vibrant casino offers all the classic games you know and love and a few that might be new to you.
For starters, Blackjack is always a crowd favorite, and the skilled dealers at this casino will help you improve your game. If you're feeling lucky, try your hand at Roulette – with the ball bouncing and spinning, there's always an air of anticipation and excitement surrounding this game.
Craps is another popular choice, and their tables are always lively. If you want to mix things up, you might enjoy Mississippi Stud or Three Card Poker, which are full of strategy and suspense. Finally, for those who want to branch out into a modern game, give Ultimate Texas Hold'em a try.
The minimum bet at this casino varies depending on the table game. However, most tables have a $5 minimum. There are also high-roller tables with minimum bets of $25 or more – so if you want to up the stakes, this is definitely the way to go.
Slots
This casino has over 960 slot machines, with new games added regularly. Here are some of the most popular slots that you can try your luck at:
Flying Horse
Starry Night
Shadow of Panther
Queen of the Wild
Bier Haus
Vortex
This casino's slot machine payback percentage is 94.3%, one of the highest in the region. This means you have a better chance of winning here than at most other casinos in Illinois.
Hotel/Resort
This casino boasts a full-service hotel and resort with plenty of amenities for guests. There are over 100 rooms and suites, all equipped with flat-screen TVs and free WiFi access.
Room types include:
Casino Rooms – features one king or two queen beds
Arch View Queen Rooms – features two queen beds and a view of the Gateway Arch and downtown St. Louis
Spa King – features one king bed and an oversized jetted tub
Imperial King – features one king bed and a view of the Gateway Arch and Downtown St. Louis
Also, this hotel offers a lot of great amenities for its guests. This includes:
Wifi access
Parking onsite
24-hour front desk
24-hour business center
Housekeeping services
A sportsbook
An RV park
An indoor heated pool
Onsite restaurants and bars
EV charging stations
Fitness center
Banquet facilities
The cost to stay at this casino varies depending on your room type and dates. However, you may book a room for as low as $109 per night. Also, there are great discounts available for members, military personnel, and seniors.
Check-in time at Casino Queen is 4:00 pm
Check-out time at Casino Queen is 11:00 am
Restaurants & Buffets
When visiting this casino in Illinois, there are plenty of dining options. If you're in the mood for something cozy and inviting, Bridgeway is a great choice with its warm atmosphere and classic American cuisine.
For a quick pick-me-up, head over to Front Street Coffee for a delicious cup of joe and a pastry. Craving something fried and delicious? That Chickn' Place has covered you with its signature chicken tenders and sides.
And if you're in the mood for Asian cuisine, 3 Woks and QBAR are excellent options. No matter what kind of meal you're looking for, this casino has plenty of restaurants to satisfy your hunger.
Pools
Visiting this casino in Illinois is always a fun and exciting experience, and what better way to unwind than taking a dip in their indoor heated pool?
Surrounded by sleek and modern decor, the pool offers a relaxing retreat for guests after a day spent playing their favorite casino games.
Whether you're looking to soak up the sun by the outdoor pool or prefer to take a dip indoors during the colder months, this place has got you covered. So why not pack your swimsuit and make a splash during your next stay?
Casino Queen, St Louis, IL FAQ
Does Casino Queen Have A Sportsbook?
Yes, they have the DraftKings Sportsbook at this casino. Guests can pick up their tickets and place bets on various sports games, including football, basketball, baseball, boxing, MMA, auto racing and more.
Is Poker Available At Casino Queen?
Yes, they offer many popular poker games here. With multiple variations and a friendly atmosphere, guests can enjoy Texas Hold'em, Mississippi Stud and more. The casino also offers daily poker tournaments with great cash prizes.
What Are The Age Requirements For Gambling At Casino Queen?
Guests must be at least 21 to enter the casino and engage in gambling activities. Valid identification, such as a driver's license or passport, must be provided upon entry. Minors may not enter the gaming floor or any area designated for gambling at this casino.
Does Casino Queen Have An Online Casino?
No, they do not have an online casino. Guests may only access the casino games in person, at the physical location. This casino provides a great gaming experience with an array of games to choose from and excellent amenities for its guests.
Is There An Casino Queen App?
No, they do not have an app. However, they provide a mobile-friendly website that can be accessed from any device. This website lets guests view all the casino's amenities and services, book rooms online and even check out their latest promotions.
What Is The Dress Code At Casino Queen?
This casino does not have an official dress code, but it is suggested that guests dress in smart/casual attire. Shorts and tank tops are generally accepted as long as they are clean and neat. Shoes should always be worn when inside the casino area.
Is There An Airport Shuttle Available From Casino Queen?
They do not offer an airport shuttle service. However, there are a few taxi services available for guests who wish to travel to and from the casino. Guests may also use ride-sharing services like Uber or Lyft to get to the casino.
What Is The Smoking Policy At Casino Queen?
The casino allows smoking in designated areas. All other casino areas are non-smoking, including the gaming floor, restaurants and bathrooms. Electronic cigarettes and vaping devices are not permitted at this casino.
What Is The Pet Policy At Casino Queen?
Sadly, this casino does not allow pets. Only service animals are allowed on the premises and must be properly identified with a service animal vest or harness. All other pets must be left at home or in a kennel while guests visit this casino.
Is Wifi Available At Casino Queen?
Yes, this casino offers free wifi to its guests. This allows guests to stay connected while they enjoy their casino experience. Guests may access the wifi using the login information provided upon check-in.
What Is The Cancellation Policy For Casino Queen?
Reservations may be canceled up to 24 hours before the check-in time. Any reservations canceled after this time period will result in a penalty fee. Guests should also review the casino's terms and conditions before booking their stay.
Conclusion
This casino hotel in St. Louis offers a great range of amenities for gambling enthusiasts, including a sportsbook, poker games and various casino games. There is also free wifi available for guests and multiple dining options.
Whether you're a seasoned gambler or a novice, Casino Queen has something for everyone. With great services and amenities, this hotel is the perfect destination for anyone looking to have an enjoyable casino experience.