Washita Casino Paoli
Address: 30639 OK-145, Paoli, OK 73074
Phone Number: +1 405-484-7778
Website: www.washitacasino.com
Hours: Washita Casino is open 24 hours a day, 7 days a week.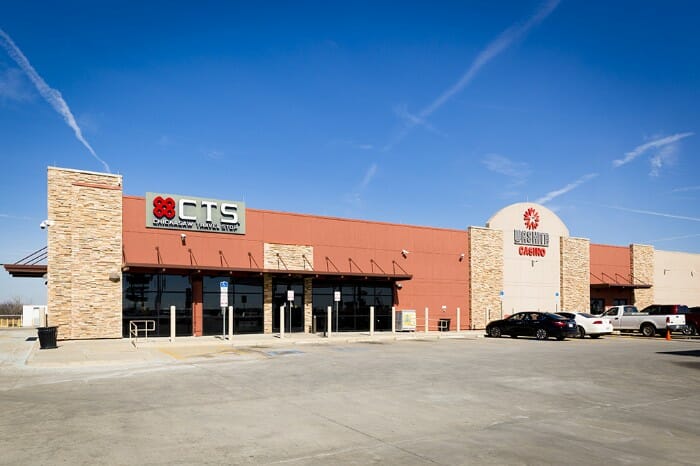 Washita Casino was built in the 80s in the town of Paoli, Oklahoma. The property was owned and operated by the Chickasaw Nation, a federally-recognized tribal government. The casino has been serving both its customers and the community since its opening.
The casino features a variety of slot machines, with over 250 different titles available. From traditional slot games to the latest video poker and progressive jackpots, there's something for everyone.
They also offer various promotions and specials, including their popular Player's Club. Members of the Player's Club receive special discounts, prizes, and bonuses. Plus, with its onsite bar located inside the casino, you can enjoy a refreshing drink while playing.
If you're looking for an entertaining night out in Paoli, then make sure to check out this casino. With its friendly staff and exciting gaming options, it's sure to be a night to remember.
On popular review sites, this casino has received an average of 4 stars out of 5. One guest said, "It was a great place to spend an evening. They had excellent customer service, and the atmosphere was amazing. The games were fun and diverse, providing plenty of entertainment."
Another guest commented, "The staff was friendly and helpful. The slots were fun, and the drinks were great. Overall a good experience!"
(Related reading: Oklahoma casinos)
Gaming
Their gaming floor features over 250 slot machines, ranging from classic reel games to the newest video poker machines.
Table Games
This casino in Oklahoma is a great destination for slot lovers, but unfortunately, they don't offer any table games. On the bright side, they have over 250 of the best slot machines and video poker games, so there's bound to be something for everyone.
While you won't find traditional table games at this casino, your gaming experience is sure to be top-notch.
Slots
When you visit this casino in Oklahoma, you will find a wide selection of popular slot machines. Colossal Wizards is an exciting five-reel hundred-line slot with bonuses like the Wizard's Wheel and Colossal Cash.
Li'l Red is one of the most popular themed slots with a fairy-tale forest vibe and features like wild wolves and stacked symbols. Spartacus Gladiator of Rome is a five-reel ninety-line slot game featuring gladiators battling for your heart – along with free spins and multipliers.
Forbidden Dragons is another highly sought-after slot machine featuring fifty pay lines, expanding wilds and random progressive jackpots. Finally, Queen of the Wild II is a sequel to the classic tribal theme with enthralling symbols, big wins, and bonus features.
If you're looking for cool graphics to take your gaming experience to the next level, try Lazer Lock Ice Sapphire, which combines stunning graphics in bright blue glittering audio-filled reels while giving you a chance to obtain massive rewards.
Unfortunately, slot machine payback percentage information is not available at this time. Even the Oklahoma Gaming Commission does not provide information about the slot machine payback percentages at this casino.
However, players may inquire with the casino management or customer service representatives for information on their gaming machines. With over 250 slot machines, there is bound to be something that suits your gaming style.
Hotel/Resort
This casino in Oklahoma is a great spot for those looking to relax and have fun. Although there is no hotel on the casino's grounds, you don't have to worry about not having anywhere to stay.
Just minutes from this casino, you have a choice between Days Inn by Wyndham Pauls Valley, Hampton Inn & Suites Pauls Valley and Comfort Inn & Suites Pauls Valley.
All located nearby, these hotels provide comfortable accommodations and amenities so you can stay right where all the excitement is happening.
Restaurants & Buffets
At this casino, you can expect to find plenty of gaming options and a lively atmosphere. While the casino may not have a buffet or formal restaurants, it does offer a fully-fledged bar with an extensive drinks menu perfect for any occasion.
Whether you're playing slots or video poker, take some time after your session to enjoy a quality cocktail or beer in their onsite bar. This casino will surely be the thrilling new destination for all Oklahoma gambling needs.
Pools
This casino in Oklahoma is a great place for gaming and entertainment, with a variety of slots, video poker and a full bar. But if you're looking for some poolside fun, there is no pool on the premises.
If a pool is a must-have while traveling through Oklahoma, be sure to plan ahead and book accommodations that include one.
With some research and pre-planning, you are sure to experience the best of both worlds – the fun of this casino as well as relaxing pool time to cool off on hot summer days.
Washita Casino, Paoli, OK FAQ
Does Washita Casino Have A Sportsbook?
Unfortunately, this casino in Oklahoma does not currently offer a sportsbook. However, with their slot machines and video poker, you will surely find plenty of gaming action and a great atmosphere.
Is Poker Available At Washita Casino?
Unfortunately, this option is not also available at this establishment. There are several video poker terminals and slot machines, but no table games or live poker tournaments.
Video poker is a great alternative for a poker-style game, and the casino also offers a great bar to enjoy drinks while playing.
What Are The Age Requirements For Gambling At Washita Casino?
The legal gambling age for this casino in Oklahoma is 21. This requirement applies to all gaming areas, including slot machines, video poker and bar. All patrons must present valid identification at the entrance of the establishment to ensure compliance with state law.
Does Washita Casino Have An Online Casino?
No, this casino does not have an online casino. You may only experience the excitement of this establishment in person at its physical location in Paoli, Oklahoma.
They offer a wide selection of slot machines and video poker games in their onsite gaming area so you can feel the thrill of winning in real life.
Is There An Washita Casino App?
Unfortunately, this casino does not offer a mobile app. However, players may visit their website for more information about the establishment, including gaming options and promotions available. You can also learn about upcoming events and other activities at the casino.
What Is The Dress Code At Washita Casino?
The dress code for this casino is casual, so visitors are free to come as they, please. However, guests should be mindful of their attire and ensure it is modest and respectable. This regulation ensures a pleasant experience for all guests.
Is There An Airport Shuttle Available From Washita Casino?
Unfortunately, this casino does not offer a shuttle service from the airport. However, visitors can take advantage of local taxis or rideshare services to get there and back.
The good news is that some hotels in the vicinity could have shuttles running from nearby airports as well as train stations.
What Is The Smoking Policy At Washita Casino?
This casino does not allow smoking in any of its gaming areas. Smoking is only allowed in designated outdoor areas, away from the gaming floor and other common indoor areas. Failure to comply may result in a fine.
What Is The Pet Policy At Washita Casino?
This casino sadly does not welcome any pets; all guests must leave their four-legged friends at home or with a pet sitter while they are here.
Nevertheless, service animals accompanied by the necessary documents will be allowed to enter this establishment and enjoy its games and entertainment.
Is Wifi Available At Washita Casino?
Unfortunately, guests may need to bring their own wifi if they wish to access the internet at this establishment. The casino does not currently offer free wifi services for its guests. However, the cell phone reception in and around the casino is usually quite good.
What Is The Cancellation Policy For Washita Casino?
As there is no hotel attached to the casino, there are no cancellation policies associated with this establishment. All gaming and entry fees must be paid upon arrival. Any unused credits or tickets can be exchanged for cash at the end of the play.
Conclusion
Washita Casino is a great place for gaming and entertainment. It offers a wide selection of slot machines and video poker games, as well as an exciting bar area.
It may not be as big as some of the larger casinos, but it will surely provide a fun and memorable experience for everyone who visits. Be sure to plan your trip in advance and follow the dress code and smoking policy for a hassle-free visit.