The Stables Casino Miami
Address: 530 H St SE, Miami, OK 74354
Phone Number: +1 918-542-7884
Website: www.thestablescasino.com
Hours: The Stables Casino is open Monday 9 am – 2:30 am, Tuesday 9 am – 2:30 am, Wednesday 9 am – 2:30 am, Thursday 9 am – 2:30 am, Friday 9 am – 2:30 am, Saturday 9 am – 2:30 am, Sunday 9 am – 2:30 am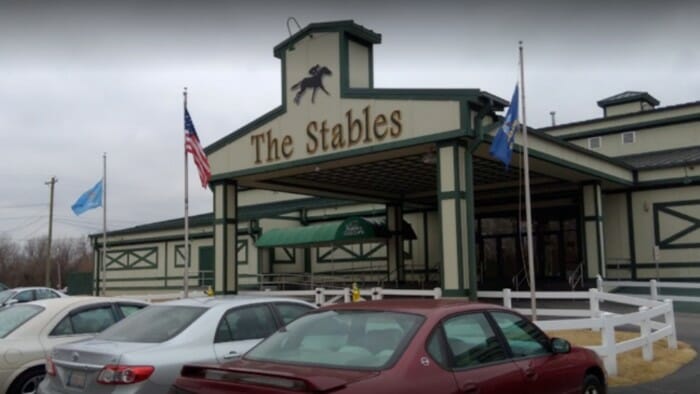 The Stables Casino has been in the town of Miami since 1997 and serves the locals, visitors and tourists with gaming entertainment. After an agreement and partnership between the Miami and the Modoc Tribe of Oklahoma, the casino opened its doors for business.
Their gaming floor boasts over 500 electronic games, including various slots and video poker machines. The casino even offers various promotions and bonuses to attract customers. And with their Gold Club loyalty program, players can earn points and rewards every time they play.
The casino also houses a restaurant serving delicious and freshly-prepared American cuisine, so visitors can get a bite to eat while they game. There is also a great bar and lounge, where customers can enjoy live music on the weekends and indulge in their favorite drink.
With its friendly staff, great entertainment and excellent food and drinks, this casino has become a destination for those looking to have a good time. If you are looking for an evening of gaming fun, look no further than this casino in Miami.
According to popular reviews, guests rate this casino with an average of 4.5 stars out of 5 on various review sites. One customer said, "The Stables Casino is excellent. The staff is so friendly and helpful, and the games are really fun."
Another customer commented, "I had a great time at The Stables Casino. I won a few hundred dollars playing the slots!"
(Related reading: Oklahoma casinos)
Gaming
Their casino floor features over 500 gaming machines, including various slots and video poker. From traditional three-reel slots to the latest multi-line video games, they have something for everyone.
Table Games
This casino is a great place for anyone looking to enjoy the thrill of playing slot machines. Unfortunately, you won't be finding any table games there.
While this may be disappointing news for anyone specifically wanting to play blackjack or other types of card-based games, the vast selection of slots available will surely leave any gambler feeling satisfied.
Slots
This casino is well-known for its slot machine selection. Players will find plenty of the most popular titles, including Colossal Wizards, Spartacus Gladiator of Rome, Li'l Red, Queen of the Wild II, Forbidden Dragons, and Lazer Lock Ice Sapphire.
Each game offers a unique gaming experience and great rewards to those lucky to hit the jackpot. Whether you're looking for fast-paced action or a more relaxed gaming atmosphere, you'll find something that suits your style here.
Unfortunately, the casino does not disclose its payback percentage on its slot machines. However, players may call before visiting the casino to inquire about what type of games and payouts they can expect.
Hotel/Resort
This casino is great for those looking for a fun and convenient gaming experience. Unfortunately, it does not offer any accommodation options on-site. If you're looking for a great place to stay while visiting this casino, there are plenty of great options nearby.
Take your pick from the Holiday Inn Express, Microtel Inn & Suites, Hampton Inn, or Days Inn, whichever hotel you choose; you will surely be provided with all the comforts and amenities you need for an enjoyable stay.
To ensure that you don't miss out on any of this casino's entertainment and gaming action, book one of these excellent accommodations.
Restaurants & Buffets
Even though they currently do not offer a buffet, the casino does have a restaurant that serves delicious American cuisine.
Winner's Circle Restaurant, one of the restaurants inside the casino, is known for its attentive service and sumptuous lunch and dinner menus featuring juicy steaks, fresh seafood, savory salads and delicious desserts.
Patrons can also enjoy casual fare from a deli counter and espresso bar while watching all the action on the gaming floor. From relaxing meals to delicious snacks between gaming sessions, this casino has something to satisfy every appetite.
Pools
This casino is a great place to have some fun and entertainment. With plenty of games, attractions, and activities available, you'll surely find something fun here.
While there are no pools onsite, you are free to visit any one of the many nearby local spots for a dip in the water or just to cool off during the summer months.
And be sure also to check out the casino's website for upcoming events so you can make the most of your time at this popular destination.
The Stables Casino, Miami, OK FAQ
Does The Stables Casino Miami Have A Sportsbook?
No, this casino does not offer a sportsbook. However, they have enough gaming machines and other attractions that you're sure to have a great time while visiting. And if you want to take a break from the gaming floor, they have a restaurant and bar onsite.
Is Poker Available At The Stables Casino?
No, this casino does not offer live poker. However, you can play electronic poker games such as Deuces Wild or Jacks or Better. With these options, you can enjoy the thrill of poker without having to worry about any opponents.
What Are The Age Requirements For Gambling At The Stables?
All guests must be 18 years of age or older to enter the casino and partake in any gaming activities. Also, guests under 21 are not permitted to consume alcoholic beverages at this venue. Make sure to bring a valid ID when visiting this casino as proof of age.
Do The Stables Have An Online Casino?
No, this casino does not offer an online casino. All gaming machines and attractions are located onsite at their physical location in Miami, Oklahoma. With so many exciting activities to partake in, you won't want to miss out on all the fun at this lively casino.
Is There An The Stables Casino Miami App?
No, there is no app available for this casino. However, you can check their website regularly for updates on events and promotions, as well as find other information about the casino. You may also follow them on Facebook or Instagram for the latest news and announcements.
What Is The Dress Code At The Stables Casino?
The dress code is casual and comfortable. Shorts, jeans, t-shirts, and other relaxed clothing are allowed at this casino.
However, no hats or hoodies are permitted inside the venue. If you plan on attending a special event or dining in their restaurant, it's always best to check with them beforehand to ensure your outfit meets the requirements.
Is There An Airport Shuttle Available From The Stables?
No, this casino does not currently offer an airport shuttle. However, you can arrange for a taxi or car service if needed. There are also several ridesharing services available in the Miami area, like Uber and Lyft.
What Is The Smoking Policy At The Stables Casino Miami?
The casino is a non-smoking facility. However, there are designated smoking areas located outside the gaming floor for patrons to use at their convenience. Failure to comply with this policy can result in removal from the premises.
What Is The Pet Policy At The Stables Casino?
Unfortunately, pets are not allowed inside the casino. However, service animals are welcome with proper documentation and identification. If you plan on bringing a service animal, please get in touch with the casino beforehand for further information.
Is Wifi Available At The Stables?
Unfortunately, you might need to rely on your device's data connection as the casino currently does not offer free WiFi. There are also several restaurants and cafes in the area that provide complimentary WiFi for their customers.
What Is The Cancellation Policy For The Stables Casino Miami?
As there is no need for a reservation to start gambling, all activities are on a first-come, first-serve basis. Therefore, no cancellation policy is necessary. They do not house a hotel as well, so no hotel reservations need to be made for stays.
Conclusion
The Stables Casino is an exciting destination for all your gaming needs. With hundreds of slot machines, electronic poker games, and other attractions, you will surely have a great time while visiting.
Be sure to bring a valid ID if you plan on gambling, and stay aware of the dress code and smoking policies when entering the premises. With all the fun activities and attractions available, you won't want to miss out on all the action.