Casinos in Tulsa, Oklahoma with Map
A city with just over 400,000 residents, Tulsa, Oklahoma has three major casinos, with several more either on the outskirts of town, or within a reasonable driving distance.
However there's really no reason to drive out of town to these more distant casinos, when two of the three Tulsa-area casinos are beautiful, full-scale Las Vegas-style casinos located within just 14 miles of the city's downtown core.
Here I'm talking about the River Spirit Casino and Hard Rock Casino, but we'll cover those more in detail below.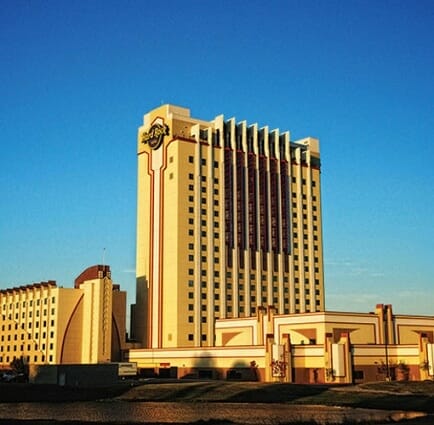 These Tulsa casinos offer both slot machines and table games, such as blackjack, 3-Card poker, Ultimate Texas Hold'em and the alike. There's also craps (with dice) and roulette. The two major casinos require you to be 21 years or older to play, and all of these are tribal, or Indian casinos open 24 hours a day.
With 102 casinos in Oklahoma, there are plenty of opportunities to gamble in the area, however many of these are small, slot-only joints in non-descript buildings and aren't really destination casinos.
As such, this article only covers casinos very close to Tulsa, and not the many surrounding Indian casinos with longer drives, such as those 40 or miles away in Okmulgee, Hominy, Bartlesville, or ones like the Stone Wolf Casino in Pawnee, 47 miles to the west.
(The Black star is the River Spirit Casino. Purple is the Hard Rock Casino, while Orange represents the Osage Casino Tulsa)
River Spirit Casino Tulsa
Located 10.5 miles south of downtown, the River Spirit is a flashy, contemporary casino/resort situated right on the banks of the Arkansas River. Attached, (and under the same roof), is the Margaritaville Casino.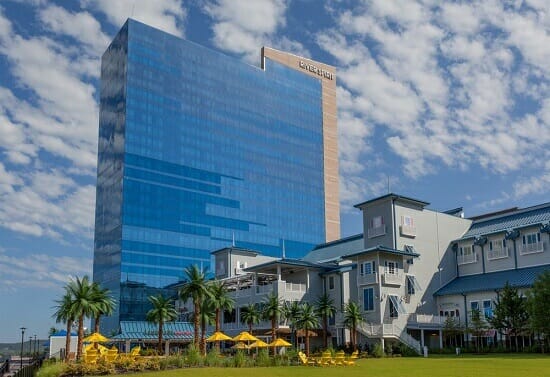 River Spirit is not only like a real Las Vegas casino, it's larger than most Las Vegas Casinos.
It has dice craps and real ball roulette. There is no ante on craps, roulette, mini-baccarat or table games at $25 or higher.
Between the main casino, and the newer 46,000 square foot Margaritaville Casino, River Spirit has a combined 3,387 slot machines/video poker machines, 32 table games, and a 12 table poker room, making for a total of 136,800 square feet of gaming space alone.
This doesn't include the resort's shopping areas, 27 story all glass hotel with 483 hotel rooms, 2,500 seat theater, or 30,000 square feet of convention space.
In addition, this tropical-themed casino resort has a beautiful pool area along with six restaurants spread out throughout the property, including the requisite buffet, and a Johnny Rockets burger stand. Among the resort's six bars is a swim-up pool bar.
River Spirit Tulsa Address, Phone & Website
8330 Riverside Parkway
Tulsa, OK 74137
(888) 748-3731

Website: RiverSpiritTulsa.com
Hard Rock Hotel & Casino Tulsa
Just 14 miles directly east of town (about a twenty minute drive), the Hard Rock Casino is the other major, Las Vegas style casino in Tulsa.
Located right off of Interstate 44, the resort has 2,600 slot machines/video poker machines, 40 table games and a popular 14 table poker room.
Hard Rock's 454 room hotel has a spa, pretty adult pool area with cabanas, 20 person hot tub and large relaxing deck space, and a lovely location next to their 18 hole golf course. The resort also boasts four restaurants, (not including the food court), including a buffet, and Oklahoma native son Toby Keith's I Love This Bar & Grill. There's also some shopping, and five bars.
The Hard Rock Live is the resort's concert venue, and offers seating for up to 2,700 people, while the convention area has 75,000 square feet of meeting space.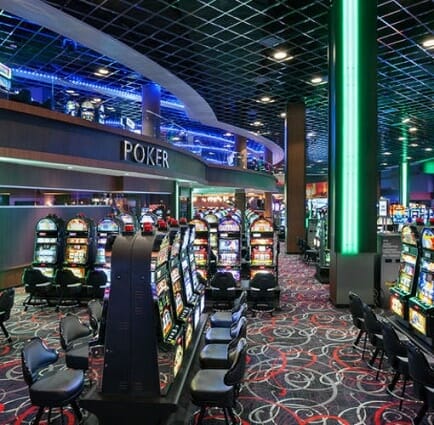 Hard Rock Casino Tulsa Address, Phone & Website
777 W. Cherokee Street
Catoosa, OK. 74015
(800) 760-6700

Website: HardRockCasinoTulsa.com
Osage Casino Tulsa
Of the numerous Osage casinos in the state, this one is by far the closest to Tulsa, Opened in the summer of 2005, it's situated just 4 miles north of downtown.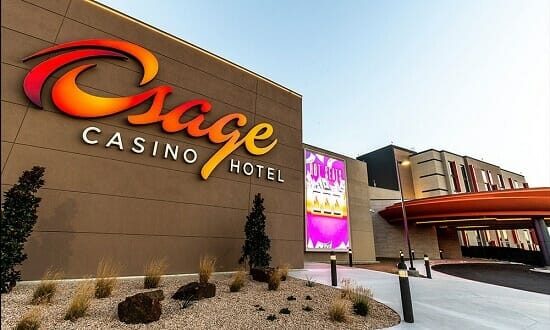 In November of 2016, the Osage Tribe announced a major $160 million dollar expansion to the property. The completely remodeled property held its grand opening on August 29, 2018.
The casino has 65,000 square feet, and the remodeling has brought the casinos slot machine count to 1,600. There are also 20 table games, (not including the 5 table poker room). They even have one of those fun Fortune Cup horse racing machines – the kind where you bet on little simulated horses.
The resort has 247,000 total square feet, including a six-story, 286 room hotel, a brewpub, events center, convention center, retail shops, pool, sports bar, cafe, gift shop, and coffee bar.
Osage Casino Tulsa Address, Phone & Website
951 W. 36th Street North
Tulsa, OK. 74127
(877) 246-8777
Website: OsageCasino.com/hotel
Casinos in Tulsa That are 18 and Up
The Osage Casino. And that's it.
One advantage the Osage Casino has over its two larger, fancier rivals is that you only have to be 18 to gamble here, whereas you have to be 21 or older to gamble at River Spirit and at the Hard Rock.
Casinos in Tulsa, OK with Hotels
Here's a list of the casinos in Tulsa with hotels.
River Spirit Casino
Hard Rock Casino Tulsa
Osage Casino
In other words, all three of the city's casinos have hotel rooms.
Other Casinos Close to Tulsa
Here a couple of the less prominent, (less fancy) casinos in the Tulsa area:
Osage Casino Sand Springs – 11 mile drive west of town.
Osage Hotel & Casino Skiatook – 18 miles north of downtown Tulsa.
In addition, while not a casino, the Fair Meadows race track, just about 3 miles south and west of downtown, offers wagering on horse races in the summer.
By Steve Beauregard. Photos courtesy of VisitTulsa.com and the National Indian Gaming Commission.