One Fire Casino Okmulgee
Address: 1901 N Wood Dr, Okmulgee, OK 74447
Phone Number: +1 918-756-8400
Website: www.creeknationcasinoonefire.com
Hours: One Fire Casino Okmulgee is open Monday 10 am – 4 am, Tuesday 10 am – 4 am, Wednesday 10 am – 4 am, Thursday 10 am – 4 am, Friday 10 am – 4 am, Saturday 10 am – 4 am, Sunday 10 am – 4 am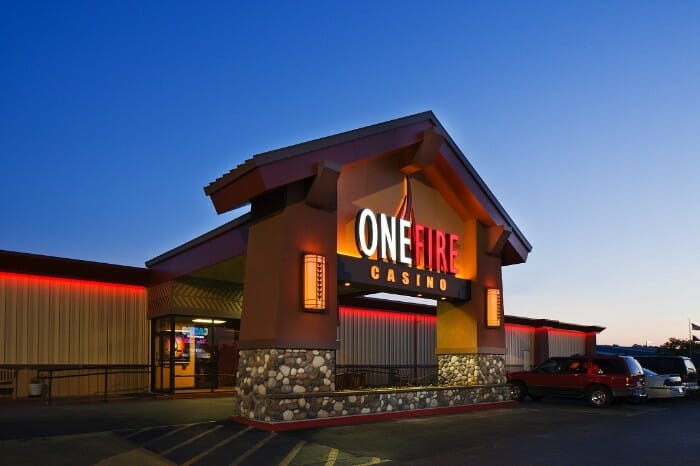 One Fire Casino Okmulgee has been providing entertainment in the area since 1987. Originally opened as a high-stakes bingo hall, it expanded to include casino games for guests to enjoy and has since become a popular destination for locals and visitors alike.
The property is owned by the Creek Nation of Oklahoma and is part of the larger network of Creek Nation casinos located across the state. The casino offers a wide range of slots and video gaming machines.
They also offer promotions and special events for players to participate in and take advantage of. The casino also houses an on-site restaurant and a bar and grill that serves a variety of American and Italian fare.
Whether you're a local looking for an evening of fun or a visitor seeking to experience Native American culture, this casino will surely please. Stop by today and see the latest gaming action in this beloved destination.
On popular review sites, many guests rate this casino with a 4.5-star rating. One patron claimed, "I always have a good time here. The staff is friendly, and the atmosphere is great. They also have some really nice slots and decent drinks.
Another reviewer commented, "The restaurant has delicious food, the employees are helpful and courteous, and my favorite thing to do is play their amazing slot machines."
(Related reading: Oklahoma casinos)
Gaming
Their gaming floor consists of numerous Class II and Class III gaming machines, giving guests a variety of options to choose from. The casino also hosts monthly tournaments and promotions for players to take advantage of.
Table Games
If you're looking for an exciting night of table games, unfortunately, this casino in Oklahoma is not the place for you. This casino only offers slot machines, so don't bother bringing your chips or feeling out a card table.
You can still have a great time at this casino, though, with its wide selection of slots and possible jackpot wins. With so many different kinds of machines and bonus opportunities, you won't be leaving this casino disappointed.
Slots
From Colossal Wizards to Queen of the Wild II and Lazer Lock Ice Sapphire, there is no shortage of exciting slot machines. Li'l Red is a popular classic game with an incredible design, while Spartacus Gladiator of Rome will take you on an immersive journey to another place and time.
Forbidden Dragons offer endless entertainment with thrilling wheel bonuses and wild symbols for amplifying your wins.
Unfortunately, this casino does not disclose its slot machine payback percentages. Even the Oklahoma Gaming Commission does not release its payback percentages publicly.
However, players can check with the casino staff for their slot machine payback percentages. This can help players get an idea of what kind of returns they can expect when playing at this casino.
Hotel/Resort
Located in Oklahoma, this casino is a great place for an exciting and relaxing vacation. While the casino does not have its own onsite hotel, guests of this casino have plenty of options when it comes to finding accommodation nearby.
Accommodations such as Holiday Inn Express & Suites, Best Western Okmulgee, and Days Inn by Wyndham are all within easy reach of the casino, and each offers a variety of amenities that make your stay convenient and comfortable.
With so many great hotel choices close by, you can be sure your visit to this casino will be worry-free and enjoyable.
Restaurants & Buffets
This casino in Oklahoma offers a plethora of tantalizing dining options for all appetites and is sure to satisfy even the pickiest foodie.
Two popular restaurants on-site are Mazzio's Go and the One Fire Sports Bar. While neither offers buffet options, Mazzio's rustic Italian staples feature refreshing flavors and pleasant atmospheres.
The One Fire Sports Bar is the go-to spot when looking for thirst-quenching drinks and crave-able snacks to watch the game or have a drink with friends while playing some of their bar games such as darts or pool.
With all these delicious meals, this casino guarantees an enjoyable, memorable time out.
Pools
Although there are no pools on-site, guests can easily go for a swim just five minutes away from the property. A number of local public pools offer day passes at very reasonable rates, making sure that everyone can enjoy a refreshing dip in the pool without breaking the bank.
Plus, with their top-notch facilities and excellent customer service, a fun and rewarding experience is guaranteed.
One Fire Casino, Okmulgee, OK FAQ
Does One Fire Casino Have A Sportsbook?
No, this casino in Oklahoma does not have a sportsbook. However, guests may still enjoy their selection of slot machines, table games, and other forms of entertainment.
Plus, with their onsite sports bar, guests can still celebrate their favorite sports teams while enjoying a refreshing cocktail or snack.
Is Poker Available At One Fire?
Unfortunately, no. This casino does not offer poker, but guests can still enjoy the wide selection of slot and video poker games. Video poker is great for those looking for a more relaxed gaming experience and the chance to win big.
What Are The Age Requirements For Gambling At One Fire Casino?
The minimum age to gamble at this casino is 18. Guests must show valid photo identification when entering the casino and may be asked for proof of identity when playing or purchasing alcoholic beverages.
Does One Fire Have An Online Casino?
No, this casino does not have an online counterpart currently. Guests must be physically present at the Oklahoma location to play their selection of games. With its thrilling selection of games and great atmosphere, there's no better place to have fun than this casino.
Is There An One Fire Casino App?
No, this casino does not have its own app. However, guests can easily access their website for quick and easy navigation to the casino's offerings. Guests can also find information about upcoming events, promotions, and other exciting news via social media accounts.
What Is The Dress Code At One Fire?
This casino does not have a dress code. However, guests are asked to be respectful of the other players and staff by dressing appropriately. It is also recommended that guests wear comfortable footwear, as standing for long periods of time can be tiring.
Is There An Airport Shuttle Available From One Fire Casino?
No, this casino does not offer an airport shuttle. However, there are several taxi and ride-share services available in the area that can easily take guests to and from the casino. Plus, with the casino's convenient location, many guests find it easy to get around when visiting.
What Is The Smoking Policy At One Fire?
This casino has a strict no-smoking policy. Smoking is only permitted outside in designated areas. Guests are kindly asked to respect this policy and refrain from smoking inside the casino at all times.
What Is The Pet Policy At One Fire Casino?
This casino does not allow pets on the premises. Guests are kindly asked to leave any animals at home or with a pet care service while they visit the casino. However, if you require a service animal, don't hesitate to get in touch with the casino ahead of time for more information.
Is Wifi Available At One Fire?
Unfortunately, no. This casino does not have wifi access for guests. However, with the wide variety of games and entertainment available, there's sure to be plenty to keep everyone entertained for a memorable night out.
You may also purchase a prepaid phone plan or a portable wifi hotspot to ensure connectivity while at the casino.
What Is The Cancellation Policy For One Fire Casino, OK?
There is no need for a reservation to enter the casino, and guests may cancel their visit anytime. However, if you have purchased tickets for an event or made a reservation in advance, it is best to contact the casino directly for more information on cancellation policies and fees.
Conclusion
The One Fire Casino, located in Oklahoma, is a great place to enjoy a fun and exciting night out. With its wide selection of slot games, video poker machines, and onsite sports bar, all guests can find something to enjoy.
Plus, with the convenient location and no-smoking policy, everyone can have a relaxing experience. Be sure to follow the age restrictions, dress code, and pet policy for the best experience. With all the amenities this casino has to offer, you'll be sure to have a great time!