Choctaw Casino Idabel
Address: 1425 SE Washington St, Idabel, OK 74745
Phone Number: +1 800-634-2582
Website: www.choctawcasinos.com/idabel
Hours: Choctaw Casino Idabel is open 24 hours a day, 7 days a week.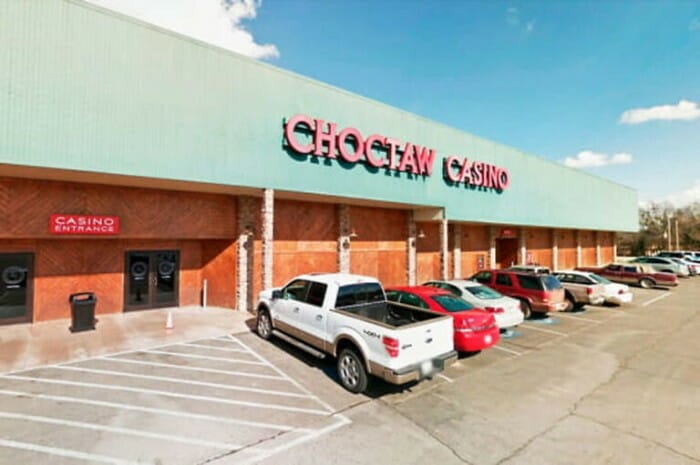 The Choctaw Casino in Idabel was built by the Choctaw Nation of Oklahoma in order to provide employment opportunities and boost the local economy in southeastern Oklahoma. Since its opening, the fairly new casino quickly became a favorite among locals and visitors.
The property is one of the many owned and operated by the Choctaw Nation. Currently, its casino floor features several electronic gaming machines such as reel slot machines, keno and video poker. They also offer promotions and rewards programs to their loyal players.
In addition, the property also offers several dining and entertainment options. The casino features live entertainment throughout the year and a full-service bar and grill. On top of that, they have the newly opened The District, which offers arcade games and bowling lanes.
Overall, this casino has become one of the most popular entertainment destinations in Oklahoma thanks to its wide variety of gaming options, live entertainment, and dining choices. It is definitely worth a visit for anyone looking for an exciting night out with friends or family.
On average, it has received a 4.5/5 star rating on Google reviews and a 4/5 star rating on TripAdvisor. One guest claimed, "This is a great place to have fun. The staff is friendly and helpful. The food is reasonably priced, and there are lots of slots to play."
Another customer said, "The Choctaw Casino has been nice and offers great promotions. I've had a lot of luck at the slots. The staff and the atmosphere are really good."
(Related reading: Oklahoma casinos)
Gaming
Their gaming floor offers multiple slot and video poker machines, including the newest game titles.
Table Games
This casino offers a great selection of slot machines for those looking for an enjoyable and exciting gaming experience. With a wide variety of machines, you're sure to find one you love.
However, if you're looking for other types of table games, this location may not be the right fit as it offers no traditional table games like poker. Instead, they focus solely on slot machines as their main form of casino games.
This casino is perfect if your goal is to try your luck at some entertaining slot machines, but otherwise, unfortunately, it cannot provide the full experience of traditional poker or other table games.
Slots
At this casino, you will find slots for everyone. Many customers swear by Colossal Wizard, which combines the excitement of a magic show with modern gaming technology.
If you're up for a more classical experience, go for Li'l Red; this game is like no other with its classic look and nostalgic feel. If battle and strength are more your styles, Spartacus Gladiator of Rome will simultaneously bring you the power of two huge names – Spartacus and Rome.
For players looking for something different and unique, Forbidden Dragons are worth trying; it offers life-changing rewards.
Another favorite among regulars at this casino is Queen of the Wild II; transport yourself to an ancient kingdom right at the casino with mythical symbols that mesmerize you. Finally, Lazer Lock Ice Sapphire offers dynamic reels combined with innovative technology.
Unfortunately, this casino does not publish its slot machine payback percentages. The Oklahoma State Gaming Commission does not also publish the payout percentages for each casino.
However, players may check the gaming machines before playing in order to get an idea of the payback percentages. The staff can also provide the necessary information about each machine's payback percentage.
Hotel/Resort
Unfortunately, this casino does not have a hotel or resort. For visitors needing overnight accommodations, several hotels and other lodgings are nearby.
When looking for a place to stay while enjoying your visit to this casino, the Comfort Suites, Super 8 and Microtel Inn & Suites by Wyndham are all great nearby options. All three of these hotels offer comfortable and convenient accommodations that make your stay enjoyable.
Whether traveling alone or with family and friends, these hotels will ensure you have everything you need for a delightful stay.
Restaurants & Buffets
Even though this casino does not have a hotel or resort, it does offer several great dining options. Loggers Bar & Grill serves up a tantalizing selection of freshly prepared meals in an inviting atmosphere.
Enjoy juicy hamburgers and classic Chesapeake dishes from their menu, or sample one of the many specials that are always changing with the season.
If you're looking for something a little more quick-service, The District Snack Bar will provide satisfying meals on the go with fresh ingredients and piping hot pizzas.
Whether you're just visiting or often come to enjoy the gaming, this casino's unique eateries will always give you a truly enjoyable dining experience.
Pools
When visiting this casino, you'll find many amenities to enjoy. Unfortunately, swimming pools are not one of them. However, there are plenty of ways to unwind and relax besides taking a dip – check out the great dining options available onsite or try your luck in the casino.
If you're looking for a place to cool off, nearby hotels usually have pools. Be sure to inquire ahead of time and make reservations.
Choctaw Casino Idabel, OK FAQ
Does Choctaw Casino Idabel Have A Sportsbook?
Unfortunately, no. The casino does not offer a sportsbook for betting or wagering on games. However, players can still enjoy the wide selection of games at the casino. From slot machines to bowling, there is something for everyone.
Is Poker Available At Choctaw Casino?
The only variation of poker that is offered at this casino is video poker. There are no live tables or tournaments available. Video poker is a great alternative for players looking to test their skills and compete against the computer.
What Are The Age Requirements For Gambling At Choctaw Casino Idabel?
To gamble at this casino, players must be 18 or older. Players under the age of 18 are not allowed to enter the casino or play any of the games offered. It is important to bring a valid form of ID when visiting the casino.
Does Choctaw Casino Have An Online Casino?
Through the Choctaw Slots Mobile App, guests of the casino can access their favorite games from any device with an internet connection. Whether from home or on the go, customers can experience a variety of slots and table games delivered with exceptional sound and graphics.
This app is available on Android and Apple store platforms and makes gaming even more convenient—all you need is your phone or desktop.
Is There An Choctaw Casino Idabel App?
No. Currently, there is no app for this casino yet. However, guests of the casino can access their favorite games through the Choctaw Slots Mobile App, available on Android and Apple store platforms.
What Is The Dress Code At Choctaw Casino?
The dress code at the casino is smart and comfortable casual. Clothing that is too revealing or excessively torn, tattered, or dirty will not be permitted in the casino. Shirts and shoes must also be worn at all times.
Is There An Airport Shuttle Available From Choctaw Casino Idabel?
Unfortunately, there is no airport shuttle available from the casino. However, there are several nearby hotels that offer complimentary shuttles to and from the nearest airports. Please get in touch with the hotel directly for more details.
What Is The Smoking Policy At Choctaw Casino?
The casino is a non-smoking facility, with designated areas for smoking available outside. Guests may not smoke inside the casino or any restaurants and bars. Electronic cigarettes and vaping devices are also prohibited.
What Is The Pet Policy At Choctaw Casino Idabel?
Sadly, no pets are allowed at the casino. Only service animals like guide and support dogs can enter the premises. Please be sure to bring all necessary paperwork in order to verify your service animal's legitimacy.
Is Wifi Available At Choctaw Casino?
Unfortunately, there is no free WiFi available at the casino. However, some of the hotels near the casino offer complimentary WiFi access to their guests. Please get in touch with each hotel directly for more information.
What Is The Cancellation Policy For Choctaw Casino Idabel?
There is no need for a reservation for most gaming activities at the casino. However, you may need to pre-book tickets for shows and events. Please contact the casino directly for more information on the cancelation policy.
Conclusion
Choctaw Casino Idabel is a great spot for gaming and entertainment. But before you visit, make sure to read up on all the policies, age limits, and more in order to have an enjoyable experience.
With all the games and activities available, this casino is the perfect place to have a good time. Whether you're looking for exciting gaming action or want to relax with friends, this casino has something for everyone.