Choctaw Casino Pocola
Address: 3400 Choctaw Rd, Pocola, OK 74902
Phone Number: +1 918-436-7761
Website: www.choctawcasinos.com/pocola
Hours: Choctaw Casino Pocola is open 24 hours a day, 7 days a week.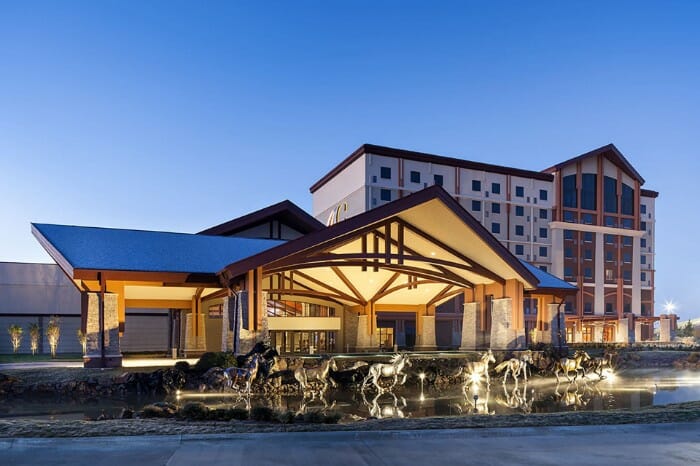 Choctaw Casino Pocola is located just off Interstate 540 at the foot of the beautiful Winding Stair Mountains. The property was opened by the Choctaw Nation and has been serving guests for almost 29 years.
Since its opening, the casino has grown to include over 1,700 electronic games and multiple table games which includes blackjack, roulette, poker, and more. The casino also features various promotions and tournaments throughout the year.
In addition to gaming, the property also houses an onsite hotel with hundreds of rooms, multiple restaurants, and a variety of entertainment options. They also offer off-track betting for horse racing and simulcast races.
This casino is fully dedicated to providing guests with an enjoyable atmosphere by offering friendly customer service, exciting promotions, and a variety of gaming opportunities from the comfort of their home.
Whether you're looking for the thrills of the casino or want to relax in their hotel, make sure to stop in to this casino and experience all they have to offer. With all the great amenities and services, it's sure to be a memorable trip.
On average, guests rate this casino 4.2 out of 5 stars. One guest said, "The casino is always well-maintained, the staff are friendly and helpful, and the atmosphere is fun. We always enjoy ourselves here!"
Another guest commented "I love coming to this casino because it has a great variety of games as well as friendly and helpful staff. Definitely worth a visit if you're looking for some casino action."
(Related reading: Oklahoma casinos)
Gaming
Their casino floor features over 1,700 of the newest and most popular electronic games. They also offer a variety of table games such as blackjack, roulette, poker and more.
Table Games
This casino has some great table games for its guests to enjoy. Blackjack is one of the most popular games in the casino and it can definitely be found here. Blazing 777 is a version of three card poker, with exciting opportunities to win big pots.
Craps is another classic game that uses two dice and thrilling betting opportunities. Baccarat has been around since the 15th century and even today, it's still attracting players looking to test their luck.
Pai Gow is an ancient Chinese game involving dominoes that adds a unique twist to the standard card hands. Let It Ride is kind of like Poker – you start with three cards and there are several betting rounds where you can take risks or play more conservatively.
Roulette pits your wits against the spin of the wheel – pick your lucky number and hope for a win. And finally they have Three Card Poker, Ultimate Texas Hold 'Em and WPT Heads Up Hold 'Em – all variations on traditional Poker designed to challenge your strategy skills.
The minimums at this casino will vary according to the game being played. Generally, players will find minimums as low as $5 and as high as $25.
Slots
At this casino, there are 1,700 exciting gaming machines to choose from. Most of the slot games that you can find on the floor are progressive jackpot slots or multi-game video slots. Popular titles include:
Lil Red
Buffalo Stampede
Shadow Diamond
Ocean Magic
The Goonies
Magic Pearl – Lightning Link
Solar Disc
5 Dragons
Unfortunately, the payback percentage for slot machines at this casino is not publicly available. However, players may check with the casino staff for more information.
Hotel/Resort
This casino offers an onsite hotel with hundreds of rooms and suites available. All the rooms are equipped with a flat-screen TV, mini refrigerator, and complimentary Wi-Fi.
Room types include:
Standard Tower Rooms – features one king or two queen beds
Executive Suites – features one king or two queen beds, a separate living room, granite vanity, and a walk-in shower
Additionally, the resort offers an array of amenities including:
Highspeed wifi access
Daily housekeeping
24-hour front desk
Concierge services
Free self parking and valet parking
Business center and meeting rooms
Onsite dining options
Live entertainment and shows
Retail stores
A racebook
The cost of a stay at this hotel varies depending on the time and type of room you book. Rates start as low as $139 per night excluding taxes and fees. You can visit their website for more information and to book your stay.
Check-in time at Choctaw Casino Pocola is 3:00 pm
Check-out time at Choctaw Casino Pocola is 11:00 am
Restaurants & Buffets
Although there are no buffets at this casino, they do offer an assortment of restaurants to choose from. Whether you're looking for a quick snack or a full-course meal, you'll find something that suits your palate here.
The Oak Tree Lounge is cozy and inviting, offering an atmosphere perfect for enjoying a cocktail or two with friends. Trophy's Bar & Grill is where you want to be if you're craving some delicious American cuisine.
Seven Ponies serves up delectable steak, seafood and more—all in an upscale setting with fun vibes. Lastly, don't forget about their Coffee Café where you can get quick bites, snacks and more while enjoying your favorite cup of Joe.
The prices at the restaurants vary depending on what you order. Most dishes range from $10-$30. Additionally, you can also pick up some snacks or light meals from their Grab N' Go deli located near the casino floor.
With so many dining and entertainment options, this casino is sure to provide plenty of fun and excitement for gamblers and non-gamblers alike.
Pools
If you're looking for a place to take a dip during your stay at this casino, we regret to inform you that there are no pools onsite. But don't let that dampen your spirits as there are lots of other ways to enjoy the property, like great dining options, gaming, live entertainment and more.
And if you need a swim, there are several hotels that offers pools within an hour drive of the casino. So grab your swimsuit and go explore the area.
Choctaw Casino Pocola, OK FAQ
Does Choctaw Casino Pocola Have A Sportsbook?
Unfortunately, the casino only has a racebook where you can place bets on horse races. Plus, you can watch the races live on their big-screen TVs. And with their various dining options, you can even enjoy a tasty meal while enjoying the show.
Is Poker Available At Choctaw Casino?
Yes, they have a dedicated poker room onsite. The poker room offers a variety of games, including Texas Hold'em and Three Card Poker. Plus, there are daily tournaments so you can test your skills against other players.
What Are The Age Requirements For Gambling At Choctaw Casino Pocola?
All guests must be 18 years or older to enter the casino and 21+ to gamble. All guests will need valid photo identification to prove their age, so make sure you have your ID on hand when entering the resort.
Does Choctaw Have An Online Casino?
This casino is proud to offer an exciting online casino experience for their customers with the Choctaw Slots Mobile App. This app allows users to play classic casino games such as Poker, Bingo and Blackjack from anywhere in the world.
The app also has a wide range of thrilling slot machine games and offers generous promotional bonuses on sign up. This casino ensures that its players have the best possible gaming experience with deep rules explanations, game statistics and detailed game instructions.
Is There An Choctaw Casino Pocola App?
Unfortunately, there is no dedicated app for this casino, but customers can still access the property's website on their phone's browser.
The website has all of the same information and features as it does on a desktop computer, such as hotel bookings, gaming options and dining details. Plus, their social media pages are regularly updated with all the latest news and offers.
What Is The Dress Code At Choctaw Casino?
The dress code for this casino is casual and comfortable with no formal attire or uniforms needed.
All guests should wear clothes that are appropriate for a family-friendly environment, such as jeans, shorts and t-shirts.
Is There An Airport Shuttle Available From Choctaw Casino Pocola?
No, there is no airport shuttle service available from this casino. Guests who need to get to the airport will have to make their own arrangements or use public transportation. If you are driving yourself, it should take around 45 minutes to reach the nearest airport.
There are also several taxis and rideshare services available in the area, such as Uber and Lyft. These are usually cheaper than booking a private car service.
What Is The Smoking Policy At Choctaw Casino?
The casino is smoke-free indoors, but guests are welcome to step outside and enjoy a cigarette in the designated smoking areas. These include outdoor balconies and terraces near the gaming areas.
What Is The Pet Policy At Choctaw Casino?
Sadly, pets are not allowed in the casino or hotel. If you plan to bring your pet, please make sure that you arrange for a place for them to stay before arriving at the resort.
On the other hand, service animals are welcome to accompany their owners in the casino and hotel. Guests must provide valid documentation for their service animal before entering the property.
Is Wifi Available At Choctaw?
Yes, the resort offers complimentary wifi to all of its guests. You can connect your device easily and have access to high-speed internet throughout your stay.
You can also find free charging stations in the gaming areas, so you'll never have to worry about running out of juice on your phone or laptop.
What Is The Cancellation Policy For Choctaw Casino Pocola?
The cancellation policy for this casino is a 24-hour advance notice. All reservations must be cancelled at least one day prior to the scheduled arrival in order to avoid any fees or penalties.
Conclusion
Choctaw Casino Pocola is a great place to escape the hustle and bustle of everyday life. From classic casino games to exciting slot machines, there's something for everyone here.
From the laid-back dress code to the complimentary wifi , this casino is sure to provide a unique and memorable experience for all guests. Whether you're looking for an exciting night out or just some time away from it all, this casino is definitely worth a visit.