Remington Park Racetrack Casino Oklahoma City
Address: 1 Remington Pl, Oklahoma City, OK 73111
Phone Number: +1 405-424-1000
Website: www.remingtonpark.com
Hours: Remington Park Racetrack Casino is open 24 hours a day, 7 days a week.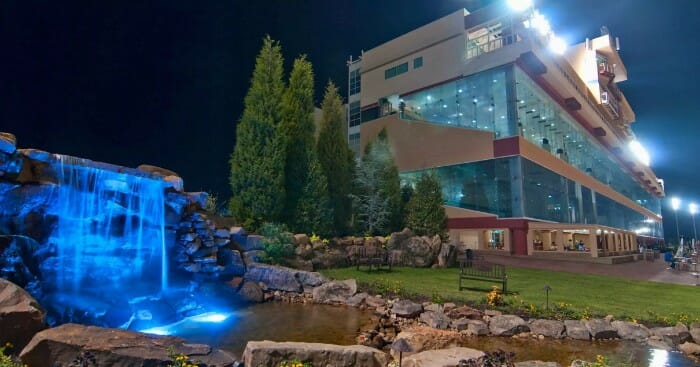 Remington Park Racetrack Casino is owned by the Chickasaw Nation and has been a premier horse racing and gaming destination. The racino has been popular due to its synthetic racing surfaces, which can help protect the health of horses and provide a smoother ride for jockeys.
They were the only track in the United States to use this material and the first to use it for a full racing season. However, the project failed to uphold expectations as it proved difficult to maintain due to the Oklahoman climate.
In 2005, the property was upgraded with a casino featuring 750 various slots and electronic gaming machines. Plus, they offer promotions and tournaments where players may participate in the chance to win large cash prizes.
Apart from live racing, the property hosts live entertainment such as music, comedians and much more. They also have several dining options ranging from quick bites to upscale restaurants.
Whether you're a fan of horse racing, a gambler at heart, or just looking for some fun entertainment, this racino is the perfect destination.
On Yelp, this casino has an overall rating of 3.5 stars out of 5. One guest said, "Remington Park is a great place for fun and entertainment. The staff was friendly and helpful during the times we have visited."
Another said, "Really enjoyed our visit here at Remington Park. Great atmosphere, good food options, easy to navigate and lots of activities going on."
(Related reading: Oklahoma casinos)
Gaming
Their gaming floor has over 750 gaming machines, including video poker, electronic table games and more.
Table Games
If you're looking to play table games at this casino in Oklahoma, you'd better get a different idea of what your evening might look like. Unfortunately, this casino only offers slot machines, so those seeking classic casino action may need to go elsewhere.
However, if slots are your thing, this is the place for you. They offer a wonderful gaming experience with more than 750 state-of-the-art electronic gaming machines ranging from penny slots all the way up to $100 per spin high roller games.
Slots
This casino has no shortage of popular slot machines. 10,000 Rubies is a five-reel slot machine with seven free games and free spins. 5 Dragons Rapid offers 243 ways to win with generous re-trigger features and multiple bonuses.
Ocean Magic Grand has a magical theme with bright, colorful graphics and up to fifty win lines! Ocean of Gold is a game with five reels, four rows, cascading symbols and gold coins that sparkle throughout the game.
Buffalo slots have four rows, five reels and 1024 ways to win, boasting mysterious wild creatures. Double DaVinci Diamonds combines the classic feel of traditional slots with the thrill of innovative new technology and graphics for more modern viewers.
New games like Secrets of the Forest bring enchanted characters to life in three rows and 99 pay lines, along with Wild Glittering Tomes awarding extra bonuses.
Selene's Loot Link offers big jackpot wins over 4 progressive jackpots, while Fortune 4 Link has Blazing Link Wilds, making it one of the most popular slots at the casino.
If you're looking for something new, check out Triple Festival or World of Riches, which both bring unique animated characters to life on their respective play boards as well as Maltese Fortune – your chance to find big bouquets of winning flowers.
The minimum payback percentage for slot machines at this casino is not publicly available. However, players may check the return rate of a particular machine by looking at the posted information on each machine or speaking with casino staff.
Hotel/Resort
This casino in Oklahoma offers a wide range of exciting gaming and racing opportunities. Although there is no hotel on site, guests may take advantage of their partner hotel, the Courtyard OKC NW.
Offering free high-speed internet access, luxurious rooms with plush bedding, flat-screen TVs and many other amenities to make your stay more relaxing and enjoyable.
So even if you don't find a place to stay at this casino, you can still take advantage of its many attractions by booking a room at Courtyard OKC NW.
Restaurants & Buffets
Although they do not have any restaurants or buffets of their own at this racino, they do have a selection of eateries located nearby. If you find yourself in this racino, you won't have to go far for delicious food and drinks.
From the classic American fare that can be found at Henry Hudson's Pub and Grill to the colorful Japanese-Thai fusion cuisine served at Club One, there is no shortage of restaurants to choose from.
For an upscale night out, look no further than Silks Restaurant, offering dishes such as Australian Wagyu Beef and Ora King Salmon.
Craft beer aficionados will definitely want to visit Bricktown Brewery – they proudly offer a variety of beers on tap, including some brewed right in their own brewery. Whether you're looking for fine dining or just some good pub grub, they have something for everyone.
Pools
This racino Oklahoma is the perfect destination for an exciting night of fun and gaming. With a wide variety of table games, video gaming terminals, and more, you're sure to find entertainment that suits your style.
Although there are no pools onsite at the casino, their partner hotel, Courtyard OKC NW, has you covered. This beautiful hotel offers an indoor pool with a hot tub for relaxing after long days exploring all the racino offers.
Remington Park Racetrack Casino, Oklahoma City, OK FAQ
Does Remington Park Racetrack Casino Oklahoma City Have A Sportsbook?
Unfortunately, this racino does not have a sportsbook. However, they offer live and off-track betting for horse racing. And with several different tracks to choose from, there's sure to be something for everyone.
Is Poker Available At Remington Park Oklahoma City?
No, this casino does not have a poker room. However, you may find video poker machines in the gaming area. This is a great option for anyone looking for the same excitement as traditional poker but with a much faster pace.
What Are The Age Requirements For Gambling At Remington Park?
The age for gambling at this racino is 18. As such, anyone under the age of 18 will not be permitted to play in the gaming area. Additionally, a valid form of photo identification is required for all players.
Does Remington Park Oklahoma City Have An Online Casino?
No, this racino does not offer an online casino. However, the onsite gaming area includes a variety of slot machines and video poker machines for you to enjoy. There are also live and off-track betting opportunities available for horse racing fans.
Is There An Remington Park Racetrack Casino Oklahoma City App?
No, there is no official app for this casino. However, you can find information about the gaming area and machines on their website.
You can also get help finding a particular machine by looking at the posted information on each machine or speaking with casino staff. Their social media pages are also great resources for staying current on the latest promotions and events.
What Is The Dress Code At Remington Park Racetrack Casino?
At this racino, the dress code is laid back; comfortable clothing such as shorts, jeans, and t-shirts are all encouraged for gaming.
However, as with any casino, some clothing may not be allowed, so it's best to check beforehand. Additionally, some areas may require more formal attire, such as collared shirts and trousers.
Is An Airport Shuttle Available From Remington Park?
No, this racino does not offer an airport shuttle service. However, there are a variety of taxi and ride-sharing services available for those needing transportation from the airport. Additionally, the casino offers free parking for visitors who drive themselves to the racino.
What Is The Smoking Policy At Remington Park Racetrack Casino Oklahoma City?
The smoking policy at this racino is that smoking is not allowed in any gaming area. However, there are designated outdoor smoking areas available for those who wish to smoke. Failure to comply with the smoking policy may result in the guest being asked to leave the premises.
What Is The Pet Policy At Remington Park Racetrack Casino?
Unfortunately, pets are not allowed on the premises of this racino. However, service animals are permitted as long as they are properly identified. Additionally, guests may be asked to provide proof that their animal is a certified service animal before being allowed to enter the gaming area.
Is Wifi Available At Remington Park?
Yes, complimentary wifi is available for guests at this racino. Reach out to the customer service desk for more information on connecting your device. Additionally, the casino also offers a variety of other amenities like an ATM, a gift shop, and restaurants.
What Is The Cancellation Policy For Remington Park Racetrack Casino Oklahoma City?
There is no hotel attached to this racino, so there is no cancellation policy to speak of. However, guests should know that all sales are final for any gambling purchases made on the premises.
And if you happen to have tickets to an event, you should check with the event organizers for their cancellation policies.
Conclusion
Remington Park Racetrack Casino Oklahoma City is a great destination for anyone looking to experience the excitement of traditional slot machines and video poker.
Whether you're a beginner or a seasoned player, there's something for everyone at this racino. Additionally, the casino offers a variety of other amenities that guests can take advantage of.
So if you find yourself in Oklahoma City, be sure to check out this place for an unforgettable gaming experience.