Osage Casino Ponca City
Address: 64464 US-60, Ponca City, OK 74604
Phone Number: +1 877-246-8777
Website: www.osagecasino.com
Hours: Osage Casino Ponca City is open 24 hours a day, 7 days a week.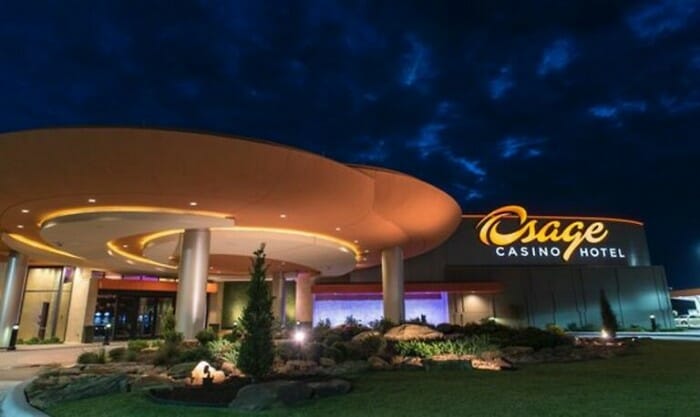 Osage Casino in Ponca City, Oklahoma, has been a part of the local community since 2013. The casino is owned and operated by the Osage Nation and offers a wide variety of gaming options, as well as dining and entertainment venues.
Their casino floor boasts over 400 slot machines, from classic slots to electronic gaming terminals. They also offer different promotions and bonuses throughout the year for guests to participate in.
In addition to gaming, they also have accommodations from their hotel that will surely make any stay here one to remember. This casino also offers an onsite full-service restaurant, as well as a bar area that features include live music and entertainment.
This casino is dedicated to providing a premium gaming experience for all who visit. They strive to provide the best customer service possible and guarantee that everyone who visits will be sure to have an unforgettable time.
With its wide variety of gaming options, dining and entertainment venues, and a staff that is always eager to help, this casino is sure to be one of your favorite casinos.
This casino has been rated with 4.5 stars by guests who have visited and rated the casino on popular travel websites such as Google and TripAdvisor. One guest said, "The staff was extremely friendly and helpful. The slots were fun, and the restaurant was excellent."
Another commented, "It's a great little casino with lots of fun machines. The food and drinks are reasonably priced too. Definitely worth checking out when you're in Ponca City!"
(Related reading: Oklahoma casinos)
Gaming
Their gaming floor features more than 400 slot machines, video poker and keno. They also offer a variety of promotions and bonuses throughout the year for guests to take advantage of.
Table Games
This casino in Ponca City is the place to be for a fun and exciting night. Unfortunately, table games are not currently offered at this casino, but the amazing slot selection will keep you entertained for hours on end with thrilling gaming action.
If you are looking for classic table games, be sure to check out other Osage Casinos in Oklahoma. But if slots are your game, you won't want to miss out on this amazing casino.
Slots
This casino is full of exciting slot machines for players to enjoy. One of the more popular machines at the casino includes Colossal Wizards, a bonus-filled title from Williams Interactive where players spin six reels and up to fifty pay lines.
Li'l Red, another game that many guests love, takes users on an adventure through deep woods with five reels and forty pay lines. If you're after a classic Las Vegas slot experience, look no further than Great Eagle 2 and its five reels and 25 pay lines.
Meanwhile, Spartacus Gladiator of Rome pits brave adventurers against some fierce Roman opponents on two sets of 5×4 stackable reels.
Forbidden Dragons offer something a bit different with 5×3 reels that build up their multipliers, while Buffalo Diamond really mixes things up with its three-reel diamond reel format.
If that wasn't enough variety, then Queen of the Wild II or Lazer Lock Ice Sapphire should provide plenty of entertainment for slots fans visiting this casino.
Unfortunately, this casino doesn't publish its slot machine payback percentage publicly. The information is also unavailable from the Oklahoma Gambling Commission.
However, given its high ratings from customers, it stands to reason that this casino is providing a fair and enjoyable gaming experience for all of its guests.
Hotel/Resort
The casino in Ponca City offers a wonderful hotel with comfortable rooms and amenities that make your stay here even more enjoyable.
Each room is equipped with modern furniture, complimentary Wi-Fi, and air conditioning to ensure you're as comfortable as possible during your stay. They offer Standard Rooms with one king or two queen beds and an ADA Room with one king bed, as well as ADA amenities.
All their room types are designed with guest convenience in mind and feature high-quality furniture and bedding for maximum comfort. Additionally, this casino offers a variety of amenities to make your stay even more enjoyable. Some of them include the following:
Free wifi access
24/7 front desk
Business center
Free self-parking
ADA accommodations
Fitness center
Spa services
Onsite dining options
Live entertainment
The cost of a stay at this casino depends on the type of room and length of your stay. Generally speaking, the prices start at $89 per night plus additional taxes and fees.
Check-in time at Osage Casino Ponca City is 4:00 pm
Check-out time at Osage Casino Ponca City is 11:00 am
Restaurants & Buffets
If you're looking for delicious food and great service, this casino is the place to visit. The Salted Fork is a local favorite at this casino, offering everyone the opportunity to enjoy flavorful cuisine in a relaxed and intimate setting.
Whether you're in the mood for sandwiches, steaks, seafood or salads, The Salted Fork has something sure to please your palate while you take in the sights and sounds of this exciting environment.
Even though they do not offer a buffet at this restaurant, diners can be sure that all plates are prepared fresh to order.
Pools
This casino is a great place to spend the day. From gaming to dining to pools, you can do it all here. Take a dip in the outdoor pool for a refreshing break from your busy day. Relax and enjoy the sunny Oklahoma days in style when you soak up the sun and take a swim in the inviting pool.
If you're looking for an exciting vacation spot to make memories, this casino is worth checking out – complete with its relaxing outdoor pool.
Osage Casino Ponca City, OK FAQ
Does Osage Casino Ponca City Have A Sportsbook?
No, this casino does not have a sportsbook. However, they do offer a variety of gaming options, plus with their onsite restaurant and bar; you can still get a great experience. From delicious food to exciting slots and table games, you won't be disappointed.
Is Poker Available At Osage Casino Ponca City?
No, they currently do not offer live poker tables. However, they offer several video poker machines that are great for anyone who wants to enjoy the game of poker in a casual atmosphere. Whether you're a beginner or an experienced player, you will surely find something to play.
What Are The Age Requirements For Gambling At Osage Casino Ponca City?
The minimum age to gamble at this casino is 18 years old, as required by state law. It's important to remember that identification must be provided before anyone can play any of the table games or slots. If you're under 18 years of age, you will not be allowed access to any of the gaming areas.
Does Osage Casino Ponca City Have An Online Casino?
No, this casino does not have an online casino available. However, guests can enjoy a wide variety of table games and slots within the physical casino. With so many options for entertainment, you won't get bored when visiting this casino.
Is There An Osage Casino Ponca City App?
Yes, there is an official Osage Casino Ponca City app available on the App Store and Google Play. This app is a great way to stay connected and have access to exclusive offers right in your pocket.
It allows you to stay updated on promotions, entertainment schedules and information while enjoying a getaway or just living day-to-day life. Experience hassle-free hotel reservations and browse upcoming events, along with checking out new dining choices.
What Is The Dress Code At Osage Casino Ponca City?
The dress code is casual, so you don't need to worry about wearing anything fancy. However, you are expected to wear clothing that covers your arms and legs and closed-toe shoes when visiting the casino. Swimwear is not allowed on the casino floor at any time.
Is There An Airport Shuttle Available From Osage Casino Ponca City?
No, there is no airport shuttle available. However, guests can easily access the casino by car or taxi service. There are also several ridesharing services available in the area. With a short drive to and from the casino, you can make your trip to this casino more enjoyable.
What Is The Smoking Policy At Osage Casino Ponca City?
The casino is a smoke-free property. Smoking and vaping are not allowed in any of the gaming areas or public spaces within the casino. For guests who wish to smoke, designated smoking areas are available outside the building.
What Is The Pet Policy At Osage Casino Ponca City?
Sadly, this casino does not allow pets. However, service animals that are clearly marked and properly trained are welcome in all parts of the casino. If you plan on bringing your pet to the casino, there are several pet-friendly hotels in the area for you to stay at.
Is Wifi Available At Osage Casino Ponca City?
Yes, free wifi is available throughout the casino. This makes it easy for you to stay connected and allows you to access any gaming apps or websites that may be necessary for enjoying your stay at the casino.
To connect to the wifi, you may get in touch with the front desk to receive a password and access the network.
What Is The Cancellation Policy For Osage Casino Ponca City?
Guests may cancel their reservation up to 24 hours prior to check-in without penalty. Cancellations made after this time may incur a penalty fee that is equal to the cost of one night's stay. For more information, be sure to contact the hotel directly.
Conclusion
Osage Casino Ponca City is a great place to visit for anyone looking for some entertainment. With so many gaming options and amenities, there's something for everyone.
The casino also offers free wifi, a smoke-free policy, and a casual dress code. Be sure to read up on the cancellation policy prior to making any reservations. With all these great features, you can surely have a memorable stay at this casino.