Comanche Star Casino Walters
Address: 263171 Highway 53, 263171 OK-53, Walters, OK 73572
Phone Number: +1 580-250-3100
Website: www.comanchestarcasino.com
Hours: Comanche Star Casino is open Monday 11 am – 11 pm, Tuesday 11 am – 11 pm, Wednesday 11 am – 11 pm, Thursday 11 am – 11 pm, Friday 11 am – 2 am, Saturday 11 am – 2 am, Sunday 11 am – 11 pm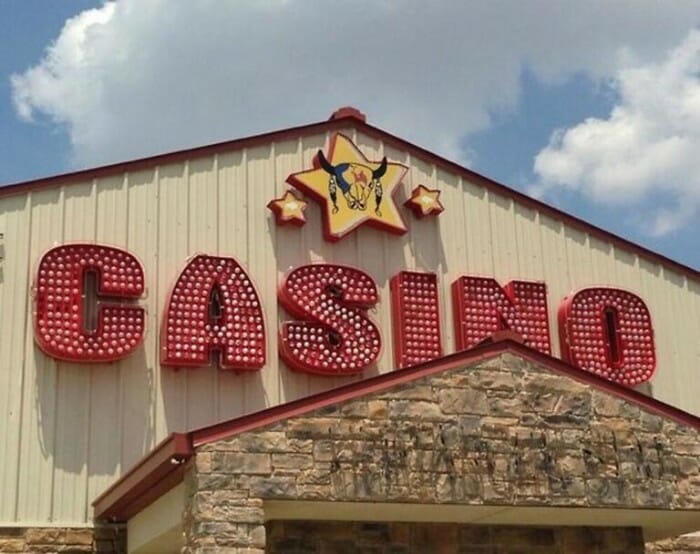 Comanche Star Casino Walters is a part of the Comanche Nation of Oklahoma's chain of casinos. The Comanche Nation of Oklahoma is a federally recognized tribe that has lived there for centuries.
Their gaming floor opened with a variety of slot machines and electronic gaming terminals. The casino also offers a variety of promotions and special events throughout the year for players to enjoy.
Their rewards club also provides members with special offers, such as room discounts and dining specials that can be used in their other casinos. In addition, the casino also houses an onsite grill and bar that serves various food and beverages.
Whether you're looking to try your luck in the casino or just want to relax and enjoy a meal, this casino in Walters will surely provide an enjoyable experience. If you find yourself in the area, be sure to stop by this casino and see what they have to offer.
On many review sites, guests give this casino an overall average rating of 4.5 stars out of 5. One guest said, "The Comanche Star Casino in Walters is great. I won big at the slots, and the staff was incredibly helpful and friendly. Highly recommended!"
Another guest said, "The Comanche Star Casino was a great experience. The staff was friendly, and the machines were well-maintained. I had a lot of fun and definitely plan to visit again soon!"
(Related reading: Oklahoma casinos)
Gaming
Its casino floor features multiple electronic gaming options, such as slot machines, video poker, and more.
Table Games
This casino in Oklahoma is a great spot for getting a fun dose of gaming action – however, unfortunately, the casino only offers slot machines and no table games.
If you're looking to get your poker face on or test your luck at blackjack, keep in mind that this casino does not offer these game options.
Although familiarizing yourself with their wide selection of exciting slot machine games and trying for some big wins can certainly lead to interesting nights, players looking for more variety should take a look at other nearby casinos or online sites instead.
Slots
If you're looking for the most popular slot machines at this casino, look no further. Cat's Eye 9 Lives is a modern classic with beautiful art and characters, where players attempt to line up three or more symbols for bigger rewards.
Cool Catz has a unique board game-like format and fun cartoon cats to take you on an adorable adventure. Falcon Hawk is full of magical creatures and exciting features like free spins and stacked wilds.
Dragon's Heat invites you to explore the ancient Orient with lively harps, fire dragons and colorful graphics. Pac-Man Wild Edition brings 80s nostalgia alive with striking visuals on a 7×7 grid setup. Rumble Rumble Bear takes you through an immersive wildlife theme with plenty of surprises.
Buffalo is a legend in the slot machine world, offering plenty of free spins and multipliers. Royal Crown combines classic slots with newer elements like jackpots and bonuses to offer something special for all types of players.
Finally, Lucky Ducky brings us the rustic charm of southern America amidst dynamic colors, animals and images hidden on five reels – what are you waiting for?
Unfortunately, this casino does not disclose the exact payout percentage of their slot machines. However, you may be able to check with the casino to ask about their general payout policy.
Hotel/Resort
Visiting this casino is an exciting experience with great games, events, and activities. If you're looking for overnight accommodation, there's no hotel on-site, but don't worry; there are several excellent nearby options that you can check out.
A particularly popular choice amongst guests is the Best Western Red River Inn & Suites, which offers stylish rooms and delicious meals.
If you're looking for something more luxurious, consider the Grand Casino Hotel & Resort or The Artesian Hotel – both feature chic designs and premium amenities.
And, of course, if you want to save some money without compromising on quality, then SureStay Plus Hotel should be your go-to choice. Each of these hotels provides great value and comfort during your stay at this casino.
Restaurants & Buffets
In place of a buffet, this casino offers an onsite grill and bar called the Comanche Star Grill. With its expansive menu that includes specialty burgers and salads, sandwiches and wraps, and more, it's the perfect spot to refuel during your stay at this casino.
The restaurant also offers a full bar featuring some of your favorite drinks and spirits for when you want to unwind after a long day at the casino. Enjoy your time in Oklahoma with a visit to the Comanche Star Grill – you're in for a tasty treat.
Pools
This casino in Oklahoma is the perfect destination for fun and entertainment. From a huge selection of gaming machines to top-shelf drinks, you can enjoy a variety of exciting options to make your visit an unforgettable one.
Unfortunately, however, there are no onsite pools at this casino. But don't fret – there are plenty of other great ways to spend your time here.
Whether playing some of the newest slots or settling into an intimate lounge chair with your favorite cocktail, you won't be disappointed with all there is to do at this establishment.
Comanche Star Casino, Walters, OK FAQ
Does Comanche Star Casino Have A Sportsbook?
No, this casino does not currently offer a sportsbook. However, guests may enjoy plenty of other gaming options, such as slot machines and electronic table games. Plus, with an on-site grill and bar, there's plenty to keep everyone entertained.
Is Poker Available At Comanche Star?
This casino does not offer poker. However, guests may try their luck at one of the casino's video poker machines. These machines offer a variety of games, allowing guests to enjoy the experience without ever leaving their seats.
What Are The Age Requirements For Gambling At Comanche Star Casino?
Anyone over the age of 18 can take part in the casino's gaming activities. Anyone under 18 years old will not be allowed to enter the casino floor, even with proper identification. Failure to adhere to this policy can result in expulsion from the casino.
Does Comanche Star Have An Online Casino?
Unfortunately, no. Currently, this casino does not offer an online gaming platform. All of the casino's games and activities must be done in person at their Walters location. Ensure you don't miss all the fun and excitement on your next visit.
Is There An Comanche Star Casino App?
Yes, this casino offers an app for your convenience. With the Comanche App, you can easily and quickly access all the casino's services. Whether you're looking to preview their upcoming events or simply want to check out the menu at their restaurant, it's all just a few clicks away.
The easy-to-use interface makes it user-friendly and great for those who don't have a lot of time to waste. Download the app today and unlock a new way to experience the fun only the casino can provide.
What Is The Dress Code At Comanche Star?
This casino does not have a specific dress code. Guests are allowed to wear whatever they like, as long as it is considered appropriate for public places. Keep in mind that suits and tuxedos are discouraged as this is more of an informal setting.
Is There An Airport Shuttle Available From Comanche Star Casino?
Unfortunately, there is no airport shuttle service at this casino. However, taxis and rideshare services are available for guests to use as alternatives. Depending on traffic, the drive from Oklahoma City's Will Rogers Airport can take about an hour and a half.
What Is The Smoking Policy At Comanche Star?
This casino does not allow smoking inside the building. However, there are designated smoking areas outside the casino where smokers can take a quick break and light up without disturbing other guests.
What Is The Pet Policy At Comanche Star Casino?
Unfortunately, pets are not allowed in the casino. However, service animals are still welcome with proper documentation. Make sure to bring them with you on your next visit and enjoy all the fun that this casino has to offer.
Is Wifi Available At Comanche Star?
Yes, wifi is available in the casino. Guests can use the free wifi to access the internet and stay connected while enjoying the gaming experience. The network name and password are both available at guest services for anyone needing access.
What Is The Cancellation Policy For Comanche Star Casino?
There is no need to reserve a seat in any of the casino's gaming areas. Players may come and go as they please without having to follow any specific cancellation policy. However, guests should be aware that space may be limited and that the casino reserves the right to fill up quickly.
Conclusion
Comanche Star Casino is a great option for anyone looking to have an enjoyable time. Guests of all ages can take part in the various gaming activities available and enjoy delicious meals at their on-site restaurant.
With their online app, wifi, and other convenient amenities, it's easy to see why this casino remains a popular attraction. So come by and see why this casino is the perfect destination for your next gaming experience.