Comanche Red River Casino Devol
Address: 196747 OK-36, Devol, OK 73531
Phone Number: +1 580-250-3060
Website: www.comancheredrivercasino.com
Hours: Comanche Red River Casino is open 24 hours a day, 7 days a week.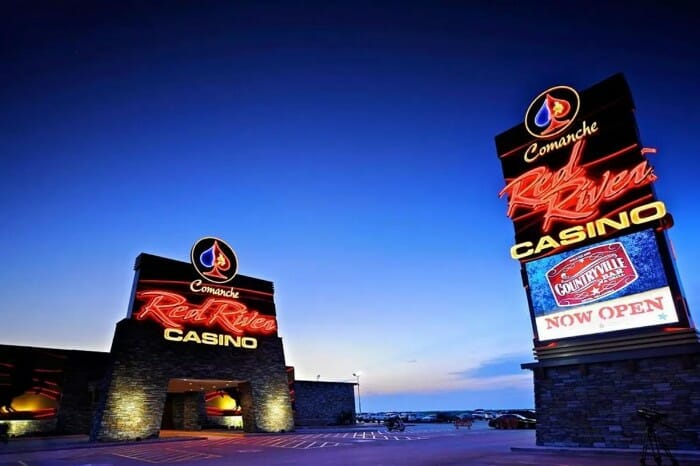 The Comanche Red River Casino was built in 2014 and is owned by the Comanche Nation. The casino is on Oklahoma Highway 36 between Lawton and Wichita Falls, Texas. Since its opening, the casino has been a great success and continues to draw people from all over the country.
Their casino floor features over 1,000 slot machines and multiple table games such as blackjack, poker, and roulette. They also have promotions and tournaments for players to get involved with.
In addition to gaming, the property also houses a hotel that offers guests an array of amenities, including fitness and business centers. The casino also has onsite restaurants and a bar serving various drinks.
This casino is a great place for all-level gamers, from novice gamblers just looking for some fun to serious players looking for big wins. So if you're in the area and looking for a great casino experience, check them out in Devol, Oklahoma.
On average, guests rate this casino 4 out of 5 stars on major review sites. One customer said, "We had a great time at Comanche Red River Casino. The staff was friendly, the slots were loose, and the food was good. I would definitely recommend it to anyone looking for some gambling fun."
Another customer said, "This casino is really nice. The place has a lot of different games to choose from, and the staff is helpful and friendly. Highly recommend it to anyone looking for a good time."
(Related reading: Oklahoma casinos)
Gaming
Their gaming floor boasts over 1,000 state-of-the-art slot machines and multiple table games like blackjack, poker, and roulette.
Table Games
Players can enjoy various table games at this casino, including Blackjack, Roulette, Three Card Poker, Texas Hold'em and Mississippi Stud. Blackjack is a classic card game where the dealer must get as close to 21 without going over.
Roulette is a thrilling spinning-wheel game offering multiple betting options with high payout potential. Three Card Poker is based on traditional poker but requires far less strategy; instead, it relies on the luck of the draw.
Texas Hold'em offers an exciting mix of bluffing and skill; participants must make strategic decisions to win.
Mississippi Stud incorporates elements of poker and blackjack; players are dealt two cards face down, to begin with, then have to decide whether or not they will keep playing once they have seen their third card face up.
The minimum wager for most table games at this casino is $5. They also offer high-stakes gaming options with a $25 minimum or more.
Slots
The popular slot machines at this casino are some of the best in the industry. Some of the featured games include:
88 Fortunes
Buffalo Jackpots
Bonanza Blast
Dragon's Heat
Capital Gains
Buffalo
Sahara Gold
Extreme Dragon
Dragon Flies
Thundering Buffalo
Money Rain
Turquoise Princess
Star Watch Fire
Sparkling Roses
Treasure Voyage
Star Watch Magma
777 Bourbon Street
Jungle Wild
8 Wishes Prosperous New Year
Unfortunately, this casino does not release the slot machine payback percentages. However, guests may call ahead and inquire about the casino's payback percentages.
Hotel/Resort
The casino allows guests to stay and play with their onsite hotel. Each room has modern amenities, such as a flat-screen TV with cable, a refrigerator and a microwave.
Room types include:
Standard Rooms – features one king bed or two queen beds
Deluxe Rooms – features one king bed or two queen beds and extended rooms with sleeper sofas
Suites – features one king bed or two queen beds and a separate living area
Additionally, the hotel offers an array of amenities, some of which include:
Highspeed wifi access
Free parking
24-hour front desk
A convenience store
Fitness center
Business center with meeting rooms
Banquet facilities
Onsite dining options
The cost of staying at this casino depends on your room type. Typically, you will find rooms for as low as $99 per night, excluding taxes and fees.
Check-in time at Comanche Red River is 3:00 pm
Check-out time at Comanche Red River is 11:00 am
Restaurants & Buffets
Even though they currently do not offer buffets, they do have a few onsite restaurants. If you're looking for a great place to grab a bite to eat while visiting this casino, you'll be pleased with its variety of onsite restaurants.
There's something for everyone, including the Red River Restaurant, Red River Grill, and Winning Wake Up Coffee House, for those looking for an early morning caffeine fix.
Whether you choose something savory from the restaurant or a little more casual at the grill, don't forget about the Red River Bar, where you can sip your favorite cocktails or grab a nightcap. With all these tasty options, it's no wonder this casino has become such a popular spot in Oklahoma.
Pools
This casino in Oklahoma is a fantastic place for fun and entertainment, but it does not include any pools on site. Visitors will want to make sure their stay includes other activities that are interesting and enjoyable for all.
Just a short drive from the casino, you can find an excellent selection of swimming pools with plenty of unique features – from relaxing jacuzzis to waterslides sure to bring out the kid in everyone. With so much happening at this casino and beyond, you'll surely find something special.
Comanche Red River Casino, Devol, OK FAQ
Does Comanche Red River Casino Have A Sportsbook?
No, this casino does not have a sportsbook or any other type of wagering on sporting events. However, you may still enjoy their wide selection of table games, slots, and other gaming options. You will surely find something exciting at this casino, from high-stakes gaming to slots.
Is Poker Available At Comanche Red River?
Yes, this casino offers poker. They host a variety of Texas Hold'em tournaments and cash games that are sure to keep you entertained while visiting the casino. There is a buy-in fee with these games, which varies depending on which game you choose to join.
What Are The Age Requirements For Gambling At Comanche Red River Casino?
All guests must be 21 years of age to enter the casino and participate in any gambling activities. Those under 21 may still enter the casino but cannot participate in gaming activities. Make sure to bring a valid photo ID if you plan on gambling.
Does Comanche Red River Have An Online Casino?
Unfortunately, this establishment does not have an online casino at this time. However, they offer a wide selection of gaming options in the physical casino, so you can expect plenty of excitement while visiting.
Is There An Comanche Red River Casino App?
If you are looking for a convenient and easy way to enjoy great entertainment and win exciting prizes, then the Comanche App is a must-have.
This app allows you to keep up with all the events happening at this casino, including their live gaming, excellent restaurants, and fun nightlife attractions.
It also grants access to exclusive rewards that allow you to take advantage of special deals, bonus entries into contests, discounts on gaming and dining services, and much more.
What Is The Dress Code At Comanche Red River?
The dress code at this casino is casual. However, visitors should avoid wearing overly revealing or inappropriate items for a casino setting. You may also inquire about the dress code for any specific events that may be taking place at the casino.
Is There An Airport Shuttle Available From Comanche Red River Casino?
Unfortunately, there is no airport shuttle service available from the casino at this time. However, you may be able to find transportation options such as taxis and ride-sharing services nearby. Make sure to plan ahead for your departure if you need a reliable way to go home after your stay.
What Is The Smoking Policy At Comanche Red River?
This casino is a non-smoking establishment. Smoking and vaping are not allowed in any areas within the building, including the gaming floor and restaurants.
However, there are designated outdoor smoking areas available for those who wish to enjoy their cigarettes or e-cigarettes while visiting. Additionally, all their guest rooms are non-smoking.
What Is The Pet Policy At Comanche Red River Casino?
This pet-friendly casino offers a warm welcome for up to two dogs with a combined weight not exceeding 50 pounds.
Keeping tabs on this extra family member is simple; when you check in, just let one of the friendly staff members know that you're traveling with your pup, and they'll add a reasonable fee of $50 per stay to your room account.
They make sure that both you and your furry companion are looked after so you can enjoy some much-needed rest and relaxation.
Is Wifi Available At Comanche Red River?
Yes, this casino offers WiFi to all its guests. This allows visitors to stay connected while enjoying the many gaming and entertainment options available. However, they caution that you should use their service responsibly and not download illegal or inappropriate material while connected.
What Is The Cancellation Policy For Comanche Red River Casino?
Before you book, be sure to read the terms and conditions for any additional information. At this casino, cancellation within 24 hours of your scheduled check-in may lead to a fee; however, if you cancel before that time frame, it is free of charge.
Conclusion
Comanche Red River Casino offers a wide variety of gaming and entertainment options, allowing visitors to enjoy an unforgettable experience.
This pet-friendly establishment provides all the amenities you need for a relaxing stay, including WiFi, restaurants, nightlife attractions and more. If you plan on gambling at this casino, make sure to bring a valid photo ID and check their dress code.
For more information, you can visit the official website or contact them directly. With all this in mind, you're sure to have an amazing time at this casino.