Kiowa Casino & Hotel Devol
Address: 198131 OK-36, Devol, OK 73531
Phone Number: +1 866-370-4077
Website: www.kiowacasino.com
Hours: Kiowa Casino is open 24 hours a day, 7 days a week.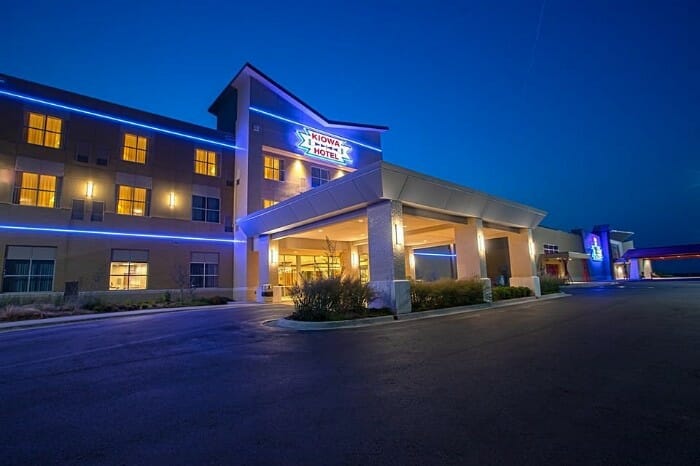 Kiowa Casino was established by the Kiowa Tribe of Oklahoma and Luna Entertainment as one of their chain of tribal gaming facilities. Since its opening, it has become a popular destination for Oklahoma residents and out-of-state visitors.
With over 700 electronic gaming machines, including progressives, the casino offers an exciting gaming experience with plenty of chances to win big jackpots. The casino also offers table games such as blackjack, poker and more.
They also offer various promotions and specials throughout the year, so there are always great deals to take advantage of. In addition, the casino also houses a hotel that offers guests a luxurious and comfortable stay.
On top of that, this casino is also home to various dining options, a bar and lounge, a live entertainment venue and more.
With its wide variety of amenities and attractions, this casino is sure to make any visit an enjoyable one. Whether you're looking to have some fun or win big, this casino is the perfect place for an exciting gaming experience.
According to popular review sites, many guests rate this casino with a solid 4.5 out of 5 stars. One guest said, "Kiowa Casino is a great place to play. The staff is friendly and knowledgeable, and the games offer a wide variety of winning chances."
Another guest said, "The machines here pay out pretty regularly. I was lucky to hit a big jackpot on one of my visits. Highly recommend this place for anyone looking to have fun and possibly win big."
(Related reading: Oklahoma casinos)
Gaming
Their gaming floor features over 700 machines, including progressives. They offer a wide variety of slots and video poker machines with different denominations ranging from penny to five dollars per game.
Table Games
This casino in Oklahoma offers plenty of thrilling gaming action with a wide variety of table games available for players to choose from.
Whether looking for the well-loved classic game of craps, roulette with its exciting wheel-spinning action or the popular card game blackjack, this casino has it all. For those seeking more strategies and fun, the casino has 3-Card Poker, Ultimate Texas Hold'em and Fortune Pai Gow.
Plus, there is Limit, and No-Limit Texas Hold'em available too – perfect if you are at an intermediate or expert skill level.
The minimums at this casino are quite competitive with other tribal casinos in the area. The minimums for most games are usually between $5 and $10.
Slots
This casino is a great destination for gamblers looking for the perfect action and excitement. Not only does it have hundreds of slots to choose from, but each slot machine offers something unique and appealing. Some of the most popular machines are:
Li'l Red
Colossal Wizards
Spartacus Gladiator of Rome
Queen of the Wild II
Forbidden Dragons
Lazer Lock Ice Sapphire
Unfortunately, the slot machine payback percentage for this casino is not readily available. However, players may check with the casino staff for more information.
Hotel/Resort
Staying at this casino hotel in Oklahoma means more than just gaming. Their rooms offer luxurious comfort with king-size beds, modern baths and LED TVs.
Need a coffee? No need to leave the room again. They offer Keurig coffee makers, in-room movies and an in-room safe for extra peace of mind during your stay.
To get more details about the room types available at this casino, please don't hesitate to call their friendly staff for assistance. Additionally, this casino also provides guests with plenty of amenities to make their stay more enjoyable. Some of these include:
Free wifi access
ADA accommodations
Onsite dining options
A bar and lounge
Gift shop
Meeting and banquet facilities
The average room rate at this casino is typically around $119 a night. However, this may vary depending on the time of year and availability. Guests can also take advantage of special promotions and packages to save even more money.
Check-in time at Kiowa Casino & Hotel is 3:00 pm
Check-out time at Kiowa Casino & Hotel is 11:00 am
Restaurants & Buffets
Even though they currently do not offer buffet-style dining, guests can enjoy a delicious meal at their onsite dining options. Spend a night out at Morning Star Steakhouse and indulge in their delectable cuts of prime meats and fresh, seasonal sides.
If you're looking for something more casual, dine with friends and family at Winners Circle Cafe and enjoy signature dishes from southern favorites to home-cooked classics. Lastly, don't miss The Bar for beer and margaritas – the perfect way to top off the night.
Pools
This casino in Devol, Oklahoma, is a great spot for having an entertaining night out. A variety of slot machines and table games has something for everyone, plus you can always enjoy the delicious meals available from their restaurant.
Remember, though, that while the casino offers plenty of fun, they don't offer any onsite pools. So if you're looking to cool off after a long outing or beat the summer heat, you'll need to check out their partner pool at another location.
Kiowa Casino, Devol, OK FAQ
Does Kiowa Casino & Hotel Have A Sportsbook?
Unfortunately, this casino does not currently offer a sportsbook. However, this may change in the future as more tribal casinos begin to offer sports betting options. Plus, with so many offerings at this casino, you'll never be without something to do.
Is Poker Available At Kiowa Casino?
Yes, poker is available at this casino. Offering a variety of games and stakes, this casino is perfect for any skill level – from beginners looking to learn the basics to experienced players who want to rack up some wins.
There are usually tournaments available as well, so make sure you check out their poker calendar before your visit.
What Are The Age Requirements For Gambling At Kiowa Casino & Hotel?
The minimum gambling age at this casino is 21 years old. It's important to bring a valid form of identification that proves your age if you plan on gambling at this casino in Devol, Oklahoma.
Does Kiowa Have An Online Casino?
No, this establishment does not currently have an online casino. However, the casino does offer several promotions and packages that you can take advantage of when you visit. So even if you can't play from the comfort of your own home, there are still plenty of ways to enjoy this casino.
Is There An Kiowa Casino & Hotel App?
Unfortunately, there is no app available for this casino hotel. That being said, the casino does have a website where you can find information about their upcoming events and promotions. So make sure to check out the website before your visit.
They also have social media accounts where you can stay up-to-date on all the happenings at this casino. So be sure to follow them for more information.
What Is The Dress Code At Kiowa?
There isn't a strict dress code at this casino, though guests are encouraged to dress in smart and comfortable attire. Remember that flip-flops and tank tops are not allowed inside the gaming area. Also, avoid wearing overly offensive clothing or anything that is explicitly political.
Is There An Airport Shuttle Available From Kiowa Casino & Hotel?
Unfortunately, this casino does not offer an airport shuttle. However, there are several transportation services in the area that can take you to and from the airport.
Just make sure to check with them ahead of time for more information. Alternatively, you can always book a taxi or rent a car if you need to get around during your stay.
What Is The Smoking Policy At Kiowa?
This casino has a strict no-smoking policy in all areas. If you do need to smoke, there are designated outdoor smoking areas located around the property. Failure to adhere to this policy may result in a suspension of your gaming privileges.
What Is The Pet Policy At Kiowa Casino & Hotel?
Sadly, this casino does not allow pets except for service animals. So make sure to make other arrangements for your pet if you plan on visiting the casino. And if you need to bring a service animal, make sure to bring the proper documents and have them registered with the casino staff.
Is Wifi Available At Kiowa Casino & Hotel Devol?
Yes, this casino does have free wifi available. You can connect to it simply by entering the password provided at the check-in desk. And with so many different areas to explore, you'll never be without something to do while connected.
What Is The Cancellation Policy For Kiowa Casino & Hotel?
If you need to cancel your reservation, make sure to do it at least 72 hours in advance. Otherwise, you may be charged a fee. You can cancel your reservation online or by calling the casino directly.
Also, make sure to read through the terms and conditions of your booking before confirming, as there may be additional restrictions that apply.
Conclusion
Kiowa Casino & Hotel is a great place to visit if you're looking for a fun and exciting casino experience. With its wide variety of gaming options, entertainment offerings, and amenities, there's something for everyone.
Just make sure to read through the age requirements and policies before your visit so that you can get the most out of your stay. And don't forget to take advantage of any promotions and packages that are available – they can really enhance your experience!