Riverstar Casino Terral
Address: 11801 E2160 Rd, Terral, OK 73569
Phone Number: +1 855-748-3778
Website: www.theriverstarcasino.com
Hours: Riverstar Casino is open 24 hours a day, 7 days a week.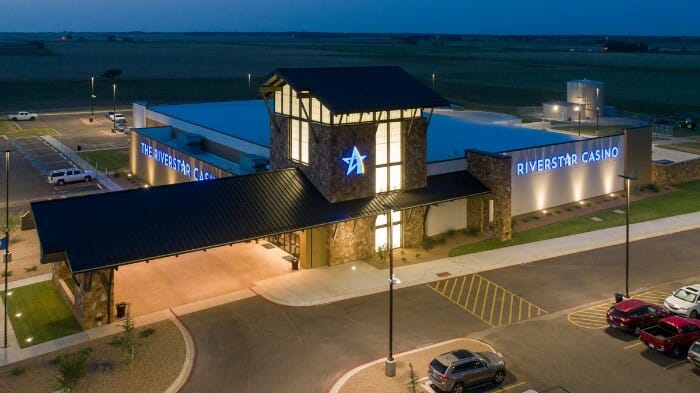 Riverstar Casino has been in operation since its opening in 2018. Owned by the Chickasaw Nation, this casino has been a staple of entertainment in Terral ever since. Their gaming facility offers over 600 electronic gaming machines and multiple table games.
In addition to that, they also offer promotions and tournaments that are sure to keep guests entertained. The casino also features an onsite restaurant serving delicious food and drinks. They also have a bar, lounge, and live music on selected nights.
On top of all that, they also have a boutique and gift shop on site. So, if you're ever in the area, make sure to check out everything that this casino has to offer. It's sure to be an experience you won't soon forget.
On popular review websites such as TripAdvisor and Yelp, this casino has an overall rating of 4.5 stars. According to one guest, "This casino is great. It has a wide variety of gaming options, tasty food, and friendly service. Highly recommend!"
Another reviewer commented, "The atmosphere at Riverstar is fantastic. The staff is always friendly and accommodating. A great spot for a night out in Terral."
(Related reading: Oklahoma casinos)
Gaming
This casino boasts over 600 gaming machines and multiple table games. In addition to that, they also offer promotions and tournaments throughout the year.
Table Games
At this casino, you will find the classic table game blackjack available, as well as 3-Card Poker and Ultimate Texas Hold 'Em. Whether you're an experienced gambler or want to try your luck for the first time, you'll find something fun and entertaining at this casino.
With several different gaming tables available, ranging from easy-to-learn options like blackjack to more complex games like Ultimate Texas Hold 'Em, there's something for everyone. The friendly staff is always available to help answer questions and provide helpful tips on how to get started.
The minimum bet at this casino varies depending on the game. Generally, players may easily find minimums as low as $5 for most table games.
Slots
At this casino, guests will find a variety of slot machines ranging from the classic 3-reel slots to more modern 5-reel video slots. Here are some popular titles:
Spartacus Gladiator of Rome
Lazer Lock Ice Sapphire
Li'l Red
Colossal Wizards
Queen of the Wild II
Forbidden Dragons
Unfortunately, the payback percentages for slot machines at this casino are not disclosed. However, you may check their machines for information regarding the payback percentage.
Hotel/Resort
Planning a weekend trip to this casino in Oklahoma? You must know that although there are no hotels onsite, there are several nearby options that are sure to make your stay one that's comfortable and enjoyable.
The Best Western Red River Inn & Suites is a great choice if you're looking for luxury with an elegant touch. Travelers seeking a more budget-friendly option should check out the Red River Station Inn, which offers cozy rooms at unbeatable prices.
For those looking for something in between, The Veranda Inn presents a perfect blend of affordability and comfort. All three options provide amazing amenities and attentive service – everything you need for the perfect getaway.
Restaurants & Buffets
If you're looking for a night to remember, this casino in Oklahoma is the place for you. This casino offers plenty of entertainment, plus its onsite restaurants provide delicious food sure to make your night special.
Kitchen 81 is the perfect choice for an exquisite dining experience, where guests can savor flavorful modern American cuisine. The Bar is another option and is great for socializing over drinks and classic bar fare.
From small plates to large entrees, these chic eateries will transport you from the casino floor to a fine dining destination that won't disappoint. Without a buffet option, however, the spread might not be quite as diverse.
Pools
This casino is a great place to have fun; try your luck with the slots or table games and enjoy the fun with their various promotions and tournaments. But if you are looking for some pool time, unfortunately, this casino doesn't have any on-site pools.
Luckily, Oklahoma offers plenty of pools for your enjoyment and relaxation. Whether it be one of the many public pools offered by the state or a hotel pool that requires a stay, Oklahoma has plenty of options when it comes to taking a dive into some cool water and enjoying the sun.
So don't let the lack of onsite pools prevent you from making your way to this casino – there are still plenty of ways to slip in some pool time while in Oklahoma.
Riverstar Casino, Terral, OK FAQ
Does Riverstar Casino Have A Sportsbook?
No, this casino in Oklahoma does not offer a sportsbook. However, from their wide array of table games and slots, guests will surely find plenty of fun and entertainment. Plus, with their various promotions and tournaments, there's even more to love about this casino.
Is Poker Available At Riverstar?
Yes, the casino offers a variety of poker tables. From Texas Hold'em to 3-Card and more, there's something for everyone at this casino. Guests can even take part in daily tournaments for their chance to win big.
What Are The Age Requirements For Gambling At Riverstar Casino?
According to Oklahoma law, all guests 18 years of age and older are welcome to play at this casino. Guests under 18 must be accompanied by a parent or guardian in order for them to enter the gaming area.
Does Riverstar Have An Online Casino?
No, this casino does not have an online platform at this time. Guests need to visit the physical location in order to enjoy their range of table games, slots and poker tables. With so much to do on-site, leaving the house is sure to be worth it.
Is There An Riverstar Casino App?
No, there is no app associated with this casino. However, guests can visit their website for the latest news and information about upcoming promotions, tournaments, and events. The site features a simple navigation system that makes it easy to find what you need.
Plus, with their social media channels, guests can stay connected with the casino and get all the latest updates in real time.
What Is The Dress Code At Riverstar?
The dress code at this casino is mostly casual. While guests must remain respectful of the casino's dress code, they are not required to dress in any particular fashion when visiting. This makes it easy to enjoy a fun night out without having to worry about what you're wearing.
Is There An Airport Shuttle Available From Riverstar Casino?
Unfortunately, this casino does not offer an airport shuttle service at this time. Guests will need to find their own transportation from the nearby airports. There are several private taxis and car services available for hire in the area.
Additionally, guests can utilize public transportation if it is available near them. This may be a cheaper option than hiring a car service, but it may also take longer to get to the casino.
What Is The Smoking Policy At Riverstar?
The casino does not allow smoking on the premises. Guests are welcome to smoke outside in designated areas, but all other areas of the casino remain smoke-free. This provides an enjoyable atmosphere for everyone, as well as a healthier environment.
What Is The Pet Policy At Riverstar Casino?
This casino does not allow pets on the premises. Only service animals are allowed to accompany guests into the casino, but only if they have been certified or identified as such. All other animals must be left at home for safety reasons.
Is Wifi Available At Riverstar?
Unfortunately, you may need to find another spot for your internet connection. The casino does not offer wifi at this time. However, there are plenty of other available options for guests who need to stay connected throughout their visit.
There are several cafes, restaurants, and other businesses near the casino that offer free public wifi. Guests can also purchase prepaid internet packages from their preferred service provider.
What Is The Cancellation Policy For Riverstar Casino?
As there is no hotel associated with this casino, there is no cancellation policy. Guests may also play and go as they please, depending on their own personal preferences.
In the event that you have a reservation or an event or tournament booked at the casino, you should contact them directly to inquire about their cancellation policy.
Conclusion
Riverstar Casino is a great place to spend the evening and enjoy all the fun activities it has to offer. With its casual dress code, smoke-free environment and prohibition of pets, the casino provides an enjoyable atmosphere for everyone.
Whether you want to enjoy some gaming action or simply relax and have a good time, this casino is the perfect destination. Be sure to check out their website for all the latest updates on upcoming promotions and events, and you'll be sure to have a great time.