Comanche Spur Casino Elgin
Address: 9047 U.S. Highway 62, Elgin, OK 73538
Phone number: +1 580-250-3090
Website: www.comanchespurcasino.com
Hours: Comanche Spur Casino is open Monday 10 am – 2 am, Tuesday 10 am – 2 am, Wednesday 10 am – 2 am, Thursday 10 am – 12 am, Friday Open 24 hours, Saturday Open 24 hours, Sunday Open 24 hours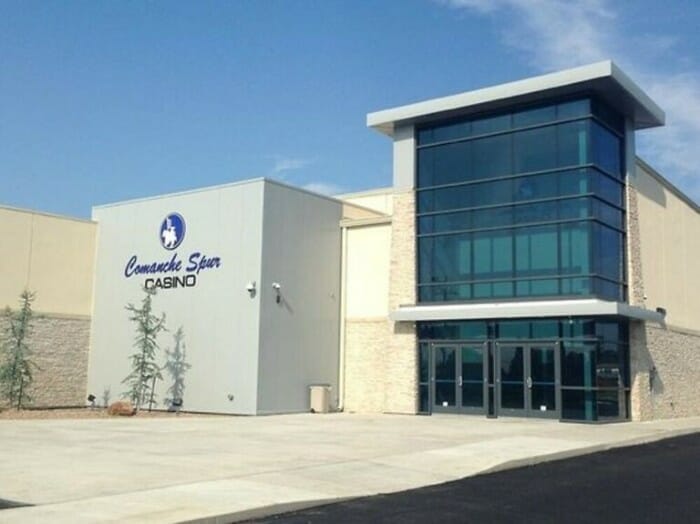 The Comanche Spur Casino in Elgin is owned and operated by the Comanche Nation as one of its gaming operations. The casino has become a mainstay of entertainment for years in the area ever since its opening.
Their gaming floor features a variety of electronic gaming machines, including a variety of popular progressive jackpot slots and traditional video poker machines. They even have a rewards club, where patrons can earn points for playing which can then be used to redeem rewards.
In addition to its gaming floor, the casino has a gas station where patrons can fuel up on their way to and from the casino. Plus, with their onsite convenience store, patrons can pick up snacks and drinks before, during or after playing.
Whether you're looking for a night of fun or just a place to fill up the tank, this casino has you covered. With its friendly staff, excellent service and a wide variety of gaming machines, this casino is a great place to visit for hours of entertainment.
On average, guests rate this casino with 4 stars out of 5. One guest said, "I had a great time at Comanche Spur Casino. The staff was friendly, and the gaming machines were top-notch. I would definitely come back."
Another said, "The gas station is very convenient, and the convenience store has all my favorite snacks. Definitely worth checking out!"
(Related reading: Oklahoma casinos)
Gaming
Their gaming floor has multiple electronic gaming machines and a variety of progressive jackpot slots and traditional video poker machines, which can be enjoyed in a comfortable atmosphere.
Table Games
At this casino, you can enjoy the thrill of playing slots. The casino has hundreds of slot machines available to choose from, with a range of denominations to suit any budget. However, there are no table games available at this casino.
But if you are looking for an adventure in slots and electronic gaming, this is the place for you. With its wide variety of machines and friendly staff, guests are sure to have a great time playing at this casino.
Slots
If you're looking for the hottest slot machines at this casino, look no further; they have some great ones. You can start off with Rakin Bacon for a little extra luck to get you started.
Liberty 7's is a classic game that will appeal to history buffs, and Pompeii is a fast-paced game that keeps your attention. Buffalo has an exciting bonus round, and The Gold Legend packs a lot of action into every spin.
88 Fortunes lets you take control of your fate in true oriental fashion, and Da Vinci Diamonds is beautifully generated by computer art. For something out of the ordinary, try King of Coin or Reel Rainbows for a unique gaming experience.
Unfortunately, this casino does not disclose the payback percentages of its slot machines. Even the Oklahoma State Gaming Commission does not list the payback percentages for individual casinos or games.
However, if you are playing slots at this casino, you can expect to get fair odds and a good chance of winning. You may check with the casino's staff or management to ask about the payback percentages of their slot machines.
Hotel/Resort
If you are looking for a place to stay during your visit to this casino, look no further. The casino does not have an onsite hotel, but there are several nearby options that you can check out.
Apache Casino Hotel and Plantation Inn are just a couple of convenient options close by. Or, if you're in the market for something more upscale, the nearby Hilton Garden Inn will surely provide the luxury and comfort you crave.
Restaurants & Buffets
Whether you are looking for the chance to try your luck at the casino machines or want to take a break and grab a snack, this casino is the place to be.
While there are no full-service restaurants available onsite, guests can head to Quik Stop convenience store for an array of snacks that they're sure to love. From chips and candy bars to fresh sandwiches, they make it easy for guests to find something that satisfies their cravings.
Pools
This casino in Oklahoma offers a unique gaming experience. Although the casino does not have any pools on-site, guests can enjoy a variety of gaming options, such as slots and electronic gaming.
With exciting prizes and amazing rewards, guests are sure to find an activity that fits their preferences. Their team takes great pride in providing patrons with a lively and engaging atmosphere that is sure to make your time there unforgettable.
Comanche Spur Casino, Elgin, OK FAQ
Does Comanche Spur Casino Have A Sportsbook?
Unfortunately, no. This casino does not have a sportsbook available for guests. But with their wide selection of slot machines and electronic gaming, guests can still have a great time without one.
Is Poker Available At Comanche Spur?
As of now, this casino does not offer live poker games. They only have video poker machines available for guests to play. This variation is great for those wanting to play poker without the pressure of competing against other players.
What Are The Age Requirements For Gambling At Comanche Spur Casino?
In Oklahoma, guests must be 18 or older to gamble at this casino. It is important to always have your valid ID on you when visiting any of their gaming facilities. Failure to have proper identification can result in being denied entry.
Does Comanche Spur Have An Online Casino?
No, at this time, this establishment does not have an online casino. However, you can still visit their website to learn more about the casino and its offerings. You can also check out their social media pages for updates and promotions that they may be running.
Is There An Comanche Spur App?
If you're a fan of this casino, you'll be delighted to know they have their own app now. The Comanche App allows you to gain access to all the great features that this casino offers in one easy spot.
From your fingertips, you can view upcoming events and promotions, read the latest news, check out menus and hours of operation, and stay updated on gaming offerings. With the app, you can conveniently stay connected to everything this casino has going on.
What Is The Dress Code At Comanche Spur Casino?
The dress code at this casino is casual and comfortable. Guests are encouraged to wear clean, neat clothing that fits their body type. No hats or sportswear are allowed, and shirts must have sleeves and no offensive language or designs.
Is There An Airport Shuttle Available From Comanche Spur?
No, the casino does not provide an airport shuttle. However, guests may find nearby options from hotels or car rental services. Always check the details of your chosen transportation service to ensure you arrive at your destination on time and in comfort.
There are also several ride-sharing services available in the area, making it easy to get from and to the nearest airport.
What Is The Smoking Policy At Comanche Spur Casino?
This casino is a non-smoking facility. Guests are not allowed to smoke in any of the gaming or dining areas. However, there are designated smoking areas located outside the casino that all guests must use.
What Is The Pet Policy At Comanche Spur?
Sadly, pets are not allowed in the casino. This policy is for safety reasons and to ensure a pleasant atmosphere for all guests. The exception to this rule is service animals, which must be approved by management before entering the premises.
Is Wifi Available At Comanche Spur Casino?
Yes, wifi is available for all guests. You just need to sign up with a valid email address and password to gain access. This will allow you to stay connected to your friends, family, and the rest of the world while enjoying your time at the casino.
What Is The Cancellation Policy For Comanche Spur?
Players may come and go as they please without fear of any cancellation fees. The casino is open 24/7, and there is no need for a reservation.
From time to time, the casino may have special events or promotions that do require an advance reservation. In these cases, please refer to the terms and conditions of that particular promotion before making a reservation.
Conclusion
Comanche Spur Casino is a great place to visit for a night of fun and gaming. Whether you're a seasoned gambler or just getting your feet wet, this establishment has something to offer everyone.
With its casual dress code and pet policy, you won't have to worry about feeling out of place or uncomfortable. Plus, with wifi available, you can stay connected to the rest of the world while enjoying all that this casino has to offer.