Lucky Star Casino Concho El Reno
Address: 7777 US-81, El Reno, OK 73036
Phone Number: +1 405-422-6500
Website: www.luckystarcasino.org/concho
Hours: Lucky Star Casino Concho is open 24 hours a day, 7 days a week.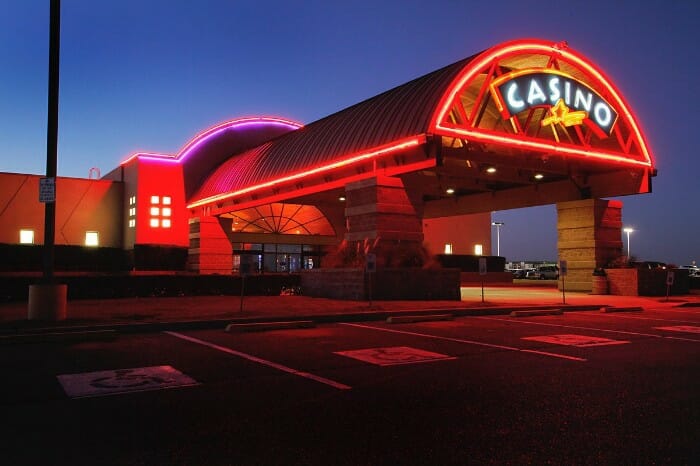 Located in El Reno, Lucky Star Casino Concho has been providing quality entertainment and gaming since its opening in the mid-1990s. The property is owned and operated by the Cheyenne and Arapaho Tribes of Oklahoma.
Their gaming space includes more than 1,200 electronic gaming machines and a bingo hall that has been operating for many years. They also have various live table games that include blackjack, roulette, craps and more.
The casino also features a full-service restaurant that serves up delicious American cuisine and a bar that offers alcoholic and non-alcoholic beverages. The property also offers RV parking for people looking to stay a while.
This casino is committed to responsible gaming, and its team of professionals provides a safe and secure environment for guests to enjoy their time at the casino. They strive to ensure that customers have an exciting and rewarding experience when they visit this casino.
With its various games, delicious dining options and great customer service, this casino is a must-visit destination in El Reno.
According to popular online travel sites, this casino has been rated with an overall 4.5-star rating from guests. One reviewer said, "This casino has a great variety of games, and the staff is very friendly. The restaurant has good food, too!"
Another visitor said, "I had an amazing time at this casino. I would definitely recommend it to friends and family."
(Related reading: Oklahoma casinos)
Gaming
Their casino floor has over 1,200 different gaming machines including all the latest slots, video poker and progressive jackpots. They also have a select few table games offering Blackjack, Roulette and Craps for you to enjoy.
Table Games
If you're looking for some exciting table games to play, this casino has plenty of options. Players can try their luck at blackjack, where they'll be dealt cards and attempt to beat the dealer by getting closer to 21 than them.
Roulette also awaits at this casino – take a chance by placing your bets on red or black numbers or individual numbers and see what comes up. For those seeking an easier option, craps is an excellent choice.
Place your bet against the house and receive a payout when the dice show the correct number combinations. If that's not enough, 3-card poker and Ultimate Texas Hold'em may be just what you need to get your game night going.
The minimum bet at this casino is usually $5. However, the minimum may vary depending on the table and game you are playing. It's best to check with the casino before playing to make sure that you know what the minimum bet is.
Slots
This casino in El Reno is a great place to spend your evening playing the most popular slot machines around. From classic favorites like Buffalo to recent releases like Lightning Link, you'll find plenty of winning opportunities at Lucky Star. Some of their popular titles also include:
Liberty 7's
Wheel of Fortune
Red Hot Ruby
Mr. Moneybags
Royal Reels
Unfortunately, the casino doesn't release their slot machine payback percentage publicly. Even the Oklahoma Gaming Commission doesn't require them to disclose this information. However, it's safe to assume that their payback percentage is competitive with other casinos in the state.
Hotel/Resort
This casino is a great place to come and play your favorite casino games. The atmosphere is fun and inviting, and there's something here for everyone. Unfortunately, the casino doesn't have its own hotel on site.
However, there are plenty of great lodging options nearby. The Hampton Inn, Holiday Inn Express & Suites, and Baymont are just a few miles away and offer clean and comfortable accommodations perfect for any stay while visiting the casino.
Restaurants & Buffets
Even though they currently do not offer a buffet, guests can still get their fill of delicious food at this casino. Treat yourself to a memorable dinner at Rez Restaurant, where you can enjoy delicious food and unique flavors from many different cultures.
Or, if you're looking for something more casual, stop by the Rez Deli for a tasty sandwich or some other quick meal sure to satisfy your cravings. With full-service restaurant and deli options, this casino has something to suit everyone's taste buds.
Pools
This casino is a great spot for gaming and entertainment, but unfortunately, it does not have any pools onsite. That said, visitors to the area can still cool off in the summer heat without going far.
There are also multiple visitor centers and resorts within reach of this casino that offer more luxurious swimming experiences alongside good food, comfortable seating, and more.
Additionally, many nearby hotels have pools you can use during and after your stay, so if you're looking to take a dip while visiting the casino, this is definitely a good place to start.
Lucky Star Casino Concho, OK FAQ
Does Lucky Star Casino Concho Have A Sportsbook?
Unfortunately, this casino in Concho does not have a sportsbook. However, they still offer plenty of other gaming opportunities, such as slots, table games, and more. Plus, with their various promotions and events, you won't have to go far to find great deals and entertainment.
Is Poker Available At Lucky Star Casino Concho?
Yes, this casino offers a variety of poker games. You can choose to play against other players or the house and receive payouts when you make winning combinations. Whether you're a seasoned veteran or a newbie just starting out, this casino has something for everyone.
What Are The Age Requirements For Gambling At Lucky Star Casino Concho?
At this casino, the legal gambling age is 18 years old. Make sure to bring valid identification with you when visiting the casino in case you're asked to show your age. Failure to do so could result in being asked to leave the premises.
Does Lucky Star Casino Concho Have An Online Casino?
No, this casino does not have an online component. To play any of the games offered at this casino, you'll need to visit the physical location. Don't forget to pack your valid identification and a mask when visiting in order to stay safe.
Is There An Lucky Star Casino Concho App?
No, there is currently no app available for this casino. However, you can still keep up with all the latest promotions and events happening at this casino by visiting their website or social media pages.
What Is The Dress Code At Lucky Star Casino Concho?
The dress code at this casino is casual and comfortable. While you can get away with wearing casual clothing, it's always best to look presentable. If you're unsure about what to wear, just err on the side of caution and keep it neat and tasteful.
Is There An Airport Shuttle Available From Lucky Star Casino Concho?
No, this casino does not offer an airport shuttle service. However, there are a few transportation companies nearby that offer taxi and ridesharing services.
Additionally, there are plenty of hotels in the area where you can stay if you need a place to rest your head. You may want to check with them if they offer shuttle services for your convenience.
What Is The Smoking Policy At Lucky Star Casino Concho?
At this casino, smoking is only allowed in designated areas. For your safety and the safety of others, make sure you take advantage of these designated areas and respect any signs or instructions regarding smoking on the premises.
What Is The Pet Policy At Lucky Star Casino Concho?
Only service animals are allowed in this casino. If you have a pet, it is best to leave them at home or make accommodations for them elsewhere. This ensures everyone has a pleasant and safe experience while visiting the casino.
If you need to bring a service animal, make sure to bring the necessary paperwork and information. This ensures that your animal is allowed in the casino and will not disrupt other guests.
Is Wifi Available At Lucky Star Casino Concho?
Yes, free wifi is available throughout the casino. You can use this to stay connected and access any information you need during your visit. Additionally, there are also plenty of charging points around the casino that you can make use of.
What Is The Cancellation Policy For Lucky Star Casino Concho?
Players of this casino may come and go without reservation. However, certain services and events may require advance booking. They operate on a first-come, first-served basis. For more information, please get in touch with the casino directly to discuss their cancellation policy.
Conclusion
With so many great amenities and services, Lucky Star Casino Concho is a great place to visit for all kinds of gambling. Whether you're looking for a fun night out or a serious chance to win big, this casino has something for everyone.
Just be sure to bring your valid identification and understand the age requirements, smoking policy, and pet policy beforehand. With all that in mind, you're sure to have an enjoyable experience at this casino.