Lucky Turtle Casino Wyandotte
Address: 64499 US-60, Wyandotte, OK 74370
Phone Number: +1 918-678-2877
Website: www.luckyturtlecasino.com
Hours: Lucky Turtle Casino is open Monday 10 am – 11 pm, Tuesday 10 am – 11 pm, Wednesday 10 am – 11 pm, Thursday 10 am – 11 pm, Friday 10 am – 11 pm, Saturday 10 am – 11 pm, Sunday 10 am – 11 pm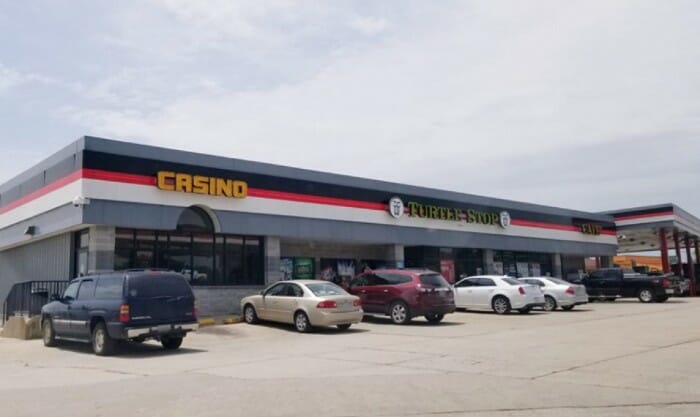 Lucky Turtle Casino is located in Wyandotte, Oklahoma and was established by the Wyandotte Nation in 2020. Since it opened, this casino has become an integral part of the local community and a significant economic contributor to the area.
The casino offers over a hundred Class II gaming machines that include AGS and VGT games. Plus, their promotions and events have been known to draw in large crowds. The casino also offers an onsite diner where guests can enjoy a delicious meal.
The property also houses a convenience store and a gift shop, adding to the convenience of the amenities offered. And with a gas station on-site, guests can fill up their tanks and purchase fuel for their boats.
With various activities and entertainment, this casino will surely be a great destination for locals and visitors. From the gaming options to the convenient amenities, this casino will surely provide customers with an amazing experience.
According to popular reviews, this casino is rated 4.5 stars out of 5. One reviewer said, "I love Lucky Turtle Casino! It's a great place to visit, and I can always find something fun to do. The staff is friendly and helpful, and the gaming options are excellent."
Another reviewer commented on the convenient amenities offered, saying, "The convenience store has everything you need, and the gas station is very convenient. Overall it is a great place to visit."
(Related reading: Oklahoma casinos)
Gaming
Its casino features over a hundred Class II gaming machines that offer many AGS and VGT games. From traditional reel slots to video poker and keno, guests can find all their favorite machines here.
Table Games
Though this casino in Oklahoma does not offer any traditional table games like blackjack, poker, or roulette, it is still worth a visit. Players at this casino will enjoy an exciting variety of slot machines from new and classic titles, so you're sure to find something to your liking.
If you're feeling lucky, why not try your hand at the progressive jackpots for the chance to win big? And even if you don't hit the big time, all players can participate in various promotions such as daily free spins and deposit bonuses.
Slots
If you're looking for an unforgettable gaming experience at this casino in Oklahoma, then you're in luck. From the classic Colossal Wizards game to the progressive Forbidden Dragons title, there's something here to fit every style of play.
Try your luck on Li'l Red, which has some great bonus rounds that can lead to big payouts. Spartacus Gladiator of Rome offers a classic theme and multiple ways to win.
Test yourself on Queen of the Wild II and see how high your score can go. And for something truly unique, try Lazer Lock Ice Sapphire – it's unlike any other slot machine out there.
Regrettably, the return rate on slots at this casino is not available to the public. Nevertheless, it's important to emphasize that multiple games are provided here with the potential for big rewards.
Hotel/Resort
If you're looking for an exciting night of gaming at this casino, you can find a variety of nearby hotels to choose from. River Bend Casino Hotel and Hampton Inn are within easy reach, offering a range of features and amenities to accommodate your needs.
Days Inn and Holiday Inn Express & Suites also offer comfortable and convenient stays close to the casino. Whether traveling for business or pleasure, any of these hotels will provide a great lodging experience.
Restaurants & Buffets
This casino in Oklahoma boasts a vibrant atmosphere full of fun and excitement. With just over a hundred slots and electronic games, you will surely find the perfect game for your fancy. But that's not all – they also have great food.
Though there are no buffets or full-service restaurants, they have the Turtle Stop Diner. The diner serves up delicious home-style cooking for breakfast, lunch, and dinner. All dishes are freshly made onsite with locally sourced ingredients when possible.
Whether you're looking for a light snack or a delicious meal, the diner at this casino has something for everyone.
Pools
This casino is one of the premier gaming destinations in Oklahoma. This gaming facility offers a wide variety of Class II gaming machines. Although there are no pools onsite, guests can take advantage of several nearby public pools.
The River Bend Casino Hotel, for example, has an outdoor pool with a hot tub and plenty of seating for relaxation. Other nearby hotels also offer swimming pools for their guests to enjoy.
So no matter your plans at this casino in Oklahoma, you'll surely have an enjoyable time. With its convenient location and a great variety of gaming options, it has something for everyone.
Lucky Turtle Casino, Wyandotte, OK FAQ
Does Lucky Turtle Casino Wyandotte Have A Sportsbook?
Unfortunately, this casino does not offer a sportsbook. But with their various gaming machines, there is no shortage of opportunities to win big. Whether a beginner or a veteran, you can find the perfect game to suit your needs.
Is Poker Available At Lucky Turtle Casino?
No, this casino does not offer poker games. However, they do have a variety of slot machines and other electronic gaming options for your entertainment. You may also find video poker in the form of electronic gaming machines.
What Are The Age Requirements For Gambling At Lucky Turtle Casino Wyandotte?
The age requirement for gambling at this casino is 18 years or older. All guests must present a valid government-issued ID in order to gain entry into the facility. Failure to provide proof of age may result in denied entry. Guests must also adhere to the dress code outlined by the casino.
Does Lucky Turtle Have An Online Casino?
No, this casino does not have an online casino. However, they do offer a variety of slot machines and other electronic gaming options for your enjoyment. You can also win big with the progressive jackpots available on select games – giving you multiple chances to win big.
Is There An Lucky Turtle Casino App?
No, there is not an app specifically for this casino. But they have a website where you can find information about the casino and its offerings. Additionally, their social media accounts are regularly updated with the latest news and promotions.
What Is The Dress Code At Lucky Turtle Casino Wyandotte?
The dress code at this casino requires all guests to be appropriately dressed. This includes shirts with sleeves, closed-toe shoes, and clothing free of offensive language or images. Management reserves the right to refuse entry if a patron's attire is inappropriate.
Is An Airport Shuttle Available From Lucky Turtle Casino?
No, this casino does not offer an airport shuttle service. However, there are various nearby hotels offering transportation to and from the facility. Guests may also take advantage of several car rental companies in the area for their convenience.
What Is The Smoking Policy At Lucky Turtle?
The smoking policy at this casino is strictly enforced. All guests must adhere to the designated smoking areas within the facility. Smoking is not permitted in any other area of the property, including the gaming floor and restaurant. E-cigarettes are also prohibited inside the premises.
What Is The Pet Policy At Lucky Turtle Casino Wyandotte?
Sadly, this casino does not allow pets on the premises. However, guests may leave their pets in the care of a pet-sitting service while they enjoy their stay at the facility. And if you need to bring a service animal, you must have prior approval from the casino.
Before bringing your service animal, ensure you have all the necessary documentation and approval. Service animals must also wear a service harness or cape to identify them and be well-behaved at all times.
Is Wifi Available At Lucky Turtle Casino?
Unfortunately, guests may need to bring their own Wi-Fi device as the casino does not have wireless access. However, there are several nearby locations offering Wi-Fi services. Guests can also avail of their cell phone data plan while they stay at the facility.
What Is The Cancellation Policy For Lucky Turtle?
There is no need for a reservation to visit this casino, so the cancellation policy does not apply. However, if you have booked a hotel room in the area or purchased tickets to an event at the facility, you may need to contact them directly for their cancellation guidelines and policies.
Conclusion
Lucky Turtle Casino Wyandotte is a great destination for fun and entertainment. The casino's offerings include slots, table games, and other electronic gaming options.
Before visiting the facility, make sure you are familiar with their age requirements, dress code, smoking policy, pet policy, Wi-Fi availability, and cancellation policies. With all these guidelines, you can enjoy a safe and fun-filled experience at the casino.