Comanche Nation Casino Lawton
Address: 402 SE Interstate Dr, Lawton, OK 73501
Phone Number: +1 580-250-3030
Website: www.comanchenationcasino.com
Hours: Comanche Nation Casino is open 24 hours a day, 7 days a week.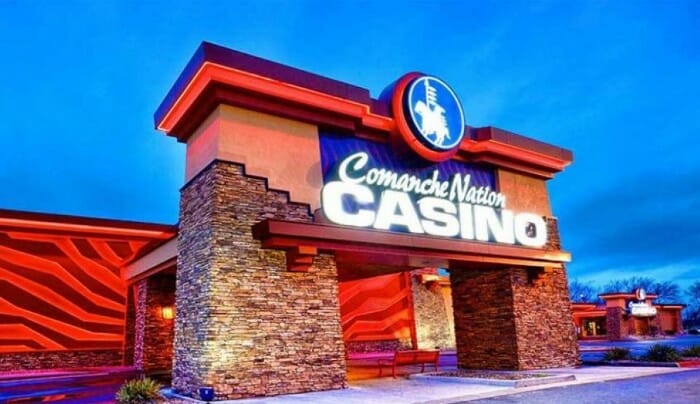 The Comanche Nation Casino was established in 2007 and is owned and operated by the Comanche Nation of Oklahoma. The casino is in Lawton, Oklahoma, a city in southwestern Oklahoma.
The casino offers a variety of electronic games, including slot machines, video poker and electronic table games. The property also offers promotions and rewards to encourage customers to return and enjoy their gaming experience.
The casino also houses dining establishments, including the Comanche Burger Company and a brewery. This casino is committed to being a responsible gambling establishment and follows all Oklahoma gaming regulations.
It has been devoted to the economic development of its reservation and its families since its inception. The casino's proceeds are used to fund various programs that benefit the people living on tribal land.
This casino is dedicated to providing customers with entertainment and a safe and friendly environment. Whether you're looking to play some of the latest slots, indulge in a delicious meal or enjoy a night out with friends, this could be the perfect place.
On average, guests rate this casino highly, rating 4.5 out of 5 based on 846 reviews. One guest commented, "It's a great stop for entertainment and fun. The staff is friendly and helpful."
Another said, "The Comanche Nation Casino is a great place to spend an evening. There's always something new and exciting going on. The staff is friendly and helpful, and the atmosphere is pleasant."
(Related reading: Oklahoma casinos)
Gaming
Its casino floor features over 800 gaming machines, including video poker games and slot machines.
Table Games
This casino in OK is slots-only, meaning that traditional table games such as blackjack and poker are not offered there. Instead, this casino provides an array of slot machines, from classic favorites to cutting-edge video slots, for the ultimate gaming experience.
From special promotional offers to giveaways, this casino always seeks ways to reward customers. Whether you are a slots fan or video poker, this casino has something perfect for your gaming needs.
Slots
If you wonder which slots to play at this casino in Oklahoma, you'll have plenty of exciting options. Popular titles include the Colossal Wizards game, Li'l Red for nostalgia, the beach theme of Lazer Lock Ice Sapphire, and Spartacus Gladiator of Rome for a more traditional gaming experience.
Forbidden Dragons also pack a punch with its bright colors and dazzling graphics. And fans of jungle games can look out for Queen of the Wild II, with its enticing paytable guaranteed to keep you spinning.
Unfortunately, this casino does not disclose its payback percentages for its gaming machines. However, players may be able to check the individual machines for information about their return percentages.
Hotel/Resort
When visiting this casino, you won't have to worry about finding a place to stay; although there are no hotels onsite, there are several nearby ones that guests can check out. The SureStay Plus Hotel is a great option for those looking for an affordable way to spend the night.
Sleep Inn & Suites or Holiday Inn Express & Suites might better fit those seeking more luxurious accommodations. Whatever hotel you choose, take solace knowing this casino has covered you with top-notch nearby options.
Restaurants & Buffets
Whether you're looking for a delicious meal, a refreshing beverage, or both, this casino has you covered. With three great options, visitors will surely find something tantalizing their taste buds.
Numunu Grill offers some of the best traditional Native American fares; Comanche Burger Company serves delicious burgers and hearty entrées. In need of a relaxing drink? Pop over to War Pony Brewery – the perfect spot to cap your evening.
Best of all, there's no buffet, so you can be sure that each dish is made fresh and with only the finest ingredients. So visit this casino today and enjoy a meal that you won't soon forget.
Pools
This casino in Oklahoma is an exciting place to hang out and have a good time. However, it's important to know that the casino offers no on-site pools. If you're looking for a watery retreat, plenty of nearby attractions with excellent pool facilities are available for you to enjoy.
So if taking a dip is part of your vacation plans, don't forget to check out all the great swimming options nearby.
Comanche Nation Casino, Lawton, OK FAQ
Does Comanche Nation Casino Have A Sportsbook?
Unfortunately, no. This casino offers no sportsbooks or other gambling activities besides slots and video poker machines.
Don't worry, though – plenty of other ways to have a good time here exist. You won't be disappointed, from delicious food and drinks to promotions and giveaways.
Is Poker Available At Comanche Nation?
No, this casino does not offer any traditional table games such as poker. However, many slot machines are available for your gaming pleasure. Plus, they also offer video poker machines.
Plenty of other venues offer this type of game if you're looking for a traditional poker experience. Just be sure to check the local laws and regulations before participating in any gambling activities.
What Are The Age Requirements For Gambling At Comanche Nation Casino?
Guests must be 18 or older to gamble at this casino. Anyone under the legal gambling age will not be allowed entry. Additionally, all players might be required to show valid government-issued identification as proof of their age before participating in any games.
Does Comanche Nation Have An Online Casino?
No, this casino does not offer any online gambling services. All gaming activities must be done in person at the physical location. From slots and video poker to promotions, everything is available in person. Check the casino's website for any additional information or updates.
Is There An Comanche Nation Casino App?
This casino is making it easier to stay connected with its amazing services and entertainment offerings. With the Comanche App, users can access all the exciting features of the casino right in the palm of their hand.
The app offers special benefits and rewards that players could not access otherwise. It's never been easier or more convenient to access the exclusive casino amenities, promotions, events, and other helpful information that guests need while having a great time at the casino.
Whether you are a regular visitor or just visiting for a night out on the town, everyone can benefit from downloading this app.
What Is The Dress Code At Comanche Nation?
At this casino, the dress code is pretty relaxed. Guests are free to come as they please, though it's always suggested that visitors dress neatly and respectfully. Shorts, sandals, and tank tops are all acceptable attire.
Is There An Airport Shuttle Available From Comanche Nation Casino?
No, this casino does not offer an airport shuttle. However, plenty of taxis and ride-sharing services can bring guests from the Lawton Municipal Airport to this casino. Contact your preferred provider for more details about scheduled pick-ups and drop-offs.
What Is The Smoking Policy At Comanche Nation?
This casino maintains a strict no-smoking policy throughout its premises. However, they have designated smoking areas outside the building with seating and ashtrays. Smoking is not allowed inside any of the buildings or other enclosed areas.
What Is The Pet Policy At Comanche Nation Casino?
Sadly, no pets are allowed inside the building. Guests should make alternate arrangements if they plan on bringing their pets to the casino. Service animals that help guests with disabilities are the only exceptions to this rule.
Is Wifi Available At Comanche Nation?
Yes, free high-speed wifi is available throughout the premises of this casino. Guests can connect to this network and browse the internet or use any of their favorite apps while enjoying all the amenities this casino offers.
What Is The Cancellation Policy For Comanche Nation Casino?
The casino offers no lodging services, so no cancellation policy is applicable. There is also no need to reserve a seat at this casino's slot machines or tables. However, if you're attending a special event at this casino, you should check the cancellation policy beforehand.
Conclusion
Comanche Nation casino is a great destination for those looking to have a good time and take advantage of this venue's many amenities. With an app, free wifi, and a relaxed dress code, everyone can enjoy their visit comfortably and conveniently.
Whether you're a one-time visitor or a regular guest, you'll find plenty of activities and services to keep you entertained at this casino.