Quapaw Casino Miami
Address: 58100 E 64 Rd, Miami, OK 74354
Phone Number: +1 918-540-9100
Website: www.quapawcasino.com
Hours: Quapaw Casino is open Monday 8 am – 2 am, Tuesday 8 am – 2 am, Wednesday 8 am – 2 am, Thursday 8 am – 12 am, Friday Open 24 hours, Saturday Open 24 hours, Sunday 8 am – 2 am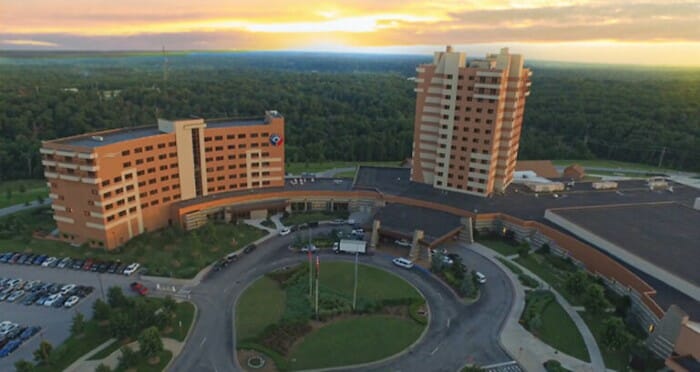 Quapaw Casino is a gaming facility owned and operated by the Quapaw Nation of Oklahoma. The property is one of the tribe's two casinos in Oklahoma. Since its opening, the casino has provided a welcoming environment for guests to enjoy a variety of gaming and entertainment options.
The property offers over 500 slots ranging from penny to high-limit machines. They also offer promotions and tournaments for their players to participate in. Plus, their player's club is open to all guests and provides rewards based on play.
For guests who want to take a break and have a bite to eat, the property offers an onsite restaurant that serves traditional American and comfort food. Additionally, the property has a bar & lounge that serves alcoholic beverages and entertainment.
If you're looking for a place to relax or maybe have some fun, this casino is the perfect destination located in Miami, Oklahoma. From gaming to restaurants, they have everything you need for a great night.
According to reviews, guests generally rate this casino with 4 stars. One reviewer said, "The Quapaw Casino in Miami is a great place to go for some fun. The staff are always friendly; the machines are up-to-date, and plenty of different games to choose from."
Another reviewer said, "The restaurant and bar are really nice, and the drinks prices were surprisingly affordable. I highly recommend checking out the Quapaw Casino if you're looking for a fun night out."
(Related reading: Oklahoma casinos)
Gaming
Their casino floor offers over 500 slots, including penny, multi-denomination and high-limit machines. Guests may also join their promotions and tournaments, as well as their player's club.
Table Games
For those seeking the thrill of an unforgettable table gaming experience, this casino in Oklahoma may not be the best place to visit due to its lack of traditional tables.
While there are plenty of exciting slot machines with lively features and engaging themes, the casino falls short in the selection of classic games like blackjack and poker. But if you're looking for a great night out with lots of variety in electronic gaming, then this casino is worth the visit.
Slots
This casino is home to some of the most popular slot machines around. If you're looking for an exciting way to spend your day, look no further.
Colossal Wizards is an enchanting game that promises big rewards with up to 100 wild symbols per spin, filling the reels with magical money-making potential. Li'l Red offers a classic twist on traditional slot gameplay, providing a fun and nostalgic escape from reality.
Spartacus Gladiator of Rome gives players an opportunity to 'battle for riches' in this 5-reel machine. Forbidden Dragons invite those brave enough to traverse its hidden realms in search of prizes.
Queen of the Wild II will have you spinning like royalty as you try your luck on one of the largest video reel slots games around. Last but not least, Lazer Lock Ice Sapphire allows players to take control with this innovative bonus feature while they search for mythical treasures.
Unfortunately, this casino does not publicly report its slot machine payback percentages. However, even the Oklahoma Gaming Commission has not published reports on the casino slot payback percentage for this particular casino.
Hotel/Resort
This casino in Oklahoma is the prime destination for quality gaming and entertainment. Unfortunately, there is no hotel attached to this casino. However, there are plenty of nearby options should you need a place to rest your head after trying your luck at the slot machines.
From cozy inns like the Days Inn by Wyndham Miami to luxurious resorts like Buffalo Run Casino & Resort, there's something for every type of guest. If you're looking for classic convenience without spending too much, we recommend the Hampton Inn or Microtel Inn & Suites.
No matter where you decide to stay near this casino, you'll be just minutes away from all the fun and excitement that awaits.
Restaurants & Buffets
This casino in Oklahoma offers visitors to the area a variety of great dining options. For a quick, casual bite while they're there, visitors can stop by the Jackpot Grill. The restaurant serves delicious breakfast meals all day that are sure to satisfy any craving.
For those looking for something other than breakfast, no worries! There are plenty of other items available on the menu to choose from. And with its convenient location on-site, it's an easy choice for anyone seeking great food with friendly service.
Pools
This casino offers a great selection of games and entertainment options, but unfortunately, there are no pools on site. If you're looking for a pool in the area, consider visiting one of the local water parks or recreational centers nearby.
There's something for everyone in terms of activities, whether it be swimming laps, playing water games, or sunbathing in the shade. With plenty of possibilities right around the corner, you can easily find a spot to cool off and splash around during your stay.
Quapaw Casino, Miami, OK FAQ
Does Quapaw Casino Have A Sportsbook?
No, this casino does not have a sportsbook. However, there offers so much more in terms of gaming and entertainment. From electronic games and live entertainment to great dining options, this casino is definitely worth a visit, even without a sportsbook.
Is Poker Available At Quapaw?
No, this casino does not offer poker. However, there are plenty of games available on the casino floor to choose from, including slot machines and video poker.
For beginners, video poker is a great way to learn the game. And with their high payouts, experienced players can enjoy many winning opportunities.
What Are The Age Requirements For Gambling At Quapaw Casino?
The legal minimum gambling age at this casino is 18 years old. All patrons must present a valid form of identification upon entry to the casino and will be asked to show their ID throughout their stay.
Does Quapaw Have An Online Casino?
No, this casino does not have an online version. However, there are plenty of gaming and entertainment options available in-person at the resort should you choose to visit. And with great promotions and bonuses on offer, it's sure to be a memorable experience.
Is There An Quapaw Casino App?
No, this casino does not have an app available. However, they do have a website that offers information on the game selection, promotions and bonuses, as well as upcoming events.
Plus, their social media pages are constantly updated with news and updates, so be sure to follow them for the latest news.
What Is The Dress Code At Quapaw Casino?
The dress code at this casino is casual. However, visitors are encouraged to dress in neat and comfortable clothing appropriate for the occasion. Overly revealing and offensive garments are not permitted.
Is There An Airport Shuttle Available From Quapaw?
No, there is no airport shuttle available from this casino. However, there are many other transportation options available in the area so visitors can easily get around during their stay. Plus, with taxis and rideshare services, getting to and from the airport is easy and convenient.
What Is The Smoking Policy At Quapaw Casino?
The casino has a non-smoking policy. Guests are not allowed to smoke in any of the public areas, including the gaming floor and restaurants. However, there is an outdoor smoking area available for those who wish to smoke while they are visiting.
What Is The Pet Policy At Quapaw?
Sadly, this casino does not allow pets. This includes any type of pet, such as cats and dogs, on the property.
However, service animals are allowed with prior approval from the casino management. Make sure to bring along the necessary documentation if you plan on bringing a service animal with you.
Is Wifi Available At Quapaw Casino?
Unfortunately, this casino does not offer wifi access. However, there are several places in the area that provide free wifi access, and guests can easily connect to these networks during their stay. Their property also has strong cellular coverage, so visitors can stay connected if needed.
What Is The Cancellation Policy For Quapaw?
Players may come and go without reservation at this casino. There is no hotel attached to the casino, so you don't need to worry about booking a room ahead of time.
However, if you have made a reservation for any of their special events or promotions, please get in touch with their customer service team to find out more about their cancellation policies.
Conclusion
Quapaw Casino offers a great range of gaming and entertainment options. Whether you're looking to try your luck at the slots, video poker or electronic games or just want to relax and enjoy some live music, this casino has something for everyone.
With strong cellular coverage, visitors can stay connected throughout their time at the casino. Moreover, they have a non-smoking policy and do not allow pets on the property. With all these great features, this casino will surely be a memorable experience for all.