Grand Lake Casino Grove
Address: 24701 S 655 Rd, Grove, OK 74344
Phone Number: +1 918-786-8528
Website: www.grandlakecasino.com
Hours: Grand Lake Casino is open 24 hours a day, 7 days a week.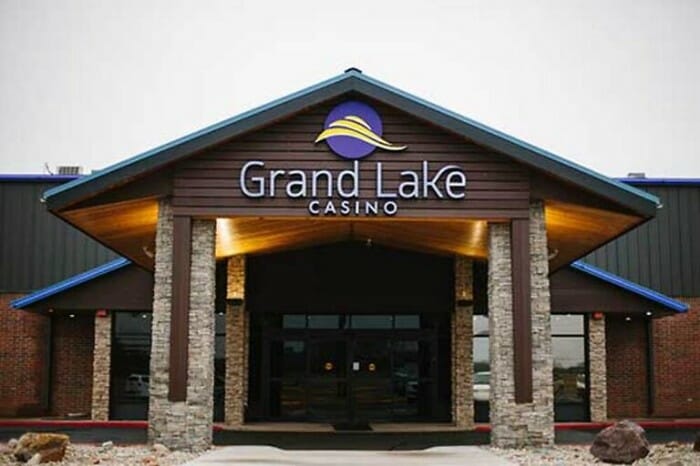 Grand Lake Casino is owned and operated by the Seneca-Cayuga Tribe of Oklahoma and has been serving guests since its opening. The casino is a favorite among locals and visitors due to its wide array of casino games and amenities, perfect for a night of entertainment.
The casino is located in Grove, Oklahoma and opened its doors to the public and has been redesigned and constructed with a portico build. Their casino offers a variety of slot machines, table games and more.
They also offer promotions and tournaments for players to take part in. With these reward programs, players can earn points for free play and discounts on food and beverages. Apart from gaming, the property offers accommodations, a live-entertainment venue, and dining options.
This casino is committed to providing an enjoyable experience for all guests. They are dedicated to providing excellent guest service and making sure players have the best gaming experience possible.
Whether you're looking for a night of fun at the casino or a weekend getaway, this casino will surely provide you with an unforgettable experience.
This casino in Grove has an overall rating of 4.3 out of 5 stars on various online review sites. One guest said, "Grand Lake Casino is a great place to go with friends or family for fun in the sun. I love the atmosphere and the amenities they have to offer. Highly recommended!"
Another guest said, "I had a great time at Grand Lake Casino. The employees were friendly and accommodating. The games were fun, the food was good, and overall it was an enjoyable experience."
(Related reading: Oklahoma casinos)
Gaming
Their gaming floor features a variety of slot machines, table games and more. Some of the most popular gaming options include blackjack, poker and more.
Table Games
This casino is the perfect place for some fun and excitement. Whether you're a fan of card games or just looking for something different to do, there's something for everyone at this casino.
Table game enthusiasts will love their selection, which includes popular classics like Blackjack and 3-Card Poker, as well as some new favorites like Crazy 4-Card.
Every game provides hours of entertainment, so regardless of your skill level, you can enjoy a night out full of fun and exciting table games with friends.
Additionally, the minimums at this casino vary depending on the game of choice. However, players may find tables with minimums as low as $5 so more players can get involved.
Slots
This casino has a huge selection of popular slot machines to choose from. Hunt for Neptune's Gold is full of adventure and risk. It features up to 15 free spins and multipliers as rewards.
Ruby's Night Out is a classic five-reel game with exciting bonus rounds that will help you increase your winnings. Dragon Links offers plenty of rewards, including free spins and jackpots.
Dancing Drums provides an exhilarating gaming experience with wilds, scatter symbols, multipliers and more. Lock It Link-Huff n' Puff has two separate games in one, which offers fun bonuses and the chance to win big.
Finally, Highway Hogs have high energy levels and lots of unique features to keep things exciting no matter how long you play. Unfortunately, this casino does not disclose its payback percentages. However, you may get this information by contacting the casino and asking for it.
Hotel/Resort
This casino also offers a hotel and resort experience for those looking for a weekend getaway or an extended stay. The Lodge is a beautiful motel located south of the casino with modern amenities such as complimentary Wi-Fi, flat-screen TVs and comfortable beds.
Families, couples, and groups of friends can find their home away from home at The Lodge. With 30 stylishly decorated rooms with king and double queen beds available in both smoking and non-smoking areas, there's something for everyone.
Even better, they offer shuttles to their casino as well as Stay & Play package deals allowing you to get the most out of your stay. You'll also be near many local attractions like Elk River, Grove Civic Center and more.
Additionally, the hotel and casino offer a variety of amenities to make your stay even more enjoyable. Some of these include:
Free parking
Free wifi access
Nearby local attractions and activities
Shuttle services
Onsite dining options
Live entertainment and music
The Lodge offers great rates for all kinds of stays, including special discounts for locals. Prices vary depending on the type of room you're looking for and the length of your stay. Rates start at $99 per night.
Check-in time at The Lodge is 3:00 pm
Check-out time at The Lodge is 11:00 am
Restaurants & Buffets
Even though this casino does not offer a buffet, they do have several excellent dining options to choose from. Along with a dedicated cocktail staff serving drinks and refreshments on the casino floor, they also have two full-service bars.
These serve a range of beverages as well as an eclectic menu of food that is sure to tantalize your taste buds. Whether you're arriving after an exciting night or just wanting to unwind with some delicious dishes, their restaurants offer up a variety of different cuisines to suit all tastes.
Plus, with helpful, friendly staff waiting to take your order, you can rest assured that your experience will be nothing short of exceptional.
Pools
This casino in Oklahoma offers a fantastic gaming experience with hundreds of slot machines, table games and more. But they don't offer any pools on-site – so you may want to plan ahead and research other nearby attractions if you're looking for a refreshing swim.
Even The Lodge doesn't offer a pool, either, so make sure to plan your activities in advance. Fortunately, there are plenty of great spots to enjoy, including some excellent water parks and lakes just a short drive away.
So whether you're looking to cool off after gaming all day or just want some family fun time outside the casino walls, there's something for everyone in the area.
Grand Lake Casino, Grove OK FAQ
Does Grand Lake Casino Have A Sportsbook?
Unfortunately, at this time, this casino does not offer any sports betting services. However, their wide array of gaming machines, table games and other offerings make up for it – so you can still have plenty of fun.
Is Poker Available At Grand Lake?
Yes, poker is available in this casino. They offer a variety of different levels and styles to suit all kinds of players, from the beginner looking for some casual fun to the seasoned pros who want to take their game up a notch.
What Are The Age Requirements For Gambling At Grand Lake Casino?
The minimum age to enter this casino and take part in any gambling activities is 18. However, note that some promotions may have different requirements – so make sure to check them out before visiting. Consuming alcohol is also restricted to those 21 and over.
Does Grand Lake Have An Online Casino?
No, this casino does not have an online casino at this time. However, you can still enjoy a fantastic gaming experience when visiting their physical location in Grove. With their hundreds of machines and tables, live entertainment, and other amenities – you're sure to have a memorable time.
Is There An Grand Lake App?
While there's no official Grand Lake Casino app, they do have a great feature that helps you keep up with what's going on at the casino. Through the Rockbot App, guests can request songs to be played from their live music shows.
So whether you're looking for some classic country tunes or the latest in pop music, you can always make sure you hear your favorite tracks when visiting this casino.
What Is The Dress Code At Grand Lake Casino?
At this casino, the dress code is casual. Shorts, jeans and comfortable shoes are perfect for a day or night at the casino. For more formal occasions, such as a special event or show, you may want to dress up a bit more. But for the most part, casual attire is perfectly acceptable.
Is There An Airport Shuttle Available From Grand Lake?
At this time, there is no airport shuttle available from this casino. However, guests can take advantage of the many taxi and rideshare services that are available in the area. Just be sure to plan ahead and ensure you have a reliable way to get to and from the casino.
What Is The Smoking Policy At Grand Lake Casino?
This casino in Oklahoma is committed to providing an enjoyable atmosphere for all patrons. To this end, their smoking policy has something for everyone. Although the casino floor itself is mostly smoke-free, both smoking and non-smoking areas will be available in Venue 655.
If you're looking for a hotel experience, The Lodge offers both smoking and non-smoking rooms, so there's no reason to worry about walking into a cloud of smoke after a long day at the casino.
What Is The Pet Policy At Grand Lake?
The Lodge also has a strict policy regarding pets. All non-service animals are strictly prohibited in the hotel, so guests should make arrangements elsewhere if they plan to bring their pets with them.
Is Wifi Available At Grand Lake Casino?
Yes, guests can enjoy free wifi throughout the casino and the hotel. This means you can stay connected while enjoying all the great games, shows and amenities the casino has to offer. Plus, it's a great way to stay in touch with family and friends, even when you're away from home.
What Is The Cancellation Policy For Grand Lake?
Cancellation policies at this casino vary according to what type of reservation you have made. To be safe, it is best to check the exact policy when making your booking or contact the casino directly for further information.
The Lodge also has its own cancellation policy, so be sure to check that when booking your stay. Generally speaking, you may cancel your room reservation up to 24 hours before the start of your stay with no penalty. Cancellations made later than this may be subject to fees or other charges.
Conclusion
Grand Lake Casino is an exciting destination for those looking to enjoy a night of gambling, live entertainment and other amenities. With its convenient location, you can be sure there is something for everyone at this casino.
Whether enjoying a show in the venue or relaxing in your room at The Lodge, this casino has all you need for a memorable night out. Just be sure to check the dress code, smoking policy and other policies before you go – so that you can make the most of your visit!