Sac & Fox Casino Stroud
Address: 356120 926 Rd, Stroud, OK 74079
Phone Number: +1 918-968-2540
Website: www.snfcasino.com
Hours: Sac & Fox Casino is open Monday 10 am – 2 am, Tuesday 10 am – 2 am, Wednesday 10 am – 2 am, Thursday 10 am – 2 am, Friday 10 am – 4 am, Saturday 10 am – 4 am, Sunday 10 am – 2 am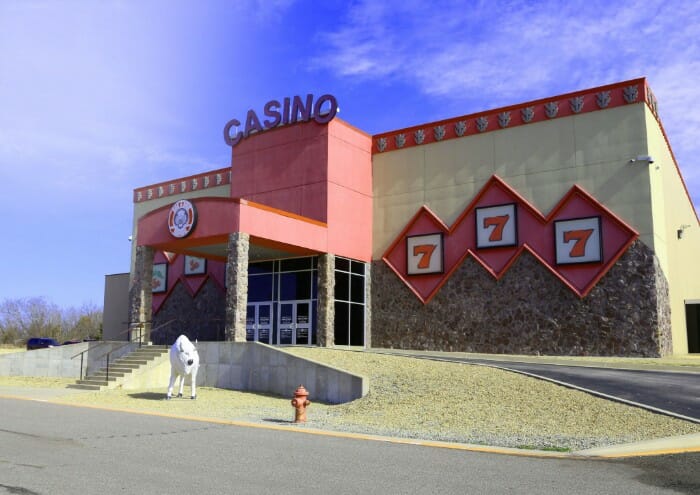 Sac & Fox Casino is owned and operated by the Sac & Fox Nation of Oklahoma, which is a federally recognized Native American Tribe. Since its opening, it has never failed to offer a wide variety of entertainment and gaming options.
The casino offers a full range of slot and video machines, from traditional three-reel games to modern video slots. The casino also offers a robust rewards program for players who play often. With various promotions, one can earn points and redeem them for rewards.
They also have a Player's Club that offers exclusive discounts and rewards. Additionally, the casino houses a restaurant that serves up delicious and freshly prepared American fare. They also have a vibrant nightlife, with various live entertainment shows taking place throughout the year.
Whether it's a night out or an evening of gaming, the casino has something for everyone. If you are looking for a unique experience in Oklahoma, this is definitely worth a visit.
On Google Reviews, the casino has a 4.5 average rating of 5 stars. One guest claimed, "I love this place. The staff are friendly, the food is great, and the gaming selection is awesome!"
Another guest stated, "This casino has everything you need for a night out. From good drinks to live entertainment, it's perfect for a group of friends or just an individual."
(Related reading: Oklahoma casinos)
Gaming
Their gaming floor features more than 150 of the hottest and newest slot machines. These games include classic three-reel slots, modern video slots, and progressive jackpots.
Table Games
This casino in Oklahoma offers an extensive range of slot machines to suit every taste. With plenty of exciting new slots being regularly added, you can be sure to find plenty of entertainment during your visit to the casino.
Unfortunately, no table games are currently available at this casino. But if slot machines are your thing, there's plenty to keep you entertained.
Slots
This casino in Oklahoma offers a variety of exciting slot machines that will have you winning big and having a great time while you're at it. With the Colossal Wizards machine, your chances of winning with both progressive and stacked wilds are increased.
Li'l Red will surely capture your attention with its multidenominational slots, enabling anyone from penny players to high rollers to enjoy themselves. Spartacus Gladiator of Rome is also a fun game to play, as it combines two themes for an interesting mix.
Forbidden Dragons can't be overlooked either, boasting credit prizes and progressive jackpots. Lastly, Queen of the Wild II and Lazer Lock Ice Sapphire promise generous payouts for all who give them a try.
Unfortunately, this casino does not disclose its slot machine payback percentage publicly. However, it is sure to offer generous returns for those who are playing slots at this casino.
Hotel/Resort
Although this casino itself, unfortunately, doesn't have an onsite hotel, there are plenty of nearby options that guests may check out.
Take the River Bend Casino and River Spirit Resort Casino, for instance; both offer reliable services with modern amenities to help make your stay a comfortable one.
Alternatively, the Holiday Inn Express & Suites is also just a short drive away and has a wide range of facilities that'll meet all your needs. So if you're needing a quick overnight stay near this casino, then be sure to book one of these great hotels for ultimate convenience.
Restaurants & Buffets
Even though they currently do not have an onsite buffet, their restaurant menu has plenty to choose from. For a truly unique dining experience, try their Sac & Fox Casino and Grill.
This café-style restaurant offers diners a diverse selection of delectable menu items with something to please every palate. Whether you're in the mood for Mexican flavors or classic American fare – all made from fresh, quality ingredients – look no further than Sac & Fox Grill.
Their inviting atmosphere and attentive staff are sure to make your visit both enjoyable and memorable.
Pools
This casino in Oklahoma is a popular destination for those looking for a great evening of fun, lively entertainment, and gaming. While the casino does not offer onsite pools for visitors to enjoy, their wide range of nearby hotels can provide access to pools.
Plus, with so many options for their slot machines, you can never run out of entertainment. So, whether you're looking to cool off in a pool or win big on the slots, this casino has everything you need for an awesome night out.
Sac & Fox Casino, Stroud, OK FAQ
Does Sac & Fox Casino Have A Sportsbook?
No, this casino does not have a sportsbook at this time. However, guests may still have lots of fun with their slot machine selection. Whether you're playing the traditional slots or trying your luck with one of their new machines, you can be sure to have an entertaining time at this casino.
Is Poker Available At Sac & Fox?
Unfortunately, this casino does not offer poker at this time. However, they do have a wide selection of slot machines and various other gambling options to try your luck with.
You may also find a couple of video poker machines on the premises. This is a great option for those who enjoy the game but don't necessarily want to play against others.
What Are The Age Requirements For Gambling At Sac & Fox Casino?
The minimum age for gambling at this casino is 18 years old. Guests must also provide valid photo identification to confirm their age before gambling.
Does Sac & Fox Have An Online Casino?
No, this casino does not currently have an online casino. However, they have a variety of slot machines and other gambling options available for guests to enjoy onsite in Stroud. From classic slots to the latest machines, there's something for everyone at this casino.
Is There An Sac & Fox Casino App?
No, this casino does not have an app at this time. However, you can find all the relevant information regarding their location, gaming options and more on their website. You can stay updated with their latest promotions by following them on their social media accounts.
What Is The Dress Code At Sac & Fox Casino Stroud?
The dress code at this casino is smart-casual. Guests are required to wear appropriate clothing and footwear when visiting the premises. Avoid wearing swimwear, ripped or torn clothing and offensive slogans. Everyone is expected to be respectful of others at all times when visiting.
Is An Airport Shuttle Available From Sac & Fox?
Unfortunately, this casino does not have an airport shuttle service. But you can take advantage of the affordable taxi services provided by several local companies or even rent a car from one of the nearby rental car companies if that's more your style.
Plus, with so many ridesharing services available, you can easily get around town without having to worry about getting a ride.
What Is The Smoking Policy At Sac & Fox Casino Stroud?
There are designated smoking areas available on the premises of this casino. All guests are expected to be respectful of other patrons and only smoke in designated smoking sections. Guests must also dispose of their cigarettes properly to maintain a safe environment for everyone.
What Is The Pet Policy At Sac & Fox?
Sadly, this casino does not allow pets on its premises. All guests must leave any furry friends at home before visiting the casino. But if you need to bring a service animal, you may do so as long as you have their proper identification.
Is Wifi Available At Sac & Fox Casino Stroud?
Unfortunately, you may want to bring your own wifi connection when visiting as this casino does not offer it. Fortunately, most restaurants and cafes in the area do provide free wifi for their customers. You may want to check with them before your trip.
What Is The Cancellation Policy For Sac & Fox?
There is no hotel attached to this casino, so the cancellation policy does not apply. However, for other types of reservations, please get in touch with the casino directly for more information. They might have a specific policy in place that applies to your reservation.
Conclusion
At Sac & Fox Casino Stroud, you'll find a wide selection of slot machines and electronic games, as well as a variety of dining options. It's the perfect place for an exciting night out or a relaxing evening in.
However, be sure to follow all the rules and regulations when visiting this casino. Make sure you're aware of the age requirements, dress code and smoking policies before heading over. With these tips in mind, you're sure to have a great time at this casino.