Chisholm Trail Casino Duncan
Address: 7807 US-81, Duncan, OK 73533
Phone Number: +1 580-255-1668
Website: www.chisholmtrailcasino.com
Hours: Chisholm Trail Casino is open 24 hours a day, 7 days a week.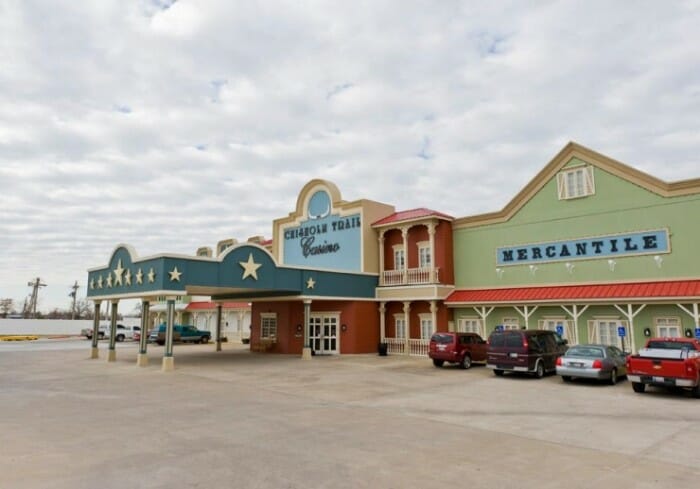 The Chisholm Trail Casino has been serving the community of Duncan, Oklahoma since 2004. The property is situated just on the historic Chisholm Trail, an iconic route that helped to move cattle from Texas and Oklahoma to markets in Kansas after the Civil War.
The casino is owned and operated by the Chickasaw Nation, a federally recognized Native American tribe with a long history in the area. The property is located just off Highway 81 in Duncan and is open 24 hours a day.
Their casino floor boasts 600 electronic games that include video slots, video poker and electronic blackjack and a couple of table games. They also have a Player's Club that rewards players with points that can be redeemed for cash or prizes.
Apart from gaming, they also offer dining and entertainment options through their onsite sports grill that serves American classics, such as burgers, steaks and more. They also have a live telecast of sports events and live music with local bands performing on the weekends.
This casino is surely a great place to spend an evening or two, whether you are looking for some excitement in the gaming room or just want to enjoy some good food and entertainment.
On general review sites such as Google and TripAdvisor, guests rate this casino with an average of 4 out of 5 stars. One guest said, "We had a great time here. The staff was friendly and helpful, the gaming room was clean and well-stocked, and the food was delicious."
Another guest wrote, "I had a great time at the Chisholm Trail Casino! The customer service was phenomenal and the gaming room is top-notch. Very clean and plenty of machines to choose from."
(Related reading: Oklahoma casinos)
Gaming
Their casino floor boasts 600 electronic games that include video slots, video poker and electronic blackjack.
Table Games
If you're looking for an exciting night out, then a trip to this casino in Oklahoma is a perfect choice. With three different types of table games available, you're sure to find something to your taste.
Black Jack is always a crowd favorite – nothing beats the excitement of building your hand toward 21. But if that's not what you're looking for, then why not try Ultimate Texas Hold 'em? Put your best Texas Poker skills up against the Dealer and try to prove who is the best player at the table.
Or, head over to 3-Card Poker where you get two opportunities with each round – win on your first draw or increase it even further by betting again and winning on the second draw.
The minimum bets on the table games at this casino vary from game to game. Generally speaking, the minimum bet on most tables in this casino is $5. Moreover, players can always check the table minimums with the dealers or directly with the casino staff.
Slots
This casino has a large selection of slot machines ranging from classic 3-reel games to modern video slots. Some of their most popular games include:
Li'l Red
Colossal Wizards
Spartacus Gladiator of Rome
Forbidden Dragons
Lazer Lock Ice Sapphire
Queen of the Wild II
Unfortunately, this casino does not currently disclose its slot machine payback percentages. No reports from independent auditors have been released, so it is not possible to determine the average return on a bet for slot machines in this venue.
However, players may still check the payback percentages of individual machines by either looking at the payout tables or asking attendants. The payback percentage is usually found on a label attached to each machine.
Hotel/Resort
If you're considering a visit to this casino in Oklahoma, you'll be glad to know that although there is no onsite hotel, there is a range of quality accommodations nearby.
There are several hotels including Hampton Inn, Holiday Inn Express & Suites, OYO Hotel, and Quality Inn near the casino that can accommodate any budget and lodging preference.
Whether you choose one of these options or find another hotel near us, rest assured that your stay with us at this casino will be nothing but enjoyable.
Restaurants & Buffets
This casino offers a number of delicious food options for hungry travelers and locals. One great spot to check out on the property is Aces Sports Grill. At Aces, you can enjoy classic American dishes in a relaxed sports bar atmosphere.
Perfect for dinner after a long day hitting the slots or watching the game with friends and family, this spot is sure to delight.
While there is no buffet option here, Aces still offers an impressive menu selection packed with top-notch flavors and high-quality meals that will keep you coming back again and again.
Pools
If you are looking for a unique gaming experience in Oklahoma City, then this casino offers just that. They have many gaming tables and machines for you to try your luck on. But if you were hoping to take a dip in their pool onsite, unfortunately, they don't have any as of now.
However, even without a pool to cool off from your game night, this casino still has plenty to offer such as live entertainment and fabulous dining options. Plus there are nearby premium hotels with luxurious pools should you want to take the perfect post-gaming dip.
Chisholm Trail Casino, Duncan, OK FAQ
Does Chisholm Trail Casino Have A Sportsbook?
Unfortunately, this casino does not currently offer a sportsbook for players to make bets on their favorite teams and sporting events. They do, however, have a wide variety of other games and activities that you can enjoy while visiting the casino.
Is Poker Available At Chisholm Trail?
Yes, poker variations are available at the casino. You can find Texas Hold'em and Three Card tables, so whether you're a beginner or an experienced player, there is something for everyone. They also offer promotions and tournaments, so make sure to keep an eye out.
What Are The Age Requirements For Gambling At Chisholm Trail Casino?
The minimum age for gambling in this casino is 21. All guests must provide a valid ID before being allowed access to the gaming floor or any other area of the casino. Underage gambling is strictly prohibited and can result in fines and other penalties.
Does Chisholm Trail Have An Online Casino?
No, this casino does not currently have an online platform. If you want to play your favorite games, then you must visit the physical location of the casino in Duncan, Oklahoma.
They offer some great promotions and bonuses both onsite and through their social media channels so make sure to check those out too.
Is There An Chisholm Trail Casino App?
No, this casino does not have a mobile app at the moment. However, their website is optimized for mobile devices so you can access it on your smartphone or tablet. This makes it easy to stay up-to-date with the latest promotions and offers, so make sure to take advantage of that.
What Is The Dress Code At Chisholm Trail?
The dress code is casual in this casino. There is no requirement to wear anything specific, so you can dress comfortably while enjoying the casino's games and amenities.
However, they do ask that all guests respect their dress code and refrain from wearing any clothing that might be considered offensive or inappropriate.
Is There An Airport Shuttle Available From Chisholm Trail Casino?
No, unfortunately, there is no airport shuttle available from this casino as of now. However, guests may be able to arrange a transportation service at their own cost. You may also consider renting a car while you're in town to make it easier to get around.
What Is The Smoking Policy At Chisholm Trail?
The smoking policy at this casino is that smoking is prohibited indoors but allowed outdoors in designated areas. To make sure all guests can enjoy their visit, the casino has put a strict no-smoking policy in place in their indoor gaming area.
What Is The Pet Policy At Chisholm Trail Casino?
Sadly, this casino does not allow pets. Only service animals are allowed on the premises and must be kept under control at all times. Pets should be left with a responsible caregiver while you enjoy your time at the casino.
Is Wifi Available At Chisholm Trail?
Yes, the casino offers free wifi access for guests. You can connect to the network with your device and start browsing or playing games right away. It's a great way to stay connected while you're out visiting the casino.
What Is The Cancellation Policy For Chisholm Trail Casino?
Players do not need a reservation to play at the casino, so there is no cancellation policy in place. However, guests do need to be 21 years or older and have a valid ID before being allowed access. Failure to comply with these regulations will result in guests being denied access to the casino.
Conclusion
Chisholm Trail Casino is a great place to enjoy the thrill of gambling and has some fun. Whether you're a beginner or an experienced player, they offer something for everyone.
With their promotions and tournaments, you can win big rewards while having a good time. Make sure to check out all the information above before visiting this casino.