SaltCreek Casino Pocasset
Address: 1600 US-81, Pocasset, OK 73079
Phone Number: +1 405-459-4000
Website: www.saltcreekcasino.com
Hours: SaltCreek Casino is open 24 hours a day, 7 days a week.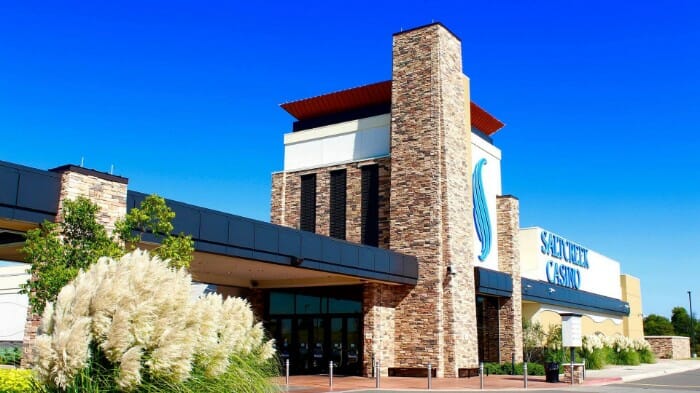 SaltCreek Casino in Pocasset opened its doors to patrons in 2012. This casino is one of the many casinos run by the Chickasaw Nation, which is a federally recognized tribe in Oklahoma. Since its opening, it has become one of the premier entertainment destinations in Oklahoma.
Here, you'll find an extensive selection of slots, table games and more – all while enjoying great customer service and various amenities. Their casino floor offers 600 machines and a variety of table games, including blackjack and poker.
In addition to the casino floor, guests can enjoy their onsite cafe, which serves delicious food and drinks. Plus, with their bar and lounge, guests can relax with a cocktail and listen to live music.
Whether you're looking for a fun night out or just want to try your luck at the slots, this casino is a great option for any type of gambler.
On TripAdvisor, the casino currently has an average of 4.5 stars from over 1,000 reviews. According to one reviewer, "We had a great time at SaltCreek Casino. The staff was friendly, the slots were fun, and the food and drinks were delicious."
Another reviewer agreed, saying, "We had a great time at the casino. The staff was very friendly and helpful. We also liked all of the different slots and tables that were available to play."
(Related reading: Oklahoma casinos)
Gaming
Their gaming floor offers 600 machines, ranging from traditional slots to the newest machines. The casino also features a variety of table games, including blackjack, poker and more.
Table Games
This casino in Oklahoma is the place to be for table game fun. Guests can enjoy classic favorites such as Blackjack, where you'll compete against the dealers to get cards with a value close to (but not over!) 21.
Those looking for something new will appreciate their Jackpot Hold'Em option, which twists up Texas Hold'Em and gives you three chances to bet or check your hand against the dealer.
Plus, they have Blackjack Match, which offers up progressive blackjack side bets so you can take home some big winnings. No matter what you're looking for in a gaming experience, there's something for everyone at this casino.
At this casino, the table game minimums vary depending on the day of the week. But generally, the minimums can go as low as $5.
Slots
At this casino, slot players have plenty of exciting options to choose from. From classic games with three reels and one pay line to five-reel video slots with multiple bonus features, there are many choices to keep everyone entertained. Some of their popular titles include:
Colossal Wizards
Spartacus Gladiator of Rome
Li'l Red
Forbidden Dragons
Lazer Lock Ice Sapphire
Queen of the Wild II
Unfortunately, the State of Oklahoma does not publicly report slot machine payback percentages. Therefore, it is difficult to determine the exact payback percentage for this casino in Pocasset.
But you may call the casino directly to inquire about specific payback percentages for certain games.
Hotel/Resort
If you're planning a visit to this casino in Oklahoma and need a place to stay overnight, you're in luck. There's no hotel on site, but there are some great nearby ones to choose from. Conveniently located right in Chickasha are the Holiday Inn Express & Suites, the Hampton Inn, and Quality Inn.
Each of these hotels offers all the comforts needed for a relaxing stay, plus all have easy access to this casino so you can quickly get back to your gaming fun.
From free breakfast buffets to their helpful staff and comfortable rooms, it'll be easy to call one of these locations home during your stay.
Restaurants & Buffets
Visiting this casino in Oklahoma is no ordinary experience – you won't have access to a full-service restaurant or buffet, but the Fork Cafe onsite offers some delicious options. From juicy steaks to classic comfort food, there's something here for everybody.
Plus, all meals are reasonably priced, so you can enjoy yourself without breaking the bank. Stop by the cafe and satisfy your cravings while you try your luck with the games and machines.
Pools
If you're looking for a relaxed day at the pool during your stay at this casino, you must know that they do not offer a pool. However, there are plenty of fun attractions available throughout the area, like nearby parks with lakes – many of which offer swimming opportunities.
You can even visit other resorts and hotels that have indoor and outdoor pools to enjoy, depending on your preference. So even if this casino in Oklahoma doesn't have a pool of its own, you can still enjoy some great swimming nearby.
SaltCreek Casino, Pocasset, OK FAQ
Does SaltCreek Casino Have A Sportsbook?
No, this casino in Oklahoma does not have a sportsbook. But with their selection of table games, slots and other gaming machines, you'll still have plenty of chances to test your luck. So if sports betting isn't your thing, there are plenty of other ways to win big at this casino.
Is Poker Available At SaltCreek?
Poker fans can enjoy a fun and exciting game at this casino. They offer both Texas Hold'em and Jackpot Poker. Whether you're an experienced player or just starting out, there's something here for everyone.
What Are The Age Requirements For Gambling At SaltCreek Casino?
In order to gamble at this resort, you must be 18 years or older. All guests will need to provide valid photo identification upon entry. Failure to do so can result in being denied entry or asked to leave the premises.
Does SaltCreek Have An Online Casino?
No, this casino does not have any online gambling options. All gaming must be done in person at the premises of this casino. With so much to do and see, you won't be missing out on any of the action.
Is There An SaltCreek Casino App?
No, there is no official app for this casino. However, you can visit their website to check out all the latest updates and find information about upcoming events or promotions.
Plus, you can always call the casino directly if you have any questions or concerns. Their social media accounts are also great sources of information and provide a lot of useful content.
What Is The Dress Code At SaltCreek?
This casino has a casual dress code, so it's best to wear something comfortable. Shorts, tees and sandals are acceptable, although keep in mind that swimwear is not allowed.
As always, ensure your clothing is appropriate for the environment and does not contain offensive language or symbols.
Is There An Airport Shuttle Available From SaltCreek Casino?
No, this casino does not offer an airport shuttle service. However, there are many nearby taxis and ride-sharing services that you can use to get to and from the casino.
They will be able to provide fast and reliable transportation so you can start your gaming session as quickly as possible.
What Is The Smoking Policy At SaltCreek?
This casino allows smoking within their gaming area but not in any food or beverage areas. There is also a designated outdoor smoking area for those who wish to take a break from gaming and enjoy a cigarette.
What Is The Pet Policy At SaltCreek Casino?
Only service animals are allowed on the premises of this casino. If you plan on bringing your pet, please make sure to leave them at home or in a secure kennel for their safety and the comfort of other guests.
Make sure to bring the necessary documentation to prove that your pet is indeed a service animal. Failure to do so may result in being asked to leave the premises.
Is Wifi Available At SaltCreek?
Unfortunately, no wifi is provided at this casino. You can always use the hotspot feature of your mobile device and connect to a local network for internet access if needed. They have a strong signal in the gaming area, so you won't miss out on any action.
What Is The Cancellation Policy For SaltCreek Casino?
There is no hotel attached to this casino, so there is no cancellation policy. If you happen to have a reservation for an event happening at the casino, please make sure to contact the casino directly for their cancellation policy.
Conclusion
SaltCreek Casino is a great place to test your luck and have fun. With plenty of gaming options, you're sure to find something that fits your style.
Enjoy the relaxed atmosphere, and remember to stick to the age requirements, dress code, and other policies when visiting this casino. If you find yourself in the Pocasset area, be sure to make a stop at this casino and give it a try.