Newcastle Casino
Address: 2457 Highway, 62 N Service Rd, Newcastle, OK 73065
Phone Number: +1 405-387-6013
Website: www.newcastlecasino.com
Hours: Newcastle Casino is open 24 hours a day, 7 days a week.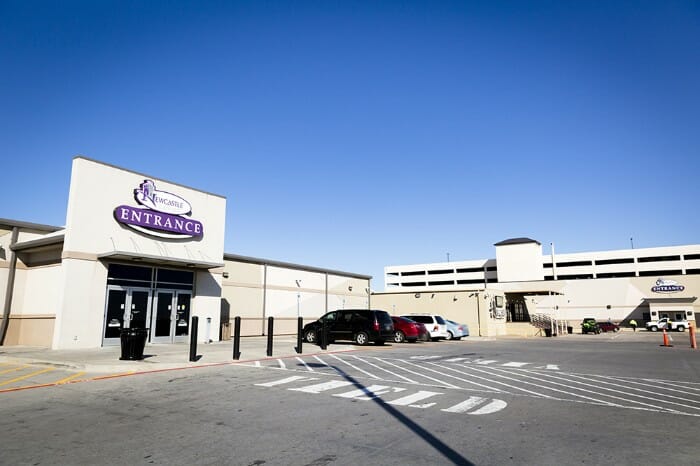 The Newcastle Casino opened its doors for business in 1998 and is owned and operated by the Chickasaw Nation of Oklahoma. Located in Newcastle, just a few miles from Oklahoma City, this beautiful casino offers various gaming options and dining and entertainment venues.
The casino has served a wide range of guests and provided them with the best gaming experience. The casino offers over 112,000 sq ft gaming space with 3,000 slot machines and several table games. They also have high-limit areas for guests looking to bet larger amounts.
The property also houses a restaurant and two bars that serve drinks and snacks, as well as sports events that are broadcast on the casino's various TVs. The casino also hosts live entertainment events such as concerts, comedy shows and other special events.
On top of the gaming and entertainment, the casino is also conveniently located near several other popular attractions in the area, including the Tiger Safari Zoological Park, Fred Jones Jr. Museum of Art and Puckett Park.
This casino is an exciting destination for those looking to take a break from everyday life and experience some of the best gaming and entertainment that Oklahoma has to offer. Whether looking for a night out or a win big on games, this casino is an excellent destination for everyone.
According to online reviews, most guests rate this casino 4 or 5 stars. One guest claimed, "The Newcastle Casino is a great place to visit and gamble. The staff is friendly, and the games are always fun. I would highly recommend it to anyone looking for a good time."
Another guest commented, "I had an amazing experience at this casino. They have many different games and slots, so there are plenty of choices. Plus, the staff is friendly and helpful. Highly recommend!"
(Related reading: Oklahoma casinos)
Gaming
Their casino floor boasts over 3,000 slot machines and multiple live-action table games ranging from blackjack to poker. The casino also has a high-limit area for those looking to bet big.
Table Games
At this casino, you can enjoy a great selection of popular table games. Mississippi Stud gives players the chance to challenge the house with a 5 card stud poker game.
For classic casino fun, try your luck at 3-Card Poker. You can also fire up some thrills with Ultimate Texas Hold 'Em, which pays heads up against the dealer. Newcomers and experienced players alike will love going all-in at Blackjack for their chance to win big.
Try your hand at Baccarat, too, for simple and straightforward gameplay that rewards luck. The minimum table game bets at this casino vary depending on the type of game you are playing. Generally, they range from $5 to $25.
Slots
This casino in Oklahoma offers a wide variety of slot machines to satisfy even the pickiest gambler. From traditional reels and progressive slots to video poker and themed games, there is something for everyone. Some of their most popular slot machines include:
Jungle Wild 3
Polar High Roller
Diamond Lotto
Wolf Run
Spartacus – Gladiator of Rome
Black Widow
Double the Devil
Mystical Unicorn
Surf-n-Splash
Lilly of the Valley
Invaders from Planet Moolah
Ruby's Night Outs
Unfortunately, this casino does not publicly publish its slot machine payback percentages. However, players may still be able to get this information from the customer service department.
Hotel/Resort
This casino in Oklahoma offers its guests an unforgettable experience that features excitement, fun and great rewards. However, if you're looking to stay the night or weekend, please note there is no hotel onsite.
But, not to worry – there are plenty of options nearby, such as Comfort Inn & Suites Newcastle, Days Inn by Wyndham, Embassy Suites, and Hyatt Place OKC Airport. All provide a comfortable lodging experience with amenities to make your stay enjoyable.
So go ahead and plan your trip to this casino and check into any of these hotels for a memorable getaway experience.
Restaurants & Buffets
If you're headed to this casino in Oklahoma for a night of gaming excitement, make sure to check out their amazing selection of restaurants. There are no buffets here, but each eatery has something special to offer.
Kitchen 44 is a perfect example — the modern American menu offers hearty breakfasts and delicious lunch and dinner options throughout the day. Whether you're in the mood for steak, burgers, chicken fried steak, or anything else – they'll take care of it all.
Pools
This casino is always working to give patrons the best experience. Unfortunately, this casino does not have any swimming pools on site. However, there are a few great outdoor pools in Newcastle and the surrounding areas.
You may also check with the hotels nearby if they offer swimming pool access to their guests. That way, you can have a relaxing time after your gaming session and enjoy the refreshing water.
Newcastle Casino, OK FAQ
Does Newcastle Casino Have A Sportsbook?
Unfortunately, this casino does not have a sportsbook. However, they have the Front Row Sports Bar, where you can watch the game on one of their many TVs while enjoying a cold beer or mixed drink.
Is Poker Available At Newcastle?
Yes, this casino offers a great selection of poker tables. Players can enjoy Texas Hold'em, Omaha 3-Card and more. Beginners and experienced players alike will enjoy the challenge of beating the house.
What Are The Age Requirements For Gambling At Newcastle Casino?
You must be 18 years of age or older to gamble at this casino in Oklahoma. Guests under the age of 18 are allowed on the casino floor, but they cannot engage in any gaming activities. Alcoholic beverages are also not permitted for minors.
Does Newcastle Have An Online Casino?
No, there is currently no online or mobile casino available from this location. However, you can still play some of your favorite table games and slots at the land-based casino in Newcastle.
With so many exciting games to choose from, you are sure to find something to satisfy your gaming needs.
Is There An Newcastle Casino App?
No, there is no app available at this time. However, you can still access the casino's website to find out more information about their gaming offerings and view upcoming promotions. You may also sign up for the casino's website newsletter to stay up-to-date with all the latest news.
Their social media accounts are also a great way to stay connected with the casino and other players. So follow them on Facebook, Twitter, and Instagram to join the fun.
What Is The Dress Code At Newcastle?
The dress code at this casino is casual and smart. Shorts, flip-flops, and tank tops are not allowed in gaming areas. It is advised to dress appropriately when visiting the casino to ensure you have a great time without any issues.
Is There An Airport Shuttle Available From Newcastle Casino?
No, there is no airport shuttle service available from this location. However, you can find several hotels and rental car services nearby which provide airport shuttle services for a fee. Alternatively, you can take an Uber or taxi from the airport to the casino.
What Is The Smoking Policy At Newcastle?
The casino does not allow smoking in any of its gaming areas. However, there are designated "Smoke Areas" located throughout the property where smokers can enjoy a cigarette or cigar. Electronic cigarettes are also allowed but must be used in these designated areas only.
What Is The Pet Policy At Newcastle Casino?
Sadly, pets are not allowed inside the casino. However, they may be kept outside in their designated kennels provided by the casino. Owners must also provide proof of vaccinations when bringing their pets to the property.
Service animals are allowed in the casino, but guests must provide documentation to prove the animal is a certified service animal.
Is Wifi Available At Newcastle?
No, this casino does not offer wifi service to its guests. However, there are many restaurants and cafes in the surrounding area that offer free wifi access. They also have a strong cell phone service so that you can stay connected with your friends and family.
What Is The Cancellation Policy For Newcastle Casino?
There is no need for a reservation to visit this casino. However, if you plan to participate in an event or special promotion at this casino, you must contact them directly for cancellation policies and procedures.
Conclusion
Newcastle Casino is a great place to enjoy table games, slots, and other exciting gaming options. Whether a beginner or an experienced gambler, you'll find something to satisfy your gaming needs.
With its wide variety of exciting games and great age restrictions, this is the perfect place for anyone looking to have fun. If you find yourself in Newcastle, visit the casino to enjoy a great night out.