Texoma Casino Kingston
Address: 1795 US-70, Kingston, OK 73439
Phone Number: 580-564-6000
Website: www.mytexomacasino.com
Hours: Texoma Casino is open 24 hours a day, 7 days a week.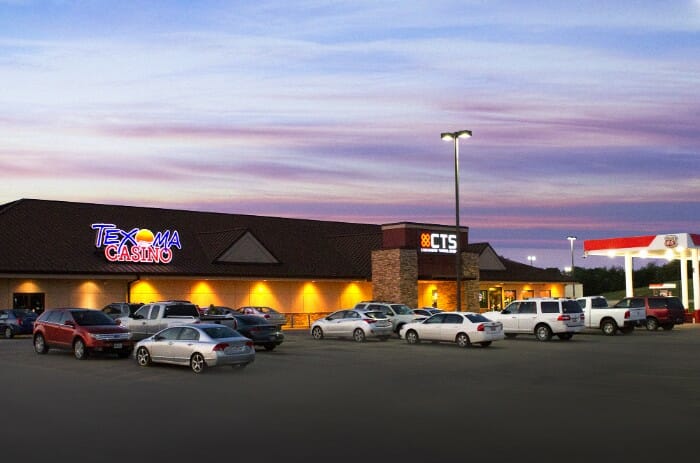 Texoma Casino was established in 2010 by the Chickasaw Nation of Oklahoma. It is located in Kingston and has been serving customers ever since. The establishment never fails to provide its guests with its signature hospitality and serves as the perfect spot for some entertainment.
The 8,800-square-foot facility boasts a gaming floor filled with over 370 electronic games, ranging from traditional slots to video poker machines. They also have a bar onsite that serves drinks and snacks.
In addition, this casino also houses a convenience store for guests to stock up on all the essentials. The store has a wide variety of items ranging from snacks, drinks, and other convenient items like alcohol, cigarettes and lottery tickets.
If you are looking for a night of entertainment, this casino is worth considering. With its friendly atmosphere, great customer service, and expansive gaming floor, there is something for everyone at this casino.
On Yelp, this casino has a 4.5-star rating from its guests. According to one review, "Texoma Casino is a great spot for entertainment. The staff here are friendly, the gaming floor is expansive, and there's something for everyone."
Another guest said, "The staff was very friendly and helpful. My sister had an issue with a faulty slot machine, and they resolved it quickly, giving her a voucher to use on another game. I would definitely recommend this place."
(Related reading: Oklahoma casinos)
Gaming
Their casino floor offers a variety of electronic gaming machines such as slots, video poker and keno. They also have a separate area for high-limit gaming.
Table Games
Visiting this casino in Oklahoma provides a unique gaming experience with its wide range of slot machines. Whether you are looking for classic slots, video poker, or electronic games, you'll find something fun to play.
Unfortunately, there are no live table games offered at the casino, but ensuring a safe and low-risk environment to enjoy yourself makes up for it. With several gaming options available, there's something for everyone.
Slots
If you're looking for a fun gaming experience, you'll definitely want to check out the popular slot machines at this casino.
From the classic Colossal Wizards game, which has been thrilling players for generations, to Lazer Lock Ice Sapphire, which is a more recent addition, the selection of slot machines is sure to provide thrill and excitement for all.
Li'l Red and Forbidden Dragons are two great games that offer an exciting take on classic designs. Finally, if Ancient Rome whets your appetite for adventure, Spartacus Gladiator of Rome will surely quench your thirst with its dynamic gameplay and vivid visuals.
Last but not least is Queen of the Wild II, which offers a captivating experience with amazing free spin bonuses.
Unfortunately, the payback percentage for slot machines at this casino is not publicly available. However, visitors may be able to find out more information by calling or visiting the casino directly.
Hotel/Resort
This casino offers all the thrill of a Vegas-style casino, with the added convenience of being just minutes from some truly relaxing places to stay. Accommodations are easily arranged nearby, offering anything from rustic motel charm to luxurious spa treatments.
Best Western Plus Sand Bass Inn & Suites is the perfect place to enjoy a getaway. For something more rustic, The Woods Motel has cozy rooms and great rates. Meanwhile, Best Western Markita Inn provides many amenities for those seeking something luxurious.
To top it off, The Artesian Hotel, Casino & Spa combines gaming pleasure with rest and relaxation for an unparalleled experience. So come out to this casino and enjoy all the area has to offer without sacrificing your need for comfort or convenience when it comes to where you stay.
Restaurants & Buffets
Whether you're looking for some gaming fun or a place to relax, this casino is a great option. While there isn't currently a restaurant or buffet onsite, they do have an amazing bar area that offers delicious drinks and quality entertainment.
They also boast a convenient store on site stocked with food items, so you won't need to worry about finding somewhere to eat nearby. However, if you want a sit-down meal, there are plenty of restaurants within a short distance to check out.
Pools
Unfortunately, this casino does not have a pool on-site. However, visitors may still enjoy the many beautiful parks and recreation areas nearby, such as Lake Texoma State Park or Eisenhower State Park.
Plus, with their slot selection and entertaining bar area, you won't have to worry about missing out on all the fun. In fact, you might even find that this casino is a great way to spend your vacation without having to travel too far from home.
Texoma Casino, Kingston, OK FAQ
Does Texoma Casino Kingston Have A Sportsbook?
No, there is no sportsbook at this casino. However, they still make up for it with their great selection of slot machines and other gaming options. From traditional slot machines to the more modern variants, there's something for everyone.
Is Poker Available At Texoma Casino?
No, there is no poker available at this casino. However, they do have a great bar area with quality entertainment and plenty of slots to choose from.
You may also find video poker, which is a great alternative to traditional poker. Whether you are a beginner trying gambling or an experienced player, video poker is a great way to enjoy yourself and win some money.
What Are The Age Requirements For Gambling At Texoma Casino?
Visitors to the casino must be at least 18 years of age in order to gamble. Identification will be required upon entry, so make sure you bring a valid form of identification with you. Failure to comply with the age requirements may result in being denied access.
Does Texoma Have An Online Casino?
No, this casino does not currently offer an online version of the casino. However, they do have a great selection of slot machines and other gaming options available onsite. Whether you're looking for gaming fun or a relaxing getaway, this casino is worth checking out.
Is There An Texoma Casino Kingston App?
No, there is currently no Texoma Casino app available. However, if you are looking for more information on the casino or would like to make a reservation, then you can find their website online.
They also have Facebook and Twitter accounts that you can follow for updates on promotions, events and new games.
What Is The Dress Code At Texoma Casino?
The dress code at this casino is generally casual, but they ask that visitors refrain from wearing offensive clothing. Overly revealing clothing is also not permitted. In addition, visitors must present a valid form of identification upon entry.
Is There An Airport Shuttle Available From Texoma?
Although there is no airport shuttle that runs directly to the casino, don't worry; there are plenty of taxi and rideshare services in the area that enable you to travel back and forth from the casino conveniently.
In addition, there are also several hotels located nearby that offer shuttle services to and from the airport. So if you plan on staying at one of these hotels, be sure to check with them for more information.
What Is The Smoking Policy At Texoma Casino Kingston?
The smoking policy at this casino is that it is non-smoking. Smoking areas are not available, so visitors must go outside if they wish to smoke. There are also designated smoking areas located nearby.
What Is The Pet Policy At Texoma Casino?
Sadly, this casino does not allow pets on the premises. If you have a pet with you, then it must be kept outside of the casino while you enjoy your visit.
Service animals are allowed, but all other types of pets must remain outside. Make sure to bring your service animal's paperwork with you when visiting.
Is Wifi Available At Texoma?
Unfortunately, there is no wifi available at this casino. Visitors may need to bring their own device or use the free wifi available at nearby hotels. Their property has great cell reception, so you can keep connected using your mobile data.
What Is The Cancellation Policy For Texoma Casino Kingston?
As there is no hotel attached to this casino, there is no cancellation policy. All reservations should be made directly with the hotel of your choice. Please take a look at the individual policies before making any reservations.
If you happen to have a reservation for an event happening at the casino, make sure to check with them for their cancellation policy, as it may vary.
Conclusion
Texoma Casino Kingston is a great place to visit for fun and excitement. The gaming options are plentiful, the atmosphere is welcoming, and the staff is friendly. If you are looking for an enjoyable experience with some chances of winning big, then this casino is definitely worth checking out.
Make sure to read up on the age requirements, dress code, and other policies before visiting. With all this in mind, you can surely have a great time at this casino.