Hard Rock Hotel & Casino Tulsa Catoosa
Address: 777 W Cherokee St, Catoosa, OK 74015
Phone Number: +1 800-760-6700
Website: www.hardrockcasinotulsa.com
Hours: Hard Rock Hotel & Casino Tulsa is open 24 hours a day, 7 days a week.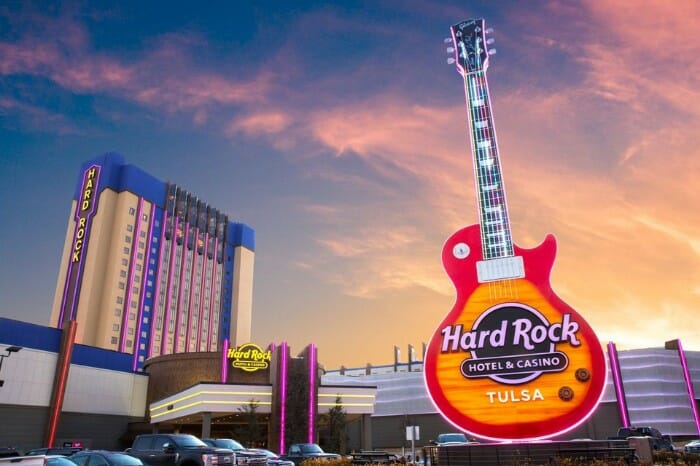 Hard Rock Hotel & Casino Tulsa opened its doors in Oklahoma in August 2009. The casino is owned and operated by the Cherokee Nation as one of its gaming properties and is located in Catoosa, just off I-44.
This casino resort is a popular destination for gambling and entertainment. Their gaming floor features over 2,600 electronic games and multiple poker tables. They also have a large selection of table games such as blackjack, craps, roulette, baccarat, and more.
The hotel offers over 400 rooms, including deluxe suites and VIP suites for overnight stays. Guests can enjoy the many amenities the resort has to offer, like seven restaurants, four bars, multiple concert venues, a spa and salon, a golf course, and more.
This casino resort boasts an impressive list of entertainment options for visitors of all ages. They offer daily live music shows, comedy performances and special events throughout the year. Guests can also take part in promotional giveaways and tournaments taking place in the casino.
With its 24-hour gaming, live entertainment, and luxurious accommodations, this casino hotel is the perfect destination for an enjoyable getaway. Be sure to check out all this casino resort has to offer during your next visit.
According to reviews, this casino resort has been rated 4.6 out of 5 stars. One guest said, "The Hard Rock Casino Tulsa is an amazing place to spend a weekend. The rooms are gorgeous, the restaurants are delicious, and the entertainment is top-notch. Highly recommend!"
Another guest commented, "This is an amazing place. From the delicious restaurants to the fabulous entertainment, there is something for everyone. The staff is all very friendly and helpful. I would definitely recommend this hotel to anyone looking for a great casino experience."
(Related reading: Oklahoma casinos)
Gaming
Their casino floor features over 2,600 electronic games and several poker tables. They also have a large selection of table games such as blackjack, craps, roulette, baccarat and more.
Table Games
If you're looking for a great time and the ultimate gaming experience, look no further than this casino. With five different table games to choose from, there's something for everyone to enjoy. Try your luck at classic Blackjack, or test your strategy with Throw Craps
If you're feeling daring, you could try roulette, or perhaps Three Card Poker is more your speed. Lastly, Ultimate Texas Hold'em tests both luck and skill as two cards are dealt face up, and three cards face down in a showdown between all players.
Typically, minimum bets at this casino start at $5 for most table games. However, some tables may have a higher minimum bet. Be sure to check with casino staff for details before playing.
Slots
This casino offers over 2,600 electronic games, including classic and video slots. You'll find popular titles such as:
Buffalo Grand
Lightning Link
Legend of the Phoenix
Betty Boops Fortune Teller
Smokin Hot Wicked Wheel
Cats
Golden Jungle
Hexbreaker
Red Rooster
Van Helsing
Three Amigos
Shark Week
Lucky Ducks
Mistress of Egypt
Unfortunately, information on the payback percentages of slot machines is not available at this casino. Players may check the casino's individual slot machines to determine the payback percentage.
However, it is important to note that this information is subject to change and may vary from machine to machine.
Hotel/Resort
Their hotel offers over 400 rooms, including deluxe suites and VIP suites. Each room is equipped with modern amenities such as cable TV, Wi-Fi, and luxurious bedding.
Their hotel is where you will discover an amazing array of accommodations, from the Hard Rock and Cherokee Towers to the All Suites Tower. In the Hard Rock Tower, you can choose between a Standard Room with either one king or two queen beds, as well as King and Double Queen Suites.
Meanwhile, the Cherokee Tower offers similar Standard Rooms plus King and Double Queen Suites, along with an exclusive Honeymoon Suite and Chief Suite. Guests looking for additional luxury can proceed to the All Suites Tower, where King and Double Queen Suites are available.
Additionally, there are numerous amenities available for guests of this casino resort. These include:
Free wifi access
Free self-parking
Valet parking
24-hour front desk
Concierge services
Dry cleaning service
Business center and meeting rooms
A golf course
Outdoor swimming pools with cabanas
Spa and salon services
ADA accommodations
Banquet facilities
Fitness center
Free shuttle services to and from the airport
Prices for a stay at this hotel vary significantly depending on when you book and which room options you choose. Rates start as low as $129 per night, excluding taxes and fees. You may check the official website for details on discounts and promotions.
Check-in time at Hard Rock is 4:30 pm
Check-out time at Hard Rock is 11:00 am
Restaurants & Buffets
This casino resort offers a wonderful array of restaurants for all types of occasions. For those looking for fine dining, McGill's On 19 is the perfect spot. Here you can enjoy an award-winning menu and world-class cocktails in a unique atmosphere.
A variety of casual dining options are also available, like HWY 66 Diner with its classic American favorites, Flip Side where you can explore gourmet burgers, Salsa with its Mexican cuisine, Slice where you can get pizza, and Champions Grill offering up scrumptious American comfort food.
Don't forget about The Eatery for the delicious buffet-style fare. Their expansive buffet is filled with all your favorites and more. Plus, prices are very affordable, so it's sure to fit your budget. You can choose from their standard fare for just $12.95 or go full-on gourmet for only $29.95.
With something to suit every taste, this casino stands ready to host any special occasion or simply fill your appetite.
Pools
This casino resort certainly has all you need to enjoy a great summer adventure. One of the hotel's best features is its two outdoor pools, one specifically designated for families and one strictly for adults only.
Not only will you be able to enjoy the crystal clear waters of their swimming pools, but you'll also have access to towel service, poolside cabanas and day beds. So whether it's some fun in the sun with the kids or a with a cocktail and friends, the casino is sure to satisfy every kind of pool party.
Hard Rock Hotel & Casino Tulsa, Catoosa, OK FAQ
Does Hard Rock Hotel & Casino Tulsa Have A Sportsbook?
Unfortunately, this casino does not have a sportsbook at this time. But with all their offerings, you won't miss it. From slots to table games and all the restaurants, you're sure to have plenty of entertainment and activities to enjoy.
Is Poker Available At Hard Rock Hotel & Casino?
Yes, poker is available at this casino. They offer 3-card and 4-card poker games as well as Texas Hold'em tournaments, so be sure to be ready for some good poker fun. Whether you're a beginner or an experienced pro, the casino has something to offer everyone.
What Are The Age Requirements For Gambling At Hard Rock Hotel & Casino Tulsa?
Gambling is only permitted to those who are 21 years or older. So if you're below this age, unfortunately, you won't be able to enjoy the games in the casino. Make sure to bring valid identification if you plan on gambling.
Does Hard Rock Have An Online Casino?
Unfortunately, at this time, there is no online casino available through this establishment. So, unfortunately, you won't be able to enjoy your favorite games from the comfort of your home. However, they do offer an amazing selection of slot machines and table games on-site.
Is There An Hard Rock Hotel & Casino Tulsa App?
If you are looking to get the most out of your Hard Rock experience while at this casino resort, then look no further than the One Star Rewards Mobile App. This handy app gives you access to all sorts of goodies and benefits that can help customize your stay at their property.
With the one-stop shop for promotions, rewards vouchers, bonus offers and more, this app has everything you need for a great time. Plus, it's free to download and available on Android and iOS devices.
What Is The Dress Code At Hard Rock Hotel & Casino?
While there is no official dress code at this casino, it's suggested that guests dress in a smart and casual manner. As with most casinos, be sure to avoid clothing that features vulgar language or images. Also, try to stick to closed-toe shoes if possible as well.
Is An Airport Shuttle Available From Hard Rock?
Yes, this casino does provide an airport shuttle service for guests. This complimentary service is available to and from Tulsa International Airport, so if you're flying in or out, be sure to take advantage of this convenient offering.
What Is The Smoking Policy At Hard Rock?
This casino offers a smoke-free environment throughout the property, with designated smoking areas located scattered around the property. Any guests found smoking in any other area will be asked to leave immediately.
What Is The Pet Policy At Hard Rock Hotel & Casino?
Sadly, pets are not allowed on the premises. However, there are pet-friendly hotels nearby that may be able to accommodate your furry friends. Be sure to call ahead and inquire if they offer pet services prior to booking a room.
Is Wifi Available At Hard Rock Hotel & Casino Tulsa?
Yes, complimentary wifi is available throughout the property. This makes it easy for guests to stay connected to family and friends at all times during their stay. If you need assistance with connecting to the wifi, be sure to speak to a staff member who will be more than happy to help.
What Is The Cancellation Policy For Hard Rock?
All reservations are subject to a 24-hour cancellation policy. Any cancellations made within this time frame will be refunded in full. For any other changes or cancellations, don't hesitate to get in touch with the hotel directly for more information.
Conclusion
Hard Rock Hotel & Casino Tulsa is a great place to test your luck and have a memorable time. With a variety of different games, amenities, and perks available, you can easily customize your visit to get the most out of it.
Be sure to read through the age requirements, dress code, wifi availability etc., so that you are well informed of the rules and regulations. Most importantly, have fun and be safe!