Indigo Sky Casino & Resort Wyandotte
Address: 70220 US-60, Wyandotte, OK 74370
Phone Number: 1-888-992-SKY1
Website: www.indigoskycasino.com
Hours: Indigo Sky Casino & Resort is open 24 hours a day, 7 days a week.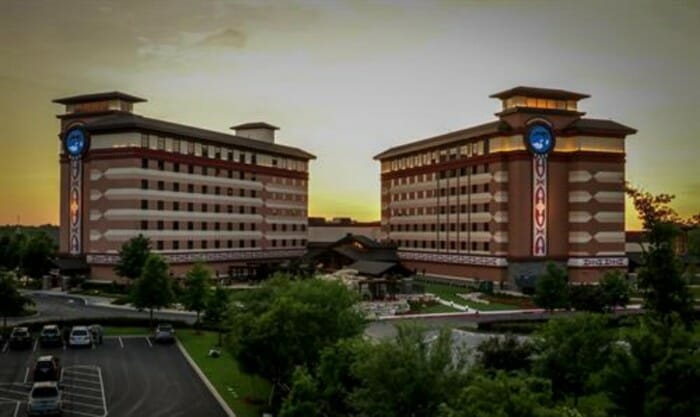 Indigo Sky Casino & Resort opened its doors in 2012 and is owned and operated by the Eastern Shawnee Tribe of Oklahoma. The resort was built on land in the tribe's possession, and its construction marked a milestone for the Eastern Shawnee people.
Their gaming floor features over 1,250 electronic gaming machines with denominations ranging from pennies to $25, a spacious poker room, and over 15 table games. Guests of the casino can also enjoy live entertainment in their on-site venue and a variety of dining options.
The resort also offers guestrooms with modern amenities such as high-speed internet, flat-screen TVs and luxurious bedding. The resort also has a fitness center, pool and hot tub to ensure guests have everything they need for their stay.
This casino resort strives to give guests an unforgettable experience every time they visit. Whether you're looking for a night of gaming excitement or a weekend getaway, this casino has something for everyone.
Most guests rate this casino resort with 4 out of 5 stars. One guest said, "Indigo Sky Casino & Resort is a great place for gambling and entertainment. The staff is friendly and helpful, the atmosphere is top-notch, and the selection of games is outstanding."
Another reviewer said, "We had a wonderful experience at Indigo Sky Casino & Resort. We felt welcomed and comfortable. The gaming floor was clean and well-maintained, with plenty of options. The food and beverage choices were great, and the room was very nice."
(Related reading: Oklahoma casinos)
Gaming
Their gaming space features 1,250 electronic gaming machines with denominations ranging from pennies to $25. The casino also has a spacious poker room and over 15 table games.
Table Games
If you're looking for exciting table game action at this casino resort in Oklahoma, you're definitely in luck. There's a wide variety of games on offer, ranging from the classic and timeless blackjack game to the fast-paced and thrilling 4-Card Frenzy, 21+3, and Double-Up games.
Feeling lucky? Try your hand at the exciting game of World Poker Tour (WPT), or test your skills and strategy with the popular 3-Card Prime game.
Table game minimums are regularly updated and typically range from $5 to $25. The casino also offers special high-stakes tables for those looking for maximum thrills, with minimum bets of up to $2,000 per hand.
Slots
This casino offers a wide selection of electronic gaming machines, with denominations ranging from pennies to $25. Popular slots include:
Colossal Wizards
Queen of the Wild II
Spartacus Gladiator of Rome
Forbidden Dragons
Lazer Lock Ice Sapphire
Li'l Red
Unfortunately, this casino does not publicly share its slot machine payback percentage. There are no data sources available online that report the casino's house edge or payback percentage on slot machines. You'll have to visit in person to find out more information.
Hotel/Resort
This casino resort features a newly renovated hotel with modern amenities. The resort offers luxurious bedding, complimentary high-speed internet access, and flat-screen TVs in all guestrooms.
Room types include:
Deluxe King – features one king bed
Deluxe Two Queens – features two queen beds
King Suites – features one king bed, a living area, a sleeper sofa, a jacuzzi and a wet bar
Junior Suites – features one king bed, a twin-sized sleeper sofa, a walk-in shower and a bathtub
The casino resort offers a variety of amenities to make your stay as comfortable and enjoyable as possible. Some of them include:
Internet access
Free parking onsite
24-hour front desk
Concierge services
Daily housekeeping
Gift shops
Outdoor swimming pool
A fitness center
Banquet facilities
Live entertainment
Onsite restaurants and bars
An RV park
Meeting spaces
The cost of staying at the hotel varies depending on what type of room and how many people are in your party. Prices start at $68, excluding taxes and fees per night.
Check-in time at Indigo Sky is 4:00 pm
Check-out time at Indigo Sky is 12:00 pm
Restaurants & Buffets
This casino resort in Oklahoma offers visitors exceptional dining experiences at its three restaurants. At Creekside Bar and Grill, guests can enjoy fresh and delicious meals while they take in the beautiful views of Spring River.
For those looking for a fine-dining experience, Shawanoe Restaurant & Bar offers succulent steaks, seafood, pasta, and an extensive wine list. Meanwhile, the Sky Grille offers a more relaxed environment where guests can choose from an extensive menu of comfort food classics.
No matter the occasion or preference, their restaurants will satisfy every guest's taste buds and leave them feeling satiated and delighted.
Pools
If you're heading to this casino resort, there's one place you'll definitely want to check out: the outdoor swimming pool. With the warm sun overhead, it's the perfect way to cool down and relax during your stay.
Whether you're a seasoned swimmer or just looking for a refreshing dip, you'll find everything you need here. Moreover, the pool is surrounded by stunning scenery, making it the perfect spot to unwind, catch up with friends or take a few moments to yourself.
Indigo Sky Casino & Resort, Wyandotte, OK FAQ
Does Indigo Sky Casino & Resort Have A Sportsbook?
No, they do not currently have a sportsbook. Sports betting is not allowed in Oklahoma, except for horse racing, so the casino does not feature a sportsbook at this time. Guests can still enjoy all of the other games and amenities that the resort has to offer, however.
Is Poker Available At Indigo Sky?
Yes, this casino does offer poker. Guests can play their favorite casino games, such as Texas Hold'em, Omaha and more. There are also daily tournaments available for players of all skill levels. The casino has comfortable seating areas and various drinks to make playing more enjoyable.
What Are The Age Requirements For Gambling At Indigo Sky Casino & Resort?
To gamble at this casino, guests must be 18 or older. Those under 18 are not allowed in the gaming area and may only visit for dining and other non-gambling activities. Minors can enter with an adult guardian if they are not gambling and remain supervised by that adult.
Does Indigo Sky Have An Online Casino?
Yes, they do have an online casino. Guests can play various slots, table games and video poker on their computers or mobile devices. There are also promotions and bonuses that players can take advantage of when they play at the online casino.
Is There An Indigo Sky Casino & Resort App?
No, this casino does not currently have its own app. However, guests can access the online casino through their browser on any device. They will be able to log in and play the same games that are available at the physical location.
What Is The Dress Code At Indigo Sky?
This casino asks that all guests adhere to the resort's dress code. The dress code requires that visitors wear proper attire, such as collared shirts, slacks and nice shoes. Guests should avoid wearing shorts, tank tops or any clothing with offensive language or graphics printed on it.
Is There An Airport Shuttle Available From Indigo Sky Casino & Resort?
No, they do not have an airport shuttle service. Guests will need to find their own transportation to and from the resort. Taxis, rental cars and ride-sharing services are all available in the area, making it easy to get around while visiting Wyandotte.
What Is The Smoking Policy At Indigo Sky?
This casino resort is a smoke-free establishment. Smoking is not allowed in any of the gaming areas or public spaces within the resort. Guests who smoke can do so in designated outdoor areas, such as the patio or pool deck.
What Is The Pet Policy At Indigo Sky Casino & Resort?
Sadly, pets are not allowed at this casino resort. Guests can leave their pets at home or arrange for pet boarding services while they enjoy the amenities and attractions that this casino resort has to offer.
Service animals are allowed as long as they remain on a leash and under the control of their owner. Guests must provide documentation that their animal is indeed a service animal to be admitted.
Is Wifi Available At Indigo Sky?
Yes, this casino resort does offer free wifi to its guests. Guests can access the internet in all public areas of the resort and enjoy fast connection speeds. The wifi is secure and reliable, ensuring a pleasant experience while visiting the casino resort.
What Is The Cancellation Policy For Indigo Sky Casino & Resort?
The resort asks that all cancellations be made by 6 pm on the day of your reservation to avoid being charged the full rate for your stay. They understand things can come up unexpectedly, so it's important to give the resort a heads-up to avoid any fees or charges.
Conclusion
This casino resort is perfect for gamblers, vacationers, and those looking to escape the hustle and bustle of everyday life. From the gaming tables to the comfortable seating areas, it offers a variety of amenities that make it a great destination.
Guests should be aware of the age requirements, dress code and pet policy before visiting. With free wifi and a flexible cancellation policy, Indigo Sky Casino & Resort is an ideal place to visit.