Osage Casino Bartlesville
Address: 222 Allen Rd, Bartlesville, OK 74003
Phone Number: +1 877-246-8777
Website: www.osagecasino.com
Hours: Osage Casino Bartlesville is open Monday 10 am – 2 am, Tuesday 10 am – 2 am Wednesday 10 am – 2 am, Thursday 10 am – 2 am, Friday 10 am – 2 am, Saturday 10 am – 2 am, Sunday 10 am – 2 am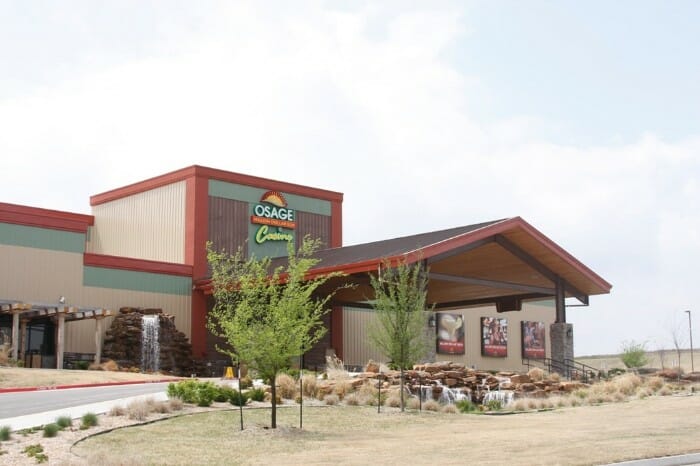 Osage Casino Bartlesville opened in March 2007 on the edge of the Osage Nation Reservation, located just 20 miles north of Tulsa. From its opening, the casino has become a popular gaming and entertainment destination for people from across Oklahoma.
It is owned and operated by the Osage Nation and features more than 450 electronic gaming machines, such as slots, video poker and keno. There's also an on-site eatery serving pizza, sandwiches, burgers, and more.
The casino also offers promotions, giveaways, and special events. They also host live entertainment through their venue, the Nine18 Bar. Plus, with their Player's Club, customers can earn rewards and discounts.
No matter what you're looking for, this casino has something for everyone. If you're in the area, make sure to stop by and check it out, as you won't be disappointed.
This casino has earned a 4.2 out of 5 stars from over 300 reviews on Google, with most guests commenting positively about the friendly atmosphere and great staff. One guest said, "I always have a great time when I visit Osage Casino Bartlesville. The staff is friendly and helpful as well."
Another said, "It's my favorite spot in town. I love playing their slot machines, and there's always something new to try out. And the customer service is top-notch!"
(Related reading: Oklahoma casinos)
Gaming
Their casino floor offers over 450 electronic gaming machines ranging from slots, video poker and keno. Players may also participate in the Player's Club program, where they can earn rewards and discounts.
Table Games
This casino offers a wide selection of slot machines for customers to enjoy. Those looking for more of an interactive gaming experience should note that the casino does not offer any traditional table games such as blackjack, poker, roulette, or baccarat.
For those who prefer to try their luck on the virtual felt, this casino has a number of additional electronic table games broadening the selection of available games. Despite the lack of traditional card and dice tables, visitors can still test their luck and build memories with friends or family.
Slots
This casino is a great destination for anyone looking for an exciting experience. Among their popular slot machines is Lazer Lock Ice Sapphire, a 3-reel classic with electrifying music and graphics.
Li'l Red takes you back to the hay day of slots with five reels and a wheel bonus for additional wins. Spartacus Gladiator of Rome offers the chance to battle it out to be crowned champion with up to 100 pay lines.
If you're feeling adventurous, Forbidden Dragons will take you into a world of fire and ice-free spins that can result in massive wins. For those seeking something even more thrilling, try Colossal Wizards' colossal reels feature or Queen of the Wild II's stacked wilds and bonus games.
Unfortunately, this casino does not publish its slot machine payback percentage information. Even the Oklahoma State Gaming Commission, which regulates the gaming industry in Oklahoma, has yet to provide this information.
However, players may check this information with the casino itself so that they can get a better idea of what their odds are.
Hotel/Resort
This casino is an enjoyable and welcoming experience. During your stay, you can enjoy everything from exciting gaming action to delicious dining options. Whether you are looking for a relaxing getaway or energetic nightlife, it's all here.
Although the resort doesn't have its own hotel on its premises, there are a variety of nearby lodging options to choose from, such as Hilton Garden Inn, Hampton Inn, and Holiday Inn Express & Suites.
With comfortable accommodations within easy reach of the casino, your visit will be more convenient than ever.
Restaurants & Buffets
Although this casino does not have a full-service restaurant on the premises, they still have a variety of food options available. At the Deli, you'll find a vast array of snacks and meals to suit any craving or diet.
From handmade pizzas to delicious snack items, everything is offered at easy-on-the-wallet prices. Plus, you'll be served by their friendly staff members, who are always ready to help you pick out something great.
Pools
This casino is a great place to enjoy some casino games and live entertainment, but if you're looking for a spot to cool off on hot summer days, you might be disappointed. Unfortunately, there are no pools onsite.
However, with so many nearby hotels, you'll be able to find a swimming pool that fits your budget and needs.
Osage Casino, Bartlesville, OK FAQ
Does Osage Casino Bartlesville Have A Sportsbook?
Unfortunately, this casino does not have a sportsbook. However, the casino offers plenty of options for those looking to place wagers, such as slots, electronic table games and more. Whether you're a newbie or a seasoned gambler, there is something for everyone here.
Is Poker Available At Osage Casino Bartlesville?
No, this casino does not offer traditional poker games. However, there are plenty of other gaming options, including slots, electronic table games and more. They even have video poker for those looking for a more strategic option but don't want to miss out on the action.
What Are The Age Requirements For Gambling At Osage Casino Bartlesville?
The minimum age to gamble at this casino is 18. All patrons must present valid identification upon entry, and all minors are not permitted on the gaming floor. Failure to comply with this requirement will result in removal from the premises.
Does Osage Casino Bartlesville Have An Online Casino?
No, this casino does not have an online casino. However, they offer several bonuses and promotions which allow players to earn back on their losses. With so many different offers, there's sure to be something for everyone.
Is There An Osage Casino Bartlesville App?
For those looking to stay connected and always be in the know with this casino, you don't need to look further than the Osage Casino Hotel App.
Featured in this app are exclusive information and offers, allowing users to stay up-to-date on current promotions, concerts and other events at all of the casinos within the Osage Nation's chain. The App also allows you to stay connected with their loyalty program that rewards you with points for every dollar spent on gaming or dining at the Osage Casinos.
What Is The Dress Code At Osage Casino Bartlesville?
Although there isn't a formal dress code at this casino, it is always suggested to dress in casual and comfortable clothing. Any overly revealing or offensive attire is not allowed and may result in removal from the premises.
Is There An Airport Shuttle Available From Osage Casino Bartlesville?
No, there is no airport shuttle available from this casino. However, there are plenty of ground transportation options available to get you to and from the airport. These include taxi services, ride-sharing apps such as Uber and Lyft, limousine services and more.
What Is The Smoking Policy At Osage Casino Bartlesville?
This casino is 100% smoke-free. Smoking is not allowed anywhere on the property, including the gaming floor, restaurants and bars. There are designated outdoor smoking areas available for those who need to enjoy a cigarette or cigar while visiting the casino.
What Is The Pet Policy At Osage Casino Bartlesville?
Sadly, pets are not allowed in the casino or on the property. However, there are pet-friendly hotels nearby that welcome four-legged friends with open arms.
You may ask one of their friendly customer service representatives for more information and help to find a suitable hotel for you and your furry friend.
Is Wifi Available At Osage Casino Bartlesville?
Yes, free Wi-Fi is available throughout the property. Please be aware that this service is offered for entertainment purposes only and does not guarantee a secure connection. If you need assistance with Wi-Fi, please get in touch with the front desk for more information.
What Is The Cancellation Policy For Osage Casino Bartlesville?
Players may come and go as they please at this casino. However, if you happen to have a reservation for any of their live entertainment events, it is best to get in touch with their customer service team for more information.
Conclusion
Osage Casino Bartlesville is a great place to visit for those looking for some fun and entertainment. The casino offers an array of gaming options, live entertainment and events, exciting promotions and more.
Whatever your reason for visiting the casino, this casino will surely have something for everyone. Bring a proper ID and know how to game responsibly, and you will definitely have a great time.