Cherokee Casino Sallisaw
Address: 1621 W Ruth Ave, Sallisaw, OK 74955
Phone Number: +1 918-774-1601
Website: www.cherokeecasino.com/sallisaw
Hours: Cherokee Casino Sallisaw is open Monday 10 am – 2 am, Tuesday 10 am – 2 am, Wednesday 10 am – 2 am, Thursday 10 am – 2 am, Friday 10 am – 3 am, Saturday 10 am – 3 am, Sunday 10 am – 2 am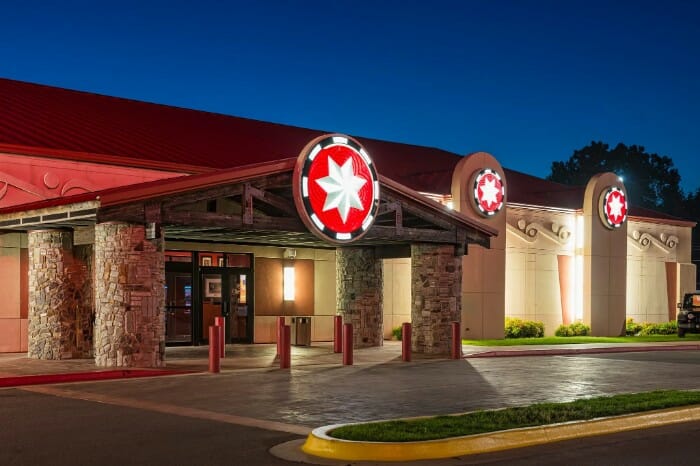 Cherokee Casino Sallisaw opened in July of 2006 and is owned and operated by the Cherokee Nation. Located off Highway 59, it is conveniently located just minutes away from downtown Sallisaw.
This casino features a wide variety of gaming options from its wide array of slot machines, from penny to five-cent games. They also offer dining options from their Back 40 Bar & Grill, which serves everything from tasty burgers to succulent steaks.
They also host several live events, such as live music and comedy shows throughout the year. They also offer weekly promotions and tournaments to keep guests entertained.
This casino is fully committed to providing its guests with the best possible gaming experience. If you are looking for a great night of fun, this casino is sure to provide an entertaining evening that is sure to be remembered.
On popular review sites like TripAdvisor, guests rated it an average of 4 or 5 stars out of 5. One guest noted that "I had an excellent time at this casino – great atmosphere, friendly staff and lots of fun gaming options. Highly recommend it if you're in the area."
Another guest said, "The Cherokee Casino Sallisaw was a wonderful experience. They had new slot machines and the staff was friendly. The food in the restaurant was delicious as well."
(Related reading: Oklahoma casinos)
Gaming
Their casino floor is home to more than 250 electronic games, including a wide selection of popular slots, video poker machines and progressive jackpots.
Table Games
This casino is a great destination for those looking to play slot machines. Unfortunately, this location does not offer any table games at this time. This includes the likes of Blackjack, Poker, Baccarat and other classic casino table games that many enjoy.
But if spinning and winning at the slot machines is your idea of a good day at the casino, then this is definitely the place for you.
Slots
At this casino, there are a variety of exciting slots to choose from. Players love Colossal Wizards with its fantastic bonus games and wild chemistry feature. Li'l Red is another favorite with players, as it offers enticing gameplay that includes stacked rules and running wilds.
For those looking for an adventure with a historical thrill, Spartacus Gladiator of Rome takes them back to the times of gladiators competing in front of a roaring crowd. Forbidden Dragons offer gamers plenty to be excited about – the bonus wheel feature offers big win potential.
Join in on an African adventure full of surprises and features when you spin the reels of Queen of the Wild II and finally, don't forget about Lazer Lock Ice Sapphire – balance risk-taking and assurance as puzzle pieces come together for great rewards.
Unfortunately, the payback percentage of slot machines at this casino is not publicly available. However, you may call the casino directly for more details.
Hotel/Resort
Although there is no hotel affiliated with the casino, there are several excellent alternatives nearby. Guests can check out the Hard Rock Hotel & Casino Tulsa for a luxurious experience and exciting entertainment just minutes away.
Additionally, for those looking for more of a cozy stay, Cherokee Casino West Siloam Springs and Cherokee Casino Roland offer comfort and convenience. No matter which option you choose, you'll have easy access to all the gaming fun at this casino.
Restaurants & Buffets
Although there is no buffet at this casino, it does boast a restaurant onsite. For the hungry traveler in Sallisaw, this casino provides a great option with their popular restaurant, Back 40 Bar & Grill.
This cozy eatery offers a variety of delicious options for breakfast, lunch, and dinner that are sure to please. From Southern-style comfort foods such as chicken fried steak or blackened catfish to fresh salads packed with fresh ingredients, you have plenty of fantastic choices here.
Along with that, you can enjoy some local brews or even one of their signature cocktails. So if your travels take you through this casino in Sallisaw don't forget to stop by the Back 40 Bar & Grill for an excellent meal.
Pools
This casino in Oklahoma has something for everyone, from high-stakes gaming to tantalizing offerings from its restaurant, visitors can enjoy an array of activities and events. While Sallisaw does not host a pool onsite, its entertainment options are virtually endless.
With games to play and shows to see, you won't miss having access to a pool. If looking for ways to cool off while in town, nearby lakes provide excellent opportunities to swim or go boating.
Whether looking for some thrilling adventures or simply wanting to relax, this casino has got you definitely covered.
Cherokee Casino Sallisaw, OK FAQ
Does Cherokee Casino Sallisaw Have A Sportsbook?
Unfortunately, no. This casino does not currently offer a sportsbook. However, guests may still enjoy their other gaming options, including slots and video poker. Whether a recreational or a high-stakes gambler, there are plenty of possibilities for fun at this casino.
Is Poker Available At Cherokee Casino Sallisaw OK?
Unfortunately, no. This casino does not currently host any poker rooms or tables at this time. However, players are welcome to enjoy the other gaming options available, like slots and video poker.
What Are The Age Requirements For Gambling At Cherokee Casino Sallisaw?
The legal age for gambling at this casino is 21 years of age and older. This rule applies to all casino games, including slots, video poker, and table games. Guests must be able to provide valid identification in order to participate in any gaming activities.
Does Cherokee Casino Sallisaw Have An Online Casino?
No, this casino does not currently offer an online casino. Guests must visit the physical location in order to enjoy the gaming options available. They offer several classic games such as slots and video poker, along with live entertainment.
Is There An Cherokee Casino Sallisaw App?
No, there is no official app available for this casino. However, guests may still find information about the casino on its website and social media platforms. Players can also call directly to the casino for more details.
Their social media pages are constantly updated with new promotions and upcoming events, so make sure to follow them for the latest news.
What Is The Dress Code At Cherokee Casino Sallisaw?
The dress code at this casino is smart casual. Guests should refrain from wearing any clothing that may be considered offensive or vulgar. Additionally, proper footwear must be worn at all times.
Is There An Airport Shuttle Available From Cherokee Casino Sallisaw?
Unfortunately, this casino does not offer an airport shuttle service. Guests may take advantage of the various taxi and car rental services available in the area, or opt to use a ride-sharing app like Uber or Lyft.
Additionally, if you have booked a stay in a hotel near the casino, you may inquire with the hotel's front desk about possible transportation options.
What Is The Smoking Policy At Cherokee Casino Sallisaw?
The casino has a designated smoking area for guests who wish to smoke. All other areas of the property are non-smoking, and guests should respect this policy. There are also no vaping or e-cigarette devices allowed in any part of the casino.
What Is The Pet Policy At Cherokee Casino Sallisaw?
Unfortunately, pets are not allowed in the casino. Only service animals with valid documentation will be allowed entry into the premises. Guests must provide appropriate identification for their service animal upon arrival.
Is Wifi Available At Cherokee Casino Sallisaw?
Unfortunately, there is no wifi available at this casino. Guests may choose to use their data plan to access the internet while they are on the property. It is recommended that guests check with their service provider regarding any associated costs.
What Is The Cancellation Policy For Cherokee Casino Sallisaw?
Guests do not need to reserve a spot in order to game at this casino. Guests can play any game as long as they meet the age requirements and adhere to the dress code.
Cancellations are not necessary for gaming activities, but special events and live entertainment should be checked with the casino staff beforehand.
Conclusion
Cherokee Casino Sallisaw is a great way to enjoy some exciting gaming action and entertainment. There are several classic games available, along with live performances, so guests will not be short on options.
Be sure to review the age requirements and dress code before visiting the casino. Keep all these policies in mind, and you're sure to have a great time at this casino!